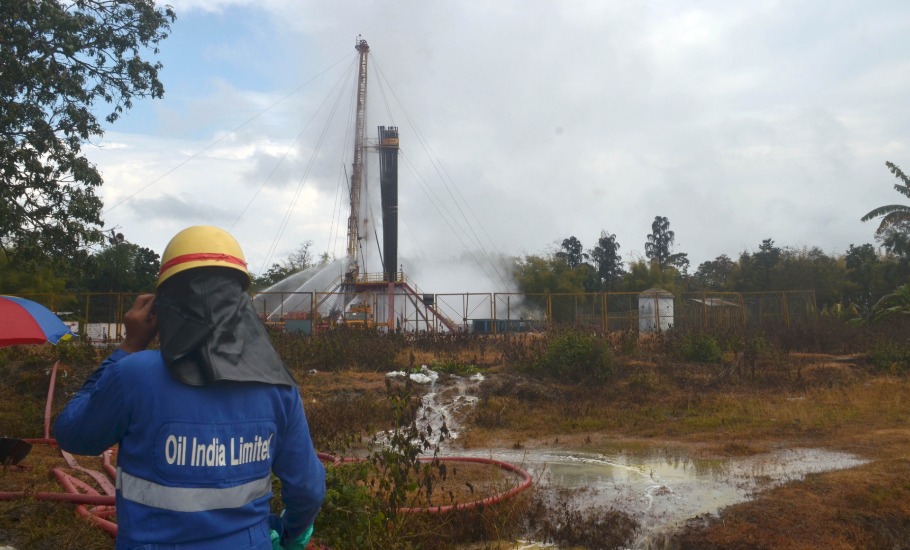 Oil India Limited (OIL) on Monday (June 8) said that three experts from a Singaporean firm have reached the natural gas well at Baghjan in Assam, from where gas has been flowing out uncontrollably since May 27. Meanwhile, the Tinsukia district administration on Sunday (June 7) had ordered a magisterial enquiry into the reported death of five people due to the gas leakage from the oil well.
The oil exploration major said in a statement that foreign experts of Singapore-based Alert Disaster Control reached the Duliajan town, where the field headquarters of OIL is based, in the early hours on Monday. The team comprising experts will assist the public sector undertaking (PSU) in order to plug the blowout in the gas well in the Tinsukia district.
The foreign experts were briefed by the representatives of OIL about the progress in the oil well control operation. After the preliminary discussion and the de-briefing session, the experts along with the OIL team's representatives left for the Baghjan well at 12 noon.
OIL claimed that the foreign experts complimented the preparatory works and that they are confident of controlling the oil leakage at the earliest. The team emphasised that the safety of the local residents in the area as well as the technical team working at the oil well site will be their primary concern while carrying out the operations.
RELATED NEWS:  Assam: Delay in plugging oil well blowout threatens lives, ecology
Regarding the status of the repair works, OIL stated that both vertical and horizontal lift mechanism of the hydraulically driven mechanical transporter to be utilized for the well control operation has been tested and completed. The final assembling process for the task is in progress. Necessary arrangements for making a water umbrella for the well control operation are going on. The digging of the water reservoir as well as the preparation of placement of high capacity water pumps are also in progress.
The PSU major said that it has appointed an environment consultant to assess the impact of the oil blowout on the Dibru- Saikhowa National Park and its surrounding areas in the district. After the district magistrate ordered the magisterial enquiry, OIL also engaged a NABET-accredited consultant to conduct an environment impact assessment study in and around Dibru-Saikhowa National Park, Maguri Motapung Beel and nearby villages.
The study will assess the impact of the oil blowout on terrestrial, aquatic ecosystems. OIL has also engaged TERI for the bio-remediation of impact of the oil blowout on environment. A site assessment was conducted by officials of OIL and TERI.