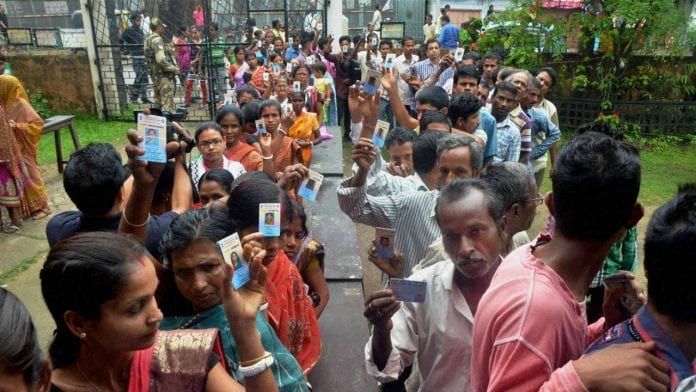 As the sun rays burst from behind the dark clouds on an August afternoon in Assam's Goroimari village, Sakila Khatun can't stop looking up every now and then. Her eyes drift to the clothesline violently shaking from the winds of river Brahmaputra. Sakila knows it's just a matter of time and another gust of wind before the clothesline comes crashing down. But for some reason, she chooses to wait for that to happen before picking up the clothes.
"What all can you stop from happening? All you can do is wait," she says.
Sakila has played this game of wait and watch for a long time. When the final draft of National Register of Citizens (NRC) was published on July 30 last year, the names of Sakila and her two sons were missing from the list. Her husband Habiliddin's name, however, was there. Ever since, she has been waiting in long queues outside NRC centres — hour after hour, day after day, climbing atop rickety vehicles, standing chest-to-chest with strangers with similar stories of uncertainty.
Now, she is waiting for August 31 — when the final list of NRC is scheduled to be published.
Assam started updating the controversial NRC in 2015 in a bid to segregate "illegal" migrants from genuine citizens — basically, anyone who can prove that they or their ancestors lived in India before the midnight of March 24, 1971. The NRC, which is being updated under the supervision of the Supreme Court, has already published three lists.
Also read: Hindus trump Muslims in forging documents to be bonafide Assamese
The first and partial NRC draft was published on December 31, 2017 while the final draft was published on July 30, 2018. On June 26 this year, an additional exclusion list was published. While the first draft left out 1.39 crore names out of 3.29 crore people, 40 lakh applicants didn't find their names in the final draft. The additional list this year dropped over one lakh people included in the final draft.
Sakila's neighbour, Habibur Rahman, his wife Aklima Khatun and sons Nur Alam and Faridul are among those 41 lakh applicants. However, the names of his two daughters — Samira Begum and Shahida Khatun — are in the list.
Only a month back, Habibur and his family had to spend at least two weeks on an embankment due to the devastating floods that ravaged the state.
If spending agonizing hours under a plastic shade was difficult, the thought of the impending NRC process was even more terrifying for Habibur. As the waters receded, the family returned to its house that is around a 20-minute boat ride from the embankment along the Brahmaputra. The first thing that he did was to check if all their documents were safe.
"Everything depends on these papers. Even after having all the documents, our names were not included in the final draft. Can you imagine what will happen to us without these papers?" a visibly tired Habibur asks the writer as he takes out some papers from a plastic bag. The documents include land records in his father's and grandfather's name, some of which dated back to 1948.
Also read: More indigenous people dropped, Assam govt, BJP MLAs attack NRC draft
After re-submitting their documents, the family says that, so far it has attended as many as six hearings at various NRC centres in different districts.
"Now, we are just praying that our names are included in the list," adds Habibur, who is hopeful that the government will treat all citizens equally and fairly.
According to a top NRC official, who didn't wish to be named, even after the final list is published, people will be given ample opportunities to prove their Indian citizenship.
"Those declared foreigners will first have to approach the Foreigners' Tribunal, then the high court and finally the Supreme Court," the official said.
To ease people's concerns, the Ministry of Home Affairs recently said that exclusion (from the list) would not amount to a person being declared a foreigner as that can only be done by a Foreigners' Tribunal (FT). The MHA, in a statement last week, also said it will amend the rules to increase the present time limit of filing of appeals in FTs from 60 days to 120 days regarding exclusion.
Also read: SC extends Assam NRC deadline to Aug 31, pleas for 20 pc sample re-verification rejected
According to the ministry, the state government would provide legal aid to those who cannot afford legal services.
But all such assurances are not enough to allay Sakila's fears. "We are poor people and have hundreds of other struggles. But now everything depends on the NRC." After failing to find her name in the list published last year, Sakila went to the NRC centre where she was told by officials that her name was tagged as 'D' or Doubtful in the voters' list.
"My name was cleared by the FT in 2012, yet they say I'm a D voter," she shoots back.
"Despite our financial condition, we are not eligible to get government benefits, including healthcare. Officials told me that since I'm a 'doubtful voter' and my name is not in the NRC, they can't issue me a health insurance card [under the Atal Amrit Health Scheme run by the government]," Sakila laments.
Back in 1997, during a revision of the electoral rolls, when people who could not provide evidence of their Indian nationality, the Election Commission of India started marking them as D voters. This was to indicate "doubtful" or "disputed" status of their nationality. People marked as 'D' are barred from contesting the polls as well as voting.
Also read: NRC official refutes reports of Rohingya migrant's inclusion in draft
However, there have been widespread allegations that many genuine citizens who were absent during the revision of rolls or missed the process for some reason were also marked as 'D' voters.
National Secretary (Youth Affairs) of Bharatiya Gorkha Parisangha Nanda Kirati Dewan says that Manju Devi, the great-granddaughter of freedom fighter and founder of Congress party in Assam Chabilal Upadhyay, has also been left out of the NRC update exercise.
"She was told during the last draft that she had been marked 'D' voter in 2005. So, her NRC application has been rejected along with her sons and daughters."
According to Dewan, Manju Devi says she enquired with the Border Police and got a clearance certificate from Sonitpur Superintendent of Police. She also took up the matter with the election office, but all in vain.
"If this continues, she cannot make it to the NRC. The FT has so far not issued any notice to Manju Devi in this matter."
Also read: Centre, Assam seek Supreme Court's nod for extending NRC deadline
According to Sakila, government officials and lawyers take advantage of their poverty and illiteracy. "They would ask for money every time we meet them. Even a single affidavit would cost around ₹5,000. How can we manage such huge amounts of money?" asks the angry mother who had to send her young sons to work at construction sites in Guwahati, 70 km away.
But what Sakila fears most is ending up at a detention centre. As of now, there are six detention centres across the state which is home to around 1,000 people who have been declared illegal immigrants by the courts. This also includes Bangladeshi and Myanmarese nationals who have been arrested for allegedly entering without legal documents or overstaying their visas.
While various organisations and individuals have been appealing for an error-free NRC, there have been several incidents where descendants of Indian freedom fighters and retired army officers have been left out of the list. Moreover, several NRC officials have been arrested on charges of taking bribes to add the names of Bangladeshis in the list as citizens. Such incidents have only deepened the distrust over the entire process.
"All we can do now is wait. I don't know what will happen if my name is not there in the August 31st list," says Sakila, as she takes one last glance at the fluttering clothesline before stepping inside — the wind still blowing strong.
(Abdul Gani is a Guwahati-based independent journalist.)