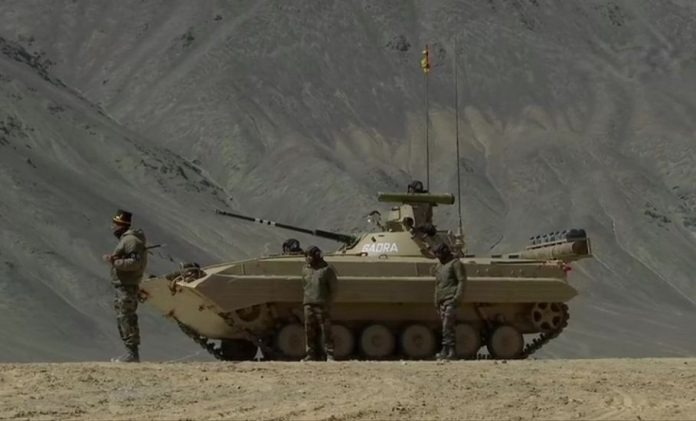 Locked in over a nine-month-old standoff with the Chinese troops in eastern Ladakh with thousands of troops equipped with top-of-the-line military hardware at the icy desolation, India has had to pay economic as well as military cost to protect its interests along the Line of Actual Control.
To sustain the pressure "as long as it takes," New Delhi would need to sharply focus on its foreign policy objectives given the collusive threats from China in the north and east and Pakistan on its western front, analysts have repeatedly said.
In a broad-brush, Fareed Zakaria, international affairs columnist, CNN news host and author, has said India needs to have a strategic conception of its place in the world and in Asia.
Also read: India, China talkathon fails to resolve impasse; it's advantage Beijing
Zakaria told The Indian Express that "if India were to decide that it wants a strategic partnership with the United States centred around cooperation and shared information and know-how on technology, energy, education and defence, that will be a transforming relationship for both the countries".
"Prime Minister Modi says his policy is multinational — I can't remember the exact phrase he used — but, you know, I am going to be nice to everybody. But that is the opposite of having a foreign policy. Foreign policy is making choices. You have to make strategic choices and orient yourself in a direction and some people will be happy and some people will be unhappy," said Zakaria.
External Affairs Minister S Jaishankar in his book 'The India Way: Strategies for an Uncertain World' lists three major foreign policy burdens from its past: Partition, delayed economic reforms and prolonged exercise of the nuclear option.
"The 1947 Partition reduced the nation both demographically and politically. An unintended consequence was to give China more strategic space in Asia. Another is the delayed economic reforms that were undertaken a decade and a half after those of China … the 15-year gap continues to put India at a great disadvantage."
The third, he says, is the prolonged exercise of the nuclear option. "As a result, India has had to struggle mightily to gain influence in a domain that could have come so much more easily earlier…"
Also read: Violent Ladakh clashes have left India-China relations profoundly disturbed: Jaishankar
Speaking on the rise of China and the possibility of it dominating the world order, Zakaria said, "If democracies can get their house in order, if we make some wise choices over the next 10 or 15 years we will live in a messy, chaotic but open and somewhat liberal world and that China will not dominate…If you look at China externally, what is striking to me is Xi Jinping's foreign policy has basically been a failure. I mean what is the goal of your foreign policy — to win friends, to influence people…set standards around the world…I am looking around China and thinking to myself whether China has not alienated itself in the last five years?"
As far as military response to situations along the LAC and LoC are concerned, Indian Army Chief Gen MM Naravane made it clear on Tuesday (January 12) that his force will stay on at the standoff deployment points as long as needed against the Chinese PLA. "If talks prolong, so be it. We are prepared to stand our ground, where we are, for as long as needed to achieve our national goals", the Army Chief said while addressing the media on the eve of the Army Day.
"There is no doubt that a collusive threat (from Pakistan and China) exists… very much manifesting itself on the ground. There is indeed an increase in cooperation between China and Pakistan in both military and non-military areas. A two-front threat is very much there for which we have to be prepared," said the Army chief.