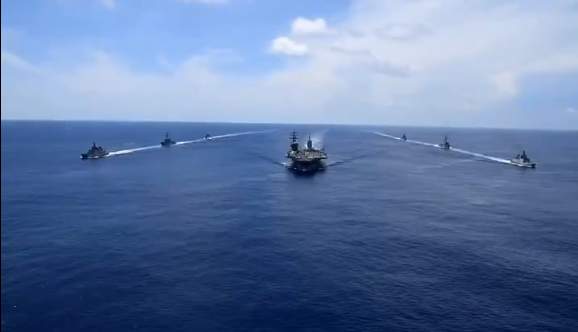 For the first time since 2007, all four Quad nations — India, US, Japan, and Australia — are participating in the annual 'Malabar' naval exercise, in what is being as a show of strength  amid the military and economic moves emanating from China.
India is involved in an ongoing tension since the middle of this year with its neighbour along the border near Ladakh.
Related News: 'Boundary question is bilateral matter,' says China after US supports India
The first phase of the naval exercise kicked off on Tuesday (November 3), off the coast near Vishkapatnam, according to an Indian government source. The second phase will be held in mid-November in the Arabian Sea. There will be no contact between the military personnel due to COVID-19 restrictions.
Five ships of the Indian Navy, including a submarine, the US Navy's John S McCain missile destroyer, Australia's Ballarat frigate and a Japanese destroyer have been deployed for the exercises, according to the Indian ministry of defence.
"The exercise will showcase the high-levels of synergy and coordination between the friendly navies, which is based on their shared values and commitment to an open, inclusive Indo-Pacific and a rules-based international order," the defence ministry said in a statement.
The naval exercise first started in 1992 between India and the US. Japan joined in 2015.
They come at a time when India and China are involved in a standoff in eastern Ladakh. Last month, the defence ministry said in a statement: "As India seeks to increase cooperation with other countries in the maritime security domain and in the light of increased defence cooperation with Australia, Malabar 2020 will see the participation of the Australian Navy".
Related News: Showing Leh as part of China a 'criminal offence', panel tells Twitter
Therefore, the inclusion of Australia is of significance. According to sources, India desisted from expanding the Malabar exercise as it might not be accepted by China, and so Australia was not included.
China is not exactly on cordial diplomatic terms with the US, Japan and Australia. According to Reuters, China has accused the United States, which has been leading the effort to forge a common front among its allies, of a "Cold War mentality" and ideological prejudice.
Australia has led calls for an international inquiry into the coronavirus pandemic and Beijing imposed trade sanctions on Australian beef and barley. On the other hand, Japan is embroiled in a dispute with China over ownership of islands in the East China Sea.