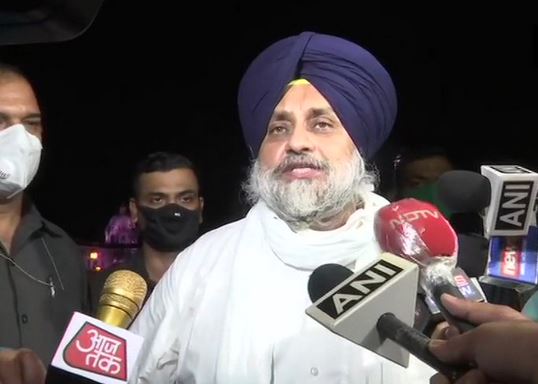 Following the resignation of Food Processing Industries Minister Harsimrat Kaur Badal over the passage of three farm-sector bills on Thursday (September 17), Shiromani Akali Dal president Sukhbir Singh Badal, also Harsimrat's husband, said the party, an old ally of the BJP will now review its ties with the NDA government.
"From the Day One when the ordinances were brought into the cabinet, Harsimrat Kaur Badal strongly opposed it and put forward her views that the people of Punjab are concerned with the ordinances. Especially, the farmers should be consulted. But they passed it," Badal told the media outside Parliament.
"We stand with the farmers and will do anything for them. The next course of action will be taken by our party for which there will be a meeting shortly," ANI quoted him as saying.
He said the party is upset over the government's introduction of the bill without any changes. "You cannot be a part of the government which has not looked into the rights of the farmers. We spent two months trying to convince the government. But now since the bill is done, we cannot go back," NDTV quoted him as saying.
Related news: Harsimrat Kaur Badal quits Modi cabinet over farm bills
Even though the Akali Dal is the oldest member of the NDA, Badal said given the current circumstances, the party's core committee will now look into the situation and decide on the future course of action on continuing with the alliance.
President Ramnath Kovind has accepted the resignation of Harsimrat Kaur Badal.
"Thousands of farmers are on the streets. I did not want to be part of the government that got the bills passed in the House without addressing the apprehensions of farmers, that is why I resigned," she had commented after deciding to step down as a cabinet minister on Thursday.
"The President of India, as advised by the prime minister, has accepted the resignation of Harsimrat Kaur Badal from the Union Council of Ministers, with immediate effect," the Rashtrapati Bhavan said in a statement.
As per the advice of the prime minister, the president made cabinet minister Narendra Singh Tomar the in-charge of the Ministry of Food Processing Industries, in addition to his existing portfolios. Tomar holds multiple portfolios including the Ministry of Agriculture and Farmers Welfare, Rural Development Ministry and the Ministry of Panchayati Raj.
Lok Sabha on Thursday passed the Farmers Produce Trade and Commerce (Promotion and Facilitation) Bill and the Farmers (Empowerment and Protection) Agreement on Price Assurance and Farm Services Bill. It has already passed the Essential Commodities (Amendment) Bill.
The bills which have been opposed by the farmers of Punjab and Haryana, were also opposed by parties such as BJD and TRS.