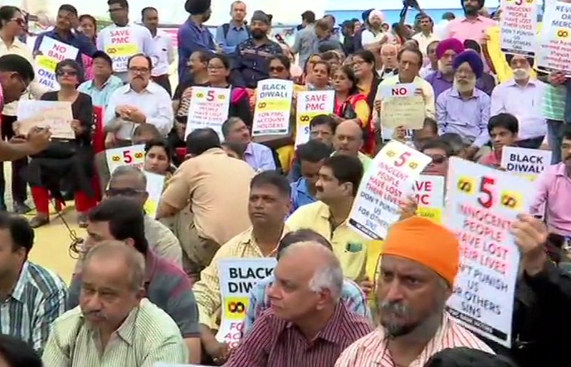 A day after many of them either boycotted polls or cast NOTA votes at the Assembly elections, a group of account holders of Punjab and Maharashtra Cooperative (PMC) Bank on Tuesday (October 22) staged a protest at Mumbai's Azad Garden demanding the government to either revive or merge the bank.
Protesters held placards with slogans like "Black Diwali for PMC account holders", urging the government not to punish the bank's account holders for the mistakes of others. The protest comes almost a month after the Reserve Bank of India announced a temporary closure of PMC Bank and imposed restrictions on withdrawals.
Also read: Police warn PMC Bank victims not to organise protests in poll-bound Mumbai
The bank's closure has also triggered as many as five stress-related deaths, with the latest being reported on Sunday (October 20). Bharati Sardarangani, 73, a resident of Mulund Colony and mother of a PMC depositor died of cardiac arrest after undergoing extreme anxiety and stress, according to reports.
According to reports, Sardarangani for the past many days was worried for her daughter and son-in-law who had deposits of almost ₹2.5 crore in the bank.
"She did not suffer from any ailment, so this instantaneous cardiac arrest that killed her was most likely precipitated by the bank collapse. My wife Hema would share her worries with her over the phone, and we suspect my mother-in-law took this hard," Times of India quoted Sardarangani's son-in-law Chandan Chotrani as saying.
Chotrani runs an import business. Sardarangani's death is the third-most in Mulund Colony.
Peeved over the string of deaths, PMC depositors on Monday boycotted the state Assembly elections in large numbers, while some visited their booths only to press the NOTA button.
Various reports said the depositors' action was a way to draw the government's attention towards their problem and register their protest against politicians who so far have been turning a deaf ear to their complaints.
"I voted for NOTA today as I don't want my vote to be wasted. It's been a month since the crisis but no politician came out to support us. Why do we vote for them?" Mumbai Mirror quoted Manjula Kotiyan, a depositor as saying.
Also read: Fourth PMC tragedy: Unable to withdraw money 83-year-old heart patient dies 
A majority of voters who boycotted the elections were from Mulund Colony, dominated by the Sindhi and Sikh communities. The colony, according to a TOI report has almost 20,000 depositors.
"These politicians did not bother to visit our homes and enquire about our wellbeing. The ₹ 40,000 withdrawal was a pittance as we have huge medical costs," TOI quoted Lalchand Nanwani, a 70-year-old resident of the colony as saying.
"When there is any auto or bus fare hike, there is dharna by political parties on the roads. What about our bank crisis? Why didn't any party come forward with a dharna here?" another resident Jayant Khatri told TOI.
Among those who boycotted the polls were the family members of people who succumbed to stress-related deaths.