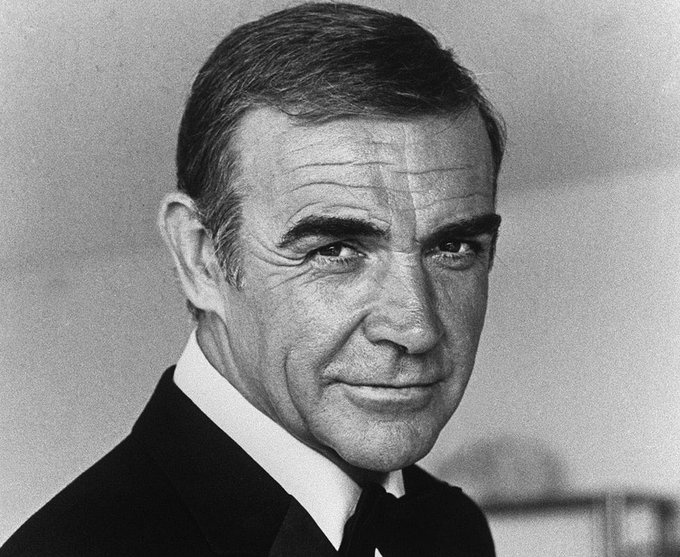 The name stays, but the man is gone. Actor Sean Connery, best remembered for playing fictional spy James Bond, died in his sleep at the age of 90, leading to an outpour of tributes across the globe for one of Britain's best-loved screen heroes.
Sir Sean's son Jason told the BBC: "A sad day for all who knew and loved my dad and a sad loss for all people around the world who enjoyed the wonderful gift he had as an actor."
"He was and shall always be remembered as the original James Bond," said the James Bond movie franchise's producers Michael G. Wilson and Barbara Broccoli.
The pair attributed James Bond series' initial success to Connery and said "they shall forever be grateful to him."
Another Bond actor Roger Moore, who died in 2017, was friends with Sean. A Twitter account carried a message on Saturday: "He and Roger were friends for many decades and Roger always maintained Sean was the best ever James Bond. RIP."
Hollywood star Hugh Jackman said: "I grew up idolizing #SeanConnery. A legend on screen, and off. Rest In Peace."
Another user said: "He was a one of a kind.. Rest in peace, Sean Connery."
Sean Connery's background
Connery was born in Edinburgh in 1930. He got his only Oscar in 1988 for best supporting actor for his role as an Irish cop in "The Untouchables".
He was also a part of "The Hunt for Red October", "Indiana Jones and the Last Crusade" and "The Rock".
But it is his smooth, Scottish-accented portrayal of the suave spy 007 that earned him lasting worldwide fame and adoration.
The first actor to utter the unforgettable "Bond, James Bond", Connery made six official films as novelist Ian Fleming's creation, giving what many still consider as the definitive portrayal.
I grew up idolizing #SeanConnery. A legend on screen, and off. Rest In Peace. pic.twitter.com/OU9QEy5fTB

— Hugh Jackman (@RealHughJackman) October 31, 2020
Sean was born into a working class Edinburgh family and through talent and sheer hard work, became an international film icon and one of the world's most accomplished actors.
He did several menial jobs like a bricklayer, lifeguard, and coffin polisher, before he found fame. Sean entered the world of name and fame after his hobby of bodybuilding led him to enter the Mr Universe competition.
Sad news on hearing of Sean Connery's death today.
From James Bond 007 to the father of Indiana Jones he always brought power and gravitas to the many marvelous perfomances he gave. Legend may be over used but not for Sean…#RIP pic.twitter.com/JhTZbYwejd

— PETER OXLEY (@oxley264) October 31, 2020
There, a fellow competitor urged him to audition for acting parts and he soon started landing small roles.
Beginning of the Bond series
Sir Sean first played James Bond in 'Dr No' in 1962 and went on to appear in five other official films – and the unofficial Never Say Never Again in 1983.
His other Bond movies were: "From Russia With Love" (1963), "Goldfinger" (1964), "Thunderball" (1965), "You Only Live Twice" (1967) and "Diamonds Are Forever" (1971).
Off-screen, Connery was a fierce supporter of independence for Scotland from the UK. In the run up to the 2014 referendum on Scotland, Sean said that he might return from his Bahamas home to live in Scotland if it voted to break away from the rest of the UK.
Scotland's First Minister Nicola Sturgeon said: "I was heartbroken to learn this morning of the passing of Sir Sean Connery. Our nation today mourns one of her best loved sons."
"I will miss him. Scotland will miss him. The world will miss him," the First Minister added.