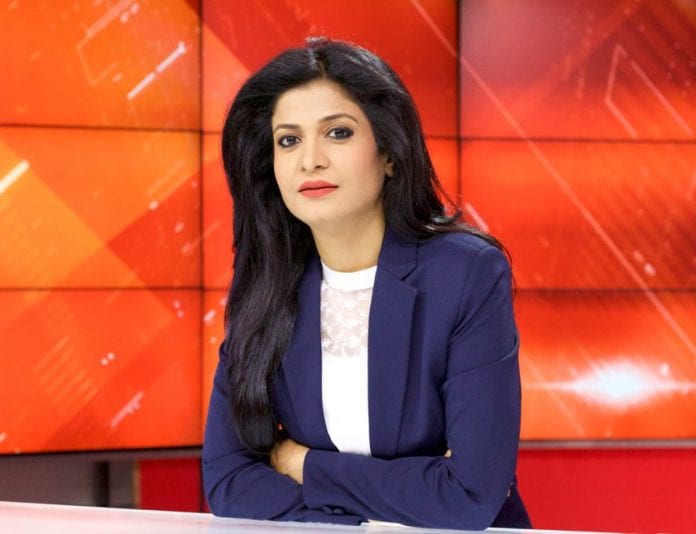 A journalist of a reputed news channel has been heavily trolled on social media after a video of her asking questions to doctors in the ICU of SKMC Hospital in Bihar's Muzaffarpur where children suffering from Acute Encephalitis Syndrome are being treated, went viral.
The video shows Anjana Om Kashyap, a news anchor of Aaj Tak storming into the ICU of the hospital and questioning doctors on duty about the poor infrastructure and handling of patients in the hospital. While the video has elicited a mixed response from social media users, with some even appreciating her for the courage to ask tough questions, the overall response has been negative.
Many wondered how she was allowed to an ICU with a microphone and a camera in the first place, while those trolling her on social media have accused her of "being a nuisance" and that it was "insensitive" of her to heckle doctors and nurses and prevent them from doing their jobs.
There is an instance in the video where Kashyap is seen pestering a doctor for answers while he is moving from one bed to another to treat patients.
What you did in that ICU is not journalism, Anjana Om Kashyap, it is insensitive, creating a nuisance and endangering lives

Quite shameful, @anjanaomkashyaphttps://t.co/lx7bpunzYc

— Nupur J Sharma (@UnSubtleDesi) June 19, 2019
#AnjanaOmKashyap Journalists should maintain decorum while indulging with health institutions. Doctors cannot be blamed for defective facilities at the hospitals. She should have questioned the chief minister rather than these doctors who toil their day and night for patients.

— Vybhav Nambiar (@NambiarVybhav) June 19, 2019
#AnjanaOmKashyap shame on u anjana om kashyap
How did u enter icu with infected mikes and without proper precautions.u have lost all your respect.just to show on news that u r such a powerful reporter Dosent mean that u have the right to do anything u want and say on doctors

— DR AMIT KUMAR (@DRAMIT1807) June 19, 2019
A few also said that she should be questioning the system, the government, or the chief minister, instead of the doctors.
Who the hell are u to enter the ICU with cameraman and to interrupt the doctor who is already overworked, Exhausted and still doing his duty sincerely…It was cheapest thing u did for TRP..will stop watching ur news channel.Shame on you and your cheap journalism #AnjanaOmKashyap pic.twitter.com/v91KZT9Pd1

— Dr.Angry Beast (@DrAngryBeast1) June 19, 2019
Making personal attacks at the journalist, some social media users have stirred up her past on social media. Taking a dig at her biography online which says she wanted to be a doctor, some have said that she actually ended up "bullying" a doctor.
once who dreamed to become a doctor,she herself bullying a doctor #shameonyou #AnjanaOmKashyap pic.twitter.com/geafmt0yux

— vikas solanki (@solankivikas807) June 19, 2019
There have been a few positive responses where people called her "brave" for asking questions.
Brave #AnjanaOmKashyap asked strict questions to Doctors & their management in Hospital where Children are losing their lives and it's her right to question.

Media ppl should raise this issue & ask hard-hitting questions to Govt.

Salute to you @anjanaomkashyap.?@SwetaSinghAT pic.twitter.com/CsZsiGgbpa

— Anita Chauhan (@anita_chauhan80) June 19, 2019