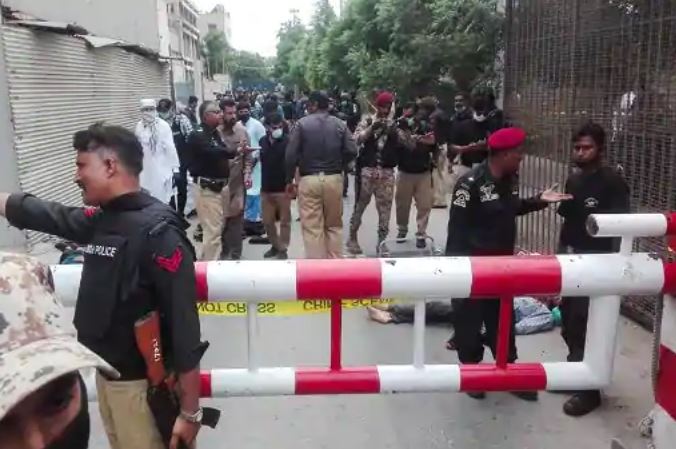 Four gun-wielding terrorists were killed by security forces after they attacked the Pakistan Stock Exchange building in Karachi on Monday (June 29) with grenades, leaving four security guards and a police sub-inspector dead.
According to Geo News, the unidentified militants opened fire and lobbed hand grenades at the main gate of the building while attempting to barge in.
Initial reports say a few civilians have been killed while some have been injured in the incident.
Advertisement
Quoting police surgeon Dr Qarar Ahmed Abbasi, The Dawn said five bodies and seven injured including policemen have been brought to the Dr Ruth Pfau Civil Hospital in Karachi.
"An unfortunate incident took place at the Pakistan Stock Exchange. They made their way from our parking area and opened fire on everyone," said Abid Ali Habib, Director Pakistan Stock Exchange.
Related news: Hizbul commander, two militants killed in J&K; Anantnag now 'militancy free'
The firing by militants caused panic among the people in the building. Sindh province Governor Imran Ismail condemned the incident. "Strongly condemn the attack on PSX aimed at tarnishing our relentless war on terror. Have instructed the IG & security agencies to ensure that the perpetrators are caught alive & their handlers are accorded exemplary punishments. We shall protect Sindh at all costs," he said on Twitter. Police and rangers have arrived on the spot and surrounded the area.
Weapons and hand grenades have been recovered from the assailants and a clearance operation is underway in the vicinity.
Condemning the incident, Sindh Chief Minister Murad Ali Shah has said that it was "akin to an attack on national security and economy."
"Anti-state elements want to take advantage of the virus situation," The Dawn quoted him as saying in a statement.