As India enters day 14 of the nationwide lockdown imposed in view of the coronavirus pandemic, according to a Google report, the country managed to decrease the movement of people in public spaces by around 60 per cent within the first five days.
In its 'Community Mobility Report' for India released on April 1, Google said that it used the current GPS location data from android phones and compared it with the normal movement data in their respective places collected before the World Health Organisation (WHO) declared the COVID-19 a pandemic.
Related news: COVID-19 lockdown: Two-third flights cancelled; 66% planes sit on tarmac
The details of movement correspond to the period February 16-March 29.
The report aims at helping public health officials understand whether social distancing and lockdown measures are working and also to extend support to policymakers for making future decisions.
What the data reveals
As per the report, the retail and recreation category, which includes restaurants, cafes, shopping centers, museums and movie theatres, witnessed the maximum decline of about 77 per cent in public movement as in India, these were the first places to undergo lockdown.
Public places such as parks, plazas, beaches and public gardens saw a 57 per cent dip in the number of visitors.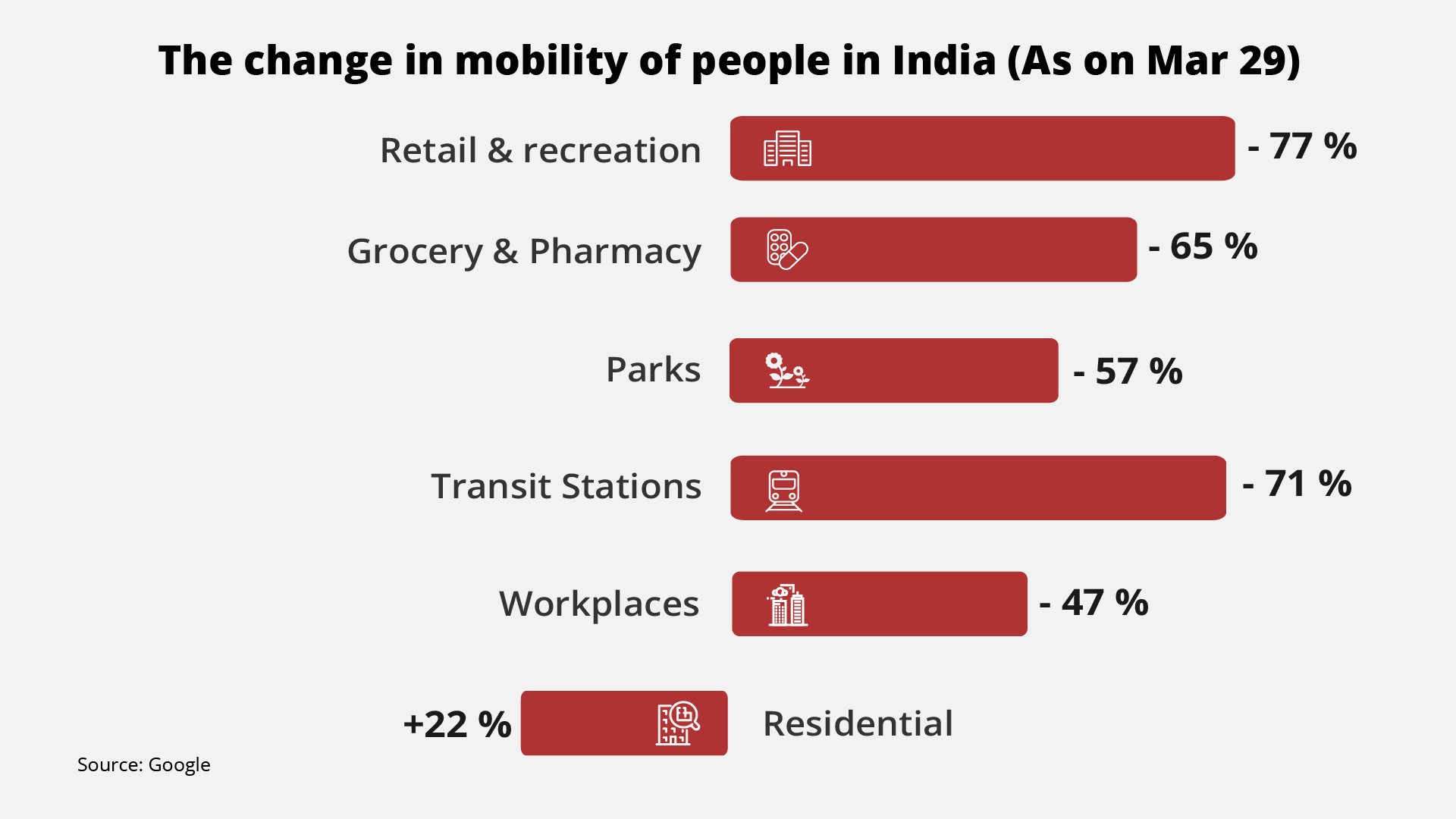 Transit stations like metro, bus stops, train stations saw a 71 per cent drop in visitors as a result of the nationwide lockdown.
The work-from-home granted by many employers could also be one of the reasons behind this decline in transit movement in the country.
Currently, there is a complete ban on public or private transport except for the essential services in India.
Related news: COVID-19 sounds May day for airlines, companies to lose ₹1,700 crore
The workplaces saw a 47 per cent fall in mobility, during the same period, in turn, increasing the residential movements by about 22 per cent post the lockdown.
The grocery and pharmacy category that is named an essential service, even after being functional amid lockdown, has observed a massive decline of customers. The category, which includes grocery markets, food warehouses, farmers' markets, specialty food shops, drug stores, and pharmacies, saw over 65 per cent decrease in the movement as people stepped out to buy only the essentials.