India's unemployment rate has shot through the roof. According to the Centre for Monitoring Indian Economy (CMIE), at least 5 crore Indians have lost their jobs in the past two weeks.
The weekly tracker survey of CMIE released on Monday (April 6) evening suggests that unemployment rate which was 8 per cent in March has now shot up to 23 per cent, a 15 per cent rise, especially after the lockdown.
The figures were so devastating that even the surveyors had difficulty releasing the numbers. The survey was done by interviewing households over telephones. The numbers were released when the trend remained unchanged for two consecutive weeks.
Job losses in the COVID-19-hit world is a global phenomenon and is expected in India too, but the scale of devastation – a 15 per cent rise- within two weeks has alarmed everyone.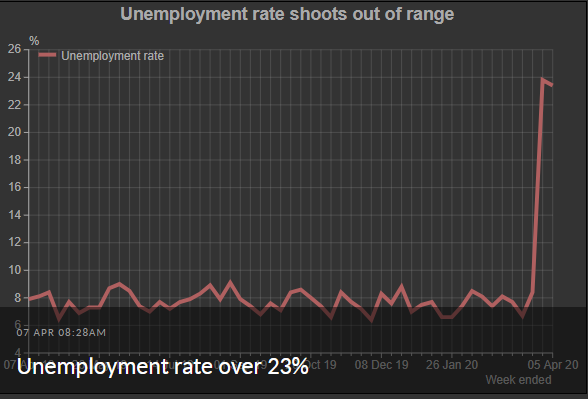 Economy paralysed
According to one estimate two-third of economy is shut down as only few essential services which includes public administration, communications, health services, media, electricity, food and dairy are functional. Though agriculture is not included in the lockdown, farmers are struggling without farm labour that have fled either due to fear of pandemic or police.
Related news: Indian tourism sector may lose ₹5 lakh crore, 5 crore jobs to be cut
In the United States, nearly one crore workers have filed for unemployment benefits. In India there is no such safety net and over 25 per cent of the population is still below the poverty line which means they find it difficult to manage two square meals a day.
Big companies hang in there
Industry body Confederation of Indian Industry (CII) has said that more than half of the tourism and hospitality industry can go sick with possible loss of over 20 million jobs if recovery in the industry stretches beyond October 2020. Similar doubts linger on sectors such as airlines.
While big enterprises are still holding on and have kept their employees on the rolls, the same is not the case with a number of small and medium industries, the backbone of the Indian industrial scene.
Though the government has warned the companies against dismissals due to COVID-19 and had asked them to pay the salaries to their employees, the ground reality is totally different. Many proprietors have raised their hands saying that they have no money or earnings to pay their employees.
India does not have its own high-frequency labour indicator and therefore economists and data scientists rely on private service providers like CMIE who come out with estimates based on their horizontal sampling technique with a set of people.
Change in consumer behaviour
A bigger headache awaits the economy post lockdown as both the consumer expectations and consumer sentiments have turned negative. It is unlike to reverse anytime soon.
The new figures clearly indicate that while a large population (8 per cent ) was out of the job market, nearly 15 per cent are rendered jobless.
Related news: Coronavirus may steal 25 million jobs if urgent steps are not taken