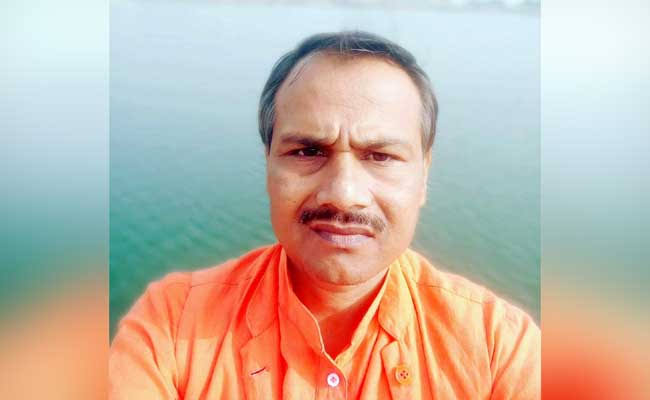 Five persons have been taken into custody in connection with the murder of former Hindu Mahasabha leader Kamlesh Tiwari, police confirmed on Saturday (October 19). Of these five, three were arrested from Surat, they said.
Tiwari, 43, the president of a little-known Hindu Samaj Party, was killed at his residence in Khurshed Bagh under the Naka Hindola police station area on Friday (October 18).
A lesser-known outfit called the Al-Hind Brigade claimed responsibility for the murder of the Hindu Samaj Party president late on Friday night, but the authenticity of the claim could not be verified immediately.
#WATCH Surat: CCTV footage of the three accused in #KamleshTiwari murder case being picked up by the Gujarat Anti-Terrorism Squad (ATS). pic.twitter.com/mEyxFNk2zQ

— ANI (@ANI) October 19, 2019
Police have taken into custody Mohammed Mufti Naeem Kazmi and Imam Maulana Anwarul Haq, who were named in the FIR in Uttar Pradesh, state Director General of Police OP Singh said at a press conference.
"The three persons who have been taken into custody in Surat are Mohsin Sheikh, Faizan and Rashid Ahmed. So far there is no terror angle associated with this incident," Singh said. The Uttar Pradesh police and their Gujarat counterparts are interrogating the persons taken into custody, the DGP said.
Meanwhile, officials said that the trio were brought to Ahmedabad and arrested. They will be handed over to the Uttar Pradesh Police, they added.
"Prime facie it seems that Tiwari was murdered due to his controversial statement made in 2015. There is a possibility," the DGP said as he ruled out any terror angle.
#WATCH: UP DGP OP Singh addresses the media https://t.co/7zLSkh432j

— ANI (@ANI) October 19, 2019
On Friday night, Additional Chief Secretary (Home) Awanish Awasthi said a special investigation team (SIT) had been constituted to probe the incident. Awasthi said the team consisted of Inspector General (Lucknow) S K Bhagat, Lucknow Superintendent of Police (Crime) Dinesh Puri and STF deputy SP P K Mishra.
In a statement issued by the Uttar Pradesh government, OP Singh said, "Tiwari was provided security for the past some months, under which apart from a gunner, a security personnel was provided from the local police station."
"At the time of the incident, the security personnel who was deployed at the residence of the deceased had stopped the killers, and allowed them to enter the house only after asking Tripathi. Possibly the killers might have used other names," the state police chief said.
Also read | President of Hindu Samaj Party Kamlesh Tiwari shot dead in Lucknow
In a statement, the Akhil Bharatiya Hindu Mahasabha condemned the incident. Police said brief protests were held in the area by local residents after the murder.
"Kamlesh Tiwari was found murdered inside his house. Two persons had come to meet him. Both were speaking to Tiwari when the latter sent one of his aides to get paan for them," Vikas Tripathi, ASP (Lucknow West) said.
"When his aide returned from the market, he found Tiwari in a pool of blood," Tripathi added. The Al-Hind Brigade, in its message that also carried a photograph Tiwari, said, "Kamlesh Tiwari was a nuisance and whosoever points fingers towards Islam and Muslims, will met same end. Al-Hind Brigade takes the responsibility. Get ready to see more. The war has begun," the outfit said in a WhatsApp message that was widely circulated.
Whether the outfit had links with any global terror organisation was not immediately known. Police, meanwhile, said they were looking at all angles.
Also read | BJP questions silence of 'liberals' after triple murder shocks Bengal
Elaborating on the registration of the FIR, ASP Tripathi said, "On the basis of the complaint lodged by the wife of the deceased, police have registered an FIR against three people, including an unknown person."
Two of the accused have been identified as Mohammed Mufti Naeem Kazmi and Imam Maulana Anuwarul Haq, both residents of Bijnor district. They have been booked under Sections 302 (murder) and 120-B (criminal conspiracy) of the IPC.
Police said though the killers were yet to be identified, the Bijnor residents were booked after the victims wife named them in her complaint. A senior UP government official said the persons who had come to meet Tiwari shot him dead after talking to him for little over half an hour. Police reached the spot and gathered the CCTV footage.
UP DGP OP Singh told reporters, "Those who have murdered Tiwari are said to be his acquaintances. They spent over half an hour with him and even gave Tiwari a box of sweets and after it the murder took place. We have got some vital clues and based on CCTV footage and other evidences, we are working on the case."
Also read | Tabrez lynching case: Murder charge brought back against all accused

He said teams had been formed to crack the case. "We have also got some call details. The special task force has been engaged in the case," he said, adding that it was "purely a criminal activity" done by two people.
The UP DGP said there were "some minor law and order problem" in the area after the murder took place with local people saying that such incidents should not take place.
"But, the situation now is under control. Police officers are patrolling the area. In the next 48 hours, we will catch the culprits," he said.
An eyewitness, Saurashtra Singh, told reporters shortly after the incident that the police constable deployed at the house of Tiwari was sleeping while the gunner attached to him was not coming for the past a couple of days.
Family members of #KamleshTiwari say that they won't cremate his body till Chief Minister Yogi Adityanath pays them a visit. Wife says,"I will self-immolate." https://t.co/ONDfEMePyR pic.twitter.com/hRfSb9LhFp

— ANI UP (@ANINewsUP) October 19, 2019
Earlier in the day, Tiwari's wife Kiran in a complaint to police said, "Around 12.30 pm, my husband was sitting in his office located on the first floor of the house and speaking to some unknown persons. I was in another room. Suddenly, for nearly 4-5 minutes, there was no conversation. I came out to enquire and saw my husband lying in a pool of blood. The two persons, who had come to meet him, were running out of the office."
She further alleged, "In 2016, Mohammed Mufti Naeem Kazmi and Imam Maulana Anuwarul Haq had announced a cash reward of ₹1.5 crore on my husbands head. They have killed my husband by hatching a conspiracy."
Tiwari's wife also demanded job assurance for her two sons and threatened to self-immolate if her demands are not met. "I will commit self-immolation right at this place along with my children," she was quoted as saying by a news agency.
(With inputs from agencies)