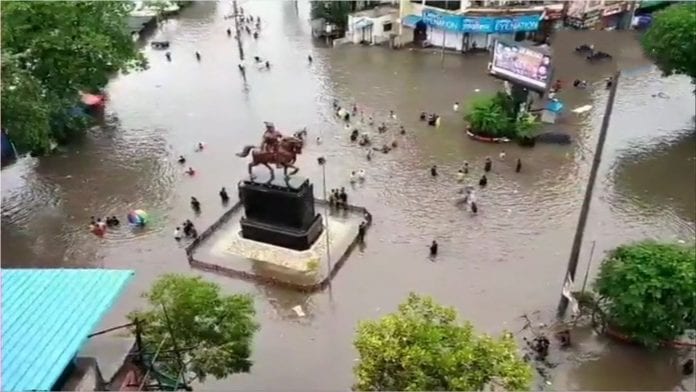 Even as heavy downpour continued to hit several parts of the country on Wednesday, the toll in flood-affected areas in four states mounted to 225 with over 20 lakh people displaced.
Kerala bore the brunt of nature's fury, with several parts of Kerala receiving downpour since Tuesday (August 13) night, many low lying areas have been waterlogged, even as the toll in the rain-battered state has gone up to 95 so far.
Meanwhile, life is slowly inching back to normalcy in flood-ravaged Kolhapur and Sangli as floodwaters have receded in these districts of Maharashtra and the key rivers there are now also flowing below the danger mark, officials said on Wednesday. There have been 49 deaths reported from the state and over 6.45 lakh people have been displaced.
A red alert has been sounded for three north Kerala districts of Malappuram, Kannur, and Kozhikode, which bore the brunt of the flood fury and landslides last week. Pathanamthitta, a central Kerala district which has been receiving very heavy rains since last night is put on high vigil, authorities said on Wednesday (August 14).
Taking into account the heavy rain forecast, educational institutions in 11 districts have declared holiday on Wednesday.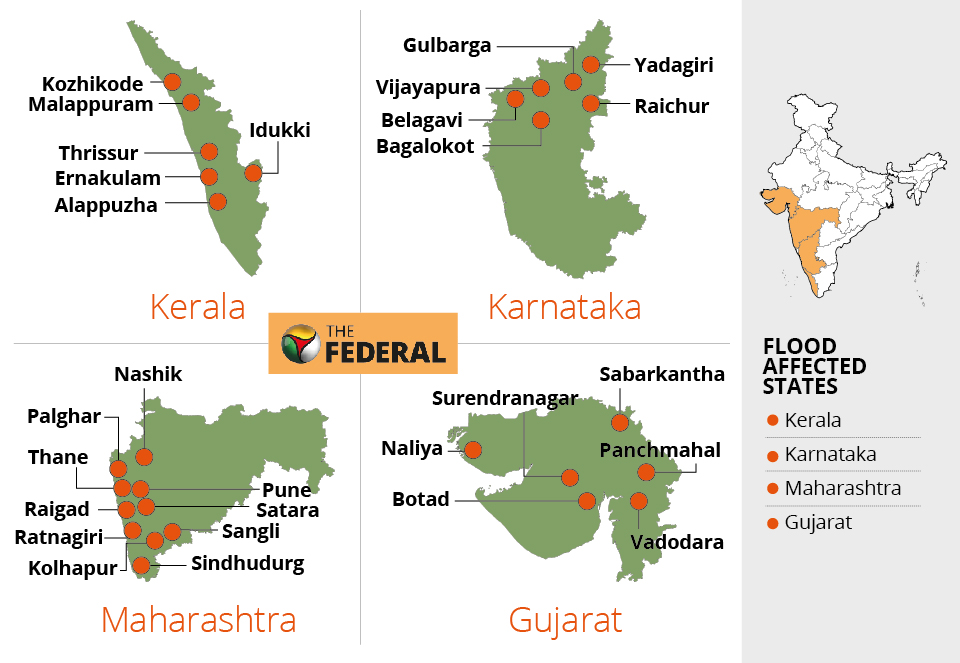 Meanwhile, till Tuesday, 6.45 lakh people were shifted to safer locations in Kolhapur and Sangli, which have been the worst affected by flooding following heavy rains in western Maharashtra and Konkan region.
"In Kolhapur, life is inching back to normalcy as the relief measures and work to restore various services are going on in full swing," an official at the collectorate said.
The situation in Shirol tehsil, which was severely affected by floods, has also improved as maximum help is being provided there, he said. On Wednesday morning, the water level of the Panchganga river at Rajaram in Kolhapur was at 42.11 feet, marginally below the danger line of 43 feet, he said.
"Till Tuesday, carcasses of 150 animals were disposed of using scientific methods to prevent health hazards," he said. In Sangli also, the floodwaters have receded and the Krishna river is flowing below the danger mark.
The state government has been banking on the discharge of water from the downstream Almatti dam on the Krishna river in neighbouring Karnataka for the flood situation to ease.
Chief Minister Devendra Fadnavis said the state government will seek an assistance of ₹6,813 crore from the Centre – ₹4,708 crore for Kolhapur, Sangli, Satara and ₹2,105 crore for Konkan, Nashik and rest of Maharashtra.
Meanwhile, the death toll in Karnataka has risen to 58, with the recovery of four more bodies in Hassan district. Joint rescue teams comprising personnel from State Disaster Response Force, National Disaster Response Force, and the army have evacuated nearly 6.98 lakh people as of today, the official note said.
As many as 1,160 relief camps are operational, where clean drinking water, food, and other relief materials are being provided to nearly four lakh people housed in them.