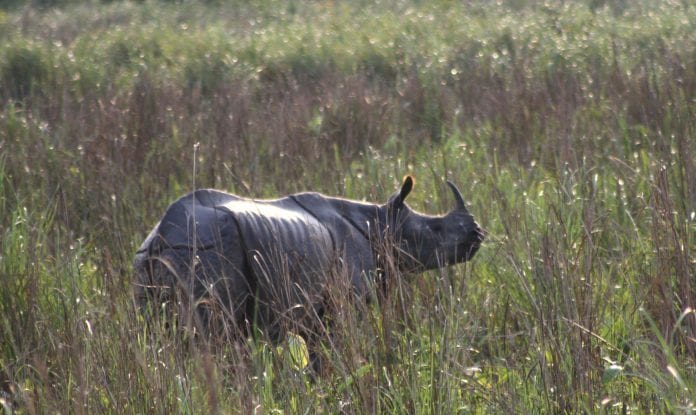 The Kaziranga National Park (KNP) of Assam reported its first rhino poaching case in a year after authorities discovered a full grown male carcass with its horn missing on Saturday (May 9) evening. The adult male rhinoceros was gunned down and its horns were ripped off as part of the poaching.
P Sivakumar, Director of the Kaziranga National Park told The Indian Express that they found the carcass at 5.30 pm near Duamari beel under the Eastern Range Agoratoli range of the national park. He confirmed that this was the very first case of poaching after a gap of 13 months. The last poaching case was reported on April 1, 2019, in Gohpur side of the Biswanath division.
According to the authorities, the Kaziranga national park reported three cases of rhino poaching in the year 2019, which is a significant drop from previous years. Many cases of rhino poaching were reported till 2013. The highest figures of poaching in a decade were in the years 2013 and 2014, with 27 incidents in each year. The figure then decreased to 17 in the year 2015 and 18 in 2016. While in 2017 and 2018, there were six incidents. 2019 reported three incidents. But, the case reported on May 9, is the first one for 2020.
According to Sivakumar, the rhino is suspected to have been killed two or three days before the authorities found the carcass. They recovered eight rounds of empty cartridges of an AK-47. The authorities are investigating right now and should be able to find something soon.
Bibhab Talukdar, conservationist and authority on Asian rhinos, stated that the presence of the AK-47 cartridges suggests it was a well-organised crime by those who possess sophisticated arms and ammunition. He suggested that traditionally, poachers are most active on Buddha Purnima festival, which is marked by a full moon day.
RELATED NEWS: Total COVID-19 cases in Assam rises to 56
Since July 1, 2019, as many as 82 constables, including 74 men and eight women, of the first-ever batch of a 'Special Rhino Protection Force' (SRPF) were deployed in various parts of the UNESCO World Heritage Site. This was the very first time a dedicated force was raised to keep a check on the rhino poaching and other such related activities at the Kaziranga National Park. According to the rhino census of March 2018, the rhino population was at 2,413.