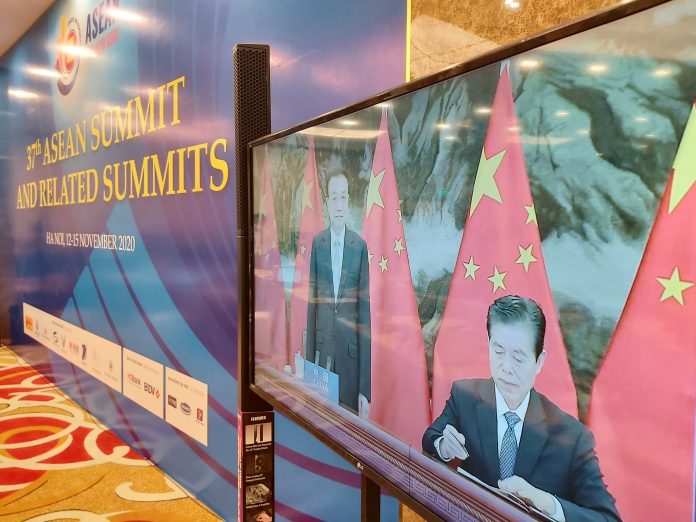 Fifteen Asian countries on Sunday (November 15) signed the China-backed Regional Comprehensive Economic Partnership (RCEP) trade deal in Hanoi, Vietnam, in what is being called the largest free-trade bloc that would help China strengthen its influence in the Asia-Pacific region.
The RCEP includes China, Japan, South Korea, New Zealand and Australia, among other countries and boasts of more than 30 per cent of the global GDP. The trade deal which will cover 30 per cent of the global population is expected to reach 2.2 billion customers, host country Vietnam said.
The deal which was first proposed in 2012, was signed at the end of the Southeast Asian Summit and at a time when Asian leaders are planning a post-pandemic recovery of their economies.
"Under the current global circumstances, the fact the RCEP has been signed after eight years of negotiations brings a ray of light and hope amid the clouds," AFP quoted Chinese Premier Li Keqiang as saying.
"It clearly shows that multilateralism is the right way, and represents the right direction of the global economy and humanity's progress," he said.
This is also the first time East Asian rivals China, Japan and South Korea are signing a single free trade agreement.
While the signing of the pact will strengthen China's position in Asia Pacific, it rings warning bells for India and the United States which quit the bloc in 2019 and 2017 respectively. While India's relationship with China has been strained over the border standoff at Eastern Ladakh, the United States has been opposing China's aggressions in the South China Sea as well as the alleged violation of human rights in the Xinjiang province.
According to Reuters, the RCEP which aims to progressively lower tariffs across many areas in South East Asia, will help China cut is dependence on overseas markets.
"RCEP will soon be ratified by signatory countries and take effect, contributing to the post-COVID pandemic economic recovery," Vietnam Prime Minister Nguyen Xuan Phuc said.