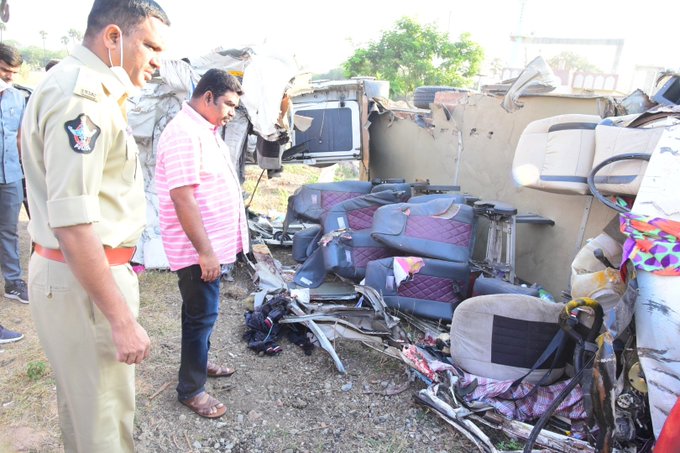 Kurnool (AP): Fourteen people, including eight women and a child, were killed and four others injured when a mini-bus collided with a lorry in Kurnool district of Andhra Pradesh early on Sunday, the police said.
The incident took place around 4 a.m. when a group of people hailing from Chittoor district of the state were travelling in a mini-bus towards Hyderabad, a senior police official said.
They were all on their way to Ajmer in Rajasthan, he added. Preliminary investigation suggested that the driver of the bus apparently lost control and the vehicle first crashed against the road median and then rolled to the other side of the road hitting a lorry, the official said. The injured have been hospitalised and the condition of two is stated to be serious, police said.
Advertisement
All the four survivors are said to be children and the condition of two of them was critical, sources said. NDTV reported that the police were trying to ascertain their identities using Aadhaar cards and phone numbers.
Kurnool police chief K. Fakirappa told NDTV that people were crushed inside the vehicles and the bodies had to be extricated using machines.
Andhra Pradesh Chief Minister YS Jagan Mohan Reddy said he was shocked. He directed officials to ensure speedy relief and provide medical help.
Former Chief Minister N. Chandrababu Naidu said he was pained to know of the accident. he wished 'speedy recovery' tp those injured.
(With inputs from Agencies)
Pained to learn about the gruesome accident that took place in Veldurthi Mandal of Kurnool District. My heart goes out to the 14 families who have lost their loved ones. I wish speedy recovery to those injured. pic.twitter.com/vmCZ8AwLJc

— N Chandrababu Naidu (@ncbn) February 14, 2021