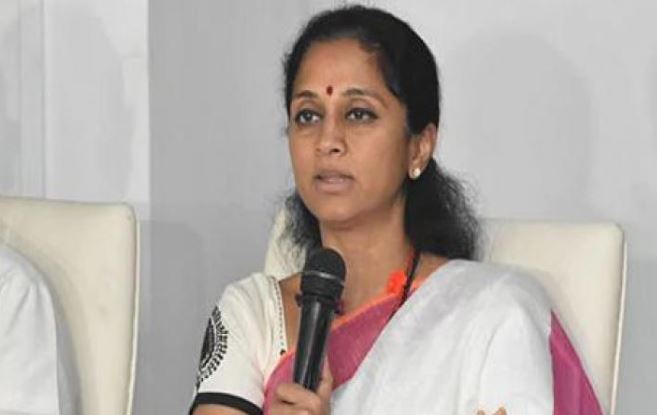 LIVE | No-confidence motion: BJP has toppled 9 govts in as many years, says Supriya Sule
NCP MP Supriya Sule lambasted the Modi government on Tuesday (August 8), stating that when she thinks of this government the first thing that comes to her mind is hubris.
Speaking on the no-confidence motion, Sule said, "In 9 years what have been your achievements – state governments toppled, price rise, food inflation, institutes broken, indices where India has fallen globally, law and order that is now alarming as seen in Manipur, Haryana… In 9 years, you have toppled 9 governments. Amit Shah spoke of principles one day. They then call themselves a party with a difference. How?"
"You talk of Vande Bharat but you stop all trains for poor, the Garib Raths… What will I do with the Vande Bharat that will zip past our stations but the poor can't board it," she wondered. "Ask your conscience, how can you support this government? Thousands of women raped, where are we? How do we trust you? This government is failing the poor and honest people of this country," she added.
Opening debate from the Treasury Benches, BJP MP Nishikant Dubey on Tuesday (August 8) said the no-confidence motion moved by the Opposition is "against the son of a poor, against a man who gave houses, drinking water, toilets to the people. It is against the poor."
Earlier, moving the no-trust vote, Congress MP Gaurav Gogoi said the Opposition bloc INDIA was forced to bring the no-confidence motion against the government to break Prime Minister Narendra Modi's "vow of silence" on Manipur.
Initiating the debate on the motion in the Lok Sabha, Gogoi alleged that a government which talks about "one India has created two Manipurs — one living in hills and the other in the valley". As the Lower House took up the motion moved by Gogoi, there were heated exchanges between the Opposition and treasury benches after Parliamentary Affairs Minister Pralhad Joshi wondered why Rahul Gandhi's name as lead speaker was withdrawn last minute.
Gogoi's response that should the remarks made by the prime minister in Lok Sabha Speaker Om Birla's chamber be revealed in the House evoked a sharp retort from Union Home Minister Amit Shah who said the member cannot make unsubstantiated claims about the PM. Gogoi said the INDIA alliance parties were forced to bring the no-confidence motion as this was never about numbers but about justice for Manipur.
"Manipur demands justice. Martin Luther King Jr had said injustice anywhere is a threat to justice everywhere. If Manipur is burning, whole of India is burning, if Manipur is divided, country is divided. It was our demand that as the leader of the country, Prime Minister Modi should come to the House and speak about Manipur. However, he kept a maun vrat (vow of silence) that he will neither speak in the Lok Sabha nor in the Rajya Sabha," Gogoi said.
"Through the no-confidence motion we want to break his vow of silence," he said. Gogoi said he would like to ask the prime minister why had he not gone to Manipur, when Rahul Gandhi had gone as had Home Minister Shah and the minister of state for home (Nityanand Rai). "Why did he (PM Modi) take about 80 days to speak on Manipur and just spoke for 30 seconds. After that there has been no peace appeal on Manipur from him. Ministers are saying they will speak, but as PM the power of his words cannot be matched by ministers," Gogoi said.
Earlier, the lower house of Parliament was adjourned till 12 noon on Tuesday (August 8) due to Opposition protests over expunged portion of Monday's debate being re-recorded.
Meanwhile, Prime Minister Narendra Modi took a dig at INDIA alliance during the BJP's parliamentary party meeting ahead of the no-trust vote. Addressing the BJP MPs, Modi said, "Opposition is full of distrust and to show this, they have brought no-confidence motion." He also said, "A few people had said that the voting in Rajya Sabha will be semifinal ahead of 2024." The PM thanked the MPs who congratulated him for this "semifinal" win.
The motion of no-confidence, moved by Gogoi was listed as agenda item three in the List of Business. It is being discussed in the backdrop of the ethnic violence in Manipur, which has led to repeated disruptions in both Houses of Parliament. Prime Minister Narendra Modi is scheduled to reply to the debate on Thursday.
Congress leader Deepak Baij is also likely to speak during the debate. The numbers are comfortably stacked in favour of the government and the Opposition is expected to utilise the opportunity to demonstrate its newly firmed-up unity to take on the Modi-led BJP in the Lok Sabha elections next year.
Related stories
Read: No-confidence motion debate scheduled in Lok Sabha, PM's response expected 2 days later
Watch | No-confidence motion: YSRCP will support Modi govt in Parliament
Read: Explained: Why is Opposition moving no-confidence if it has no majority?
Read: No-confidence motion was Opposition's last resort to hold Modi govt to account