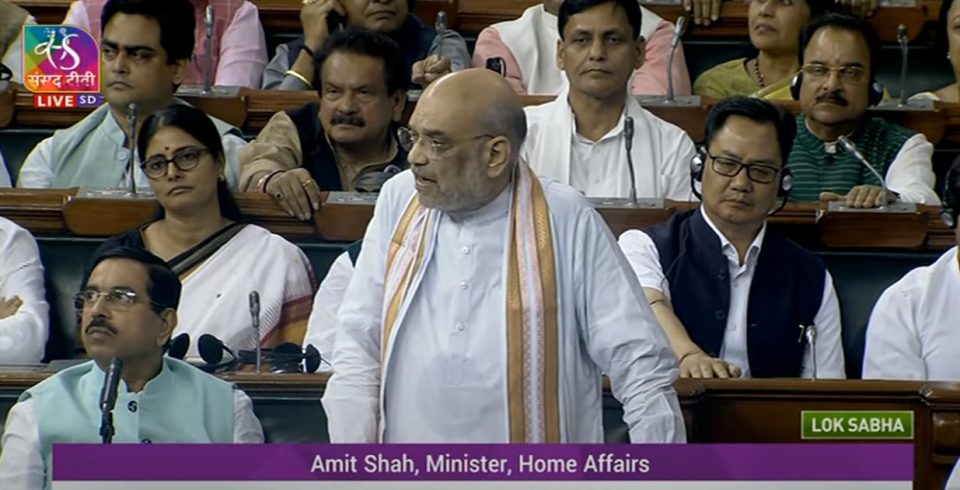 LIVE | No-confidence motion: 'Doing politics on violence shameful,' says Amit Shah
"This no-confidence motion will show the real character of the Opposition in the country," Union Home Minister Amit Shah said as he began to speak during the no-confidence motion debate in Lok Sabha on Wednesday (August 9).
"There is not a no-confidence in the PM and this government in the country…This no-confidence motion has been brought only to create a delusion" Shah said.
Row over flying kiss
Earlier in the day, Union Minister Smriti Irani expressed outrage over Congress leader Rahul Gandhi blowing a flying kiss in the Lok Sabha, calling him misogynist and saying the House had never witnessed such an "indecent act".
BJP women MPs later met Lok Sabha Speaker Om Birla and demanded "stringent action" against the Congress leader.
In a complaint, signed by more than 20 women parliamentarians, it was alleged that the Congress member made the "inappropriate gesture" towards Irani when was speaking in the House during the debate on the no-confidence motion against the government.
BJP MP Irani said, "The person who spoke before me… an indecent gesture was made… only a misogynistic man can give a flying kiss to Parliament which seats female Members of Parliament… such indecent act has not been witnessed by the House ever before. The entire country has seen the culture of the (Gandhi) family."
Rahul, while leaving the House after participating in the debate, was booed at by the treasury benches. He then turned around and a blew a flying kiss.
Rahul launches blistering attack
Earlier, in a blistering attack against the BJP over violence in Manipur, Rahul alleged that its politics had "murdered Bharat Mata" in the northeastern state and termed members of the ruling party "traitors". Participating in the no-confidence motion debate, he also slammed Prime Minister Narendra Modi for not visiting Manipur and alleged that he does not consider the state to be part of India. "I went to Manipur a few days ago. Our prime minister has not gone there, he has not gone there till now. He does not consider Manipur part of India. I used the word Manipur, but the reality is there is no Manipur left. You have divided Manipur into two parts, you have broken up Manipur," he said.
The Lok Sabha is debating the no-confidence motion against the Narendra Modi government for the second day on Wednesday (August 9) with Congress leader Rahul Gandhi initiating the discussion.