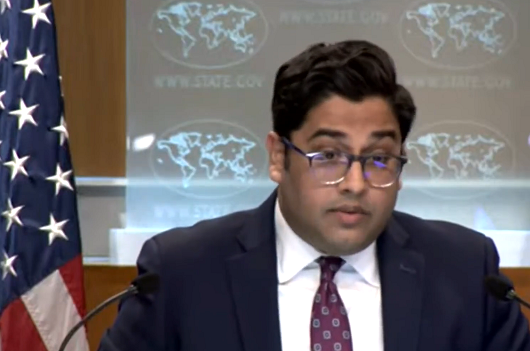 The United States has said that it is watching the court case of Congress leader Rahul Gandhi and continues to engage with the Indian government on the shared commitment to democratic values including freedom of expression.
Also read: Rahul told to vacate Tughlaq Lane residence by April 22; not surprised, says Congress
On March 23, a Surat court sentenced Rahul to two years imprisonment in a 2019 criminal defamation case over his "why all thieves have Modi surname" remark. A day later, he was disqualified from the Lok Sabha from the date of his conviction in the case.
"Respect for the rule of law and judicial independence is a cornerstone of any democracy. We are watching Mr Gandhi's case in Indian courts and we engage with the Government of India on our shared commitment to democratic values, including, freedom of expression," the State Department's Deputy spokesperson Vedant Patel told reporters at a news conference on Monday (March 27).
"In our engagements with our Indian partners, we continue to highlight the importance of democratic principles and the protection of human rights, including freedom of expression, as a key to strengthening both our democracies," he said.
Responding to a question, Patel said it is normal and standard for the United States to engage with members of opposition parties in any country where it has bilateral relationships.
Also read: Why did TMC join Congress on Rahul's disqualification? Jawhar Sircar explains
On Monday, Opposition parties in India stepped up their offensive against the Narendra Modi government and observed a "black day for democracy".
The BJP condemned the ruckus created by the Opposition in Parliament and accused the Congress of resorting to "low-level politics" in its bid to justify Rahul's remarks allegedly against the OBC community.