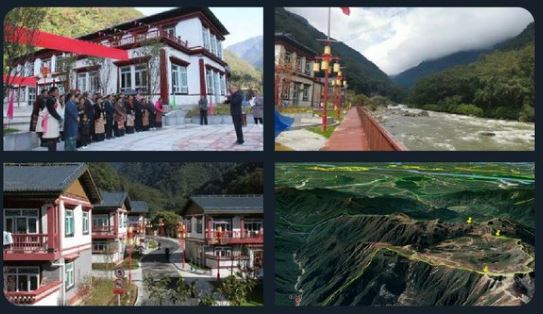 Bhutan on Friday (November 20) denied that China had established a village 2km inside its territory, very close to Doklam, where India and Chinese militaries had a tense standoff in 2017.
Major General Vetsop Namgyel, Bhutan's Ambassador to India, told NDTV, "There is no Chinese village inside Bhutan."
The news channel said it had accessed maps bearing the official seal of the Bhutan government and added that this new Chinese settlement lies well within Bhutan's present claim lines.
Advertisement
Related News: China establishes village within Bhutan territory
Talking to Times Now, the Ambassador said, "I have seen the tweet. It is a tweet by a journalist. I don't bother to speculate about tweets."
On Thursday, four images of Pangda village were shared on Twitter by China's state media CGTN News producer Shen Shiwei. The post was deleted later but the screenshot was shared by a user.
"Now, we have permanent residents living in the newly established Pangda village. It's along the valley where 35 km south to Yadong county," Shiwei wrote.
Related News: Chinese territory claims in Bhutan, India 'testing' the world, says US
Reacting to the post, Nathan Ruser, a satellite imagery analyst with the Australian Strategic Policy Institute, wrote, "Here's a CGTN news producer openly admiting that China has occupied and now populated part of a sovereign country. This Pangda village has been constructed (as shown by the included map) ~2.5km beyond Bhutan's international border. China now baselessly claims about 12% of Bhutan (sic)."
.@Shen_shiwei deleted this post. Thankfully, twitter cached this admission of an occupation of a foreign country. pic.twitter.com/kGpU120cYD

— Nathan Ruser (@Nrg8000) November 19, 2020
"If you look at the map Shen shares, he cheekily crops so that it doesn't show the settlement he's talking about is across the Bhutanese border. Second picture shows the border," Ruser added.
Here's a CGTN news producer openly admiting that China has occupied and now populated part of a sovereign country. This Pangda village has been constructed (as shown by the included map) ~2.5km beyond Bhutan's international border. China now baselessly claims about 12% of Bhutan. https://t.co/3TxNSffYdJ pic.twitter.com/fEAgWXk7Ln

— Nathan Ruser (@Nrg8000) November 19, 2020
On Bhutan's denial, Ruser tweeted, "Weird statement considering there's satellite imagery and extensive photos from the ground of this village inside Bhutan, 9 kilometres from Doklam face-off site. Seems like a blatent untruth to me (sic)."
Weird statement considering there's satellite imagery and extensive photos from the ground of this village inside Bhutan, 9 kilometres from Doklam face-off site.

Seems like a blatent untruth to me. https://t.co/toE9RjGmB7

— Nathan Ruser (@Nrg8000) November 20, 2020