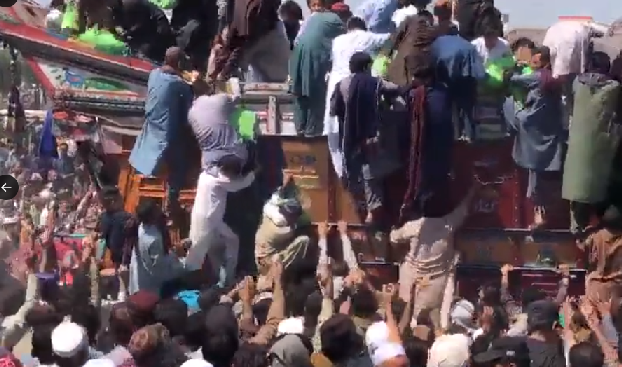 Tens of thousands of poor, mostly women, brave winding queues for hours daily in Pakistan to get for free a 10 kg bag of flour during Ramazan, a situation which a newspaper says exposes the true scale of poverty in the country.
The humiliating scenes have become a daily ritual in Punjab, the most populous province in Pakistan whose government hit upon the scheme to beat the spiraling cost of living, the Dawn newspaper reported on Thursday.
Watch | As economic crisis hits, will Pakistan go the Sri Lanka way?
But the authorities did not bargain for the crowds, which outnumber officials as well as security personnel at all distribution centres.
"Violence at the distribution points will not go away," lamented Majid Abdullah, a miller from Lahore.
"The (free flour distribution) plan will last a month whereas poverty is permanent. Everyone wants to benefit as much as they can while the programme lasts," he told the daily.
Pathetic state
There is jostling and pushing at almost all centres, and virtually every day.
Sociologist Tariq Suleman was quoted as saying: "Thousands of people converge daily, stand in queues for hours at the cost of their dignity and social respect, face the prospect of violence, which can even cost them their lives. And still they take that chance. What does it tell us?"
Also read: Pakistan's growing politico-economic crisis, IMF terms could fuel instability in region: Experts
"It shows us that a bag of free flour overrides all other considerations for hundreds of thousands in each city of the (Punjab) province. This is alarming, both politically and socially," he said.
"We all knew that poverty exists and persists. But the sheer scale of misery which has surfaced with this flour distribution scheme is alarming," added Farooq Tariq of the Pakistan Workers Party.
Also read: Pakistan needs to take steps to avoid an economic crash: IMF
The Punjab government says it has distribution close to three million bags of flour so far since the Ramzan began but the crowds don't show any sign of thinning.