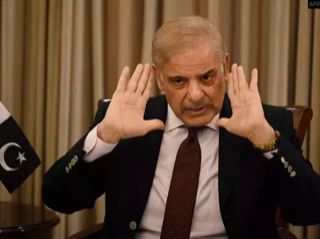 For all practical purposes, Pakistan now resembles Sri Lanka – drowning in a whirlpool of an economic crisis. The country's foreign exchange reserves have plunged to an all-time low, prices of food and other essential commodities have touched a new high, and the political turmoil is only escalating.
Some parts of Pakistan are suffering from shortages of cooking gas. Traders across all sectors admit that their losses are mounting because sales are down due to shooting prices. So serious is the situation that some Pakistani businessmen are pleading with the government to resume trade with India to save the economy from disaster.
Sharif may bend
With his back to the wall, Prime Minister Shehbaz Sharif has finally indicated that he may not be averse to swallowing a bitter International Monetary Fund (IMF) pill in order to secure a badly needed financial bailout.
So, will Pakistan implode like Sri Lanka?
Most economists think that while the economic turmoil is certainly precarious in the overwhelmingly Muslim country of 227 million, it is on a different footing, even if slightly, from where Sri Lanka plunged into despair last year.
For one, unlike in Sri Lanka which refused to approach the IMF until it was too late, Pakistan has already sought its 24th loan.
IMF conditions
The IMF has made it clear that Islamabad must first put its economic house in order, improve tax collection, end all subsidies on petrol and fuel, and take meaningful steps to check its soaring fiscal deficit.
Experts admit that fiscal profligacy has been at the heart of Pakistan's economic and external sector blues, and also the cause of its frequent boom and bust cycles.
Successive governments – at times controlled by the military – have run huge fiscal deficits year after year for short-term political gains. This has led to structural mismanagement of the economy – a la Sri Lanka.
In the process, Pakistan has fallen behind even regional countries not only in economic growth but also in various sectoral indicators including education and health. Last year, the Pakistani rupee was declared Asia's worst performing currency.
Devalued rupee
Devalued, one US dollar now equals 229 Pakistani rupees. Only 50 years ago, a US dollar fetched just 4.76 rupees. Clearly, this is the worst economic crisis since Pakistan broke up after the 1971 war.
The foreign exchange reserves have fallen to a record low of $4.5 billion, just enough to cover three weeks of imports. Since January 2019, inflation has run high, making life hell for the country's mass of poor.
Pakistan's economy – heavily dependent on imports – slowed in 2019, contracted in 2020 amid a terrible Covid-19 breakout, and resumed growth in 2021. Since then, it is again showing all signs of a rapid slide.
Political turmoil
An unstable democracy punctured by periodic military interventions, sectarian violence and religious extremism have contributed to social and political instability.
Pakistan is heavily dependent on agriculture and textile industry. The leading exports are textiles, leather goods, sports equipment, chemicals and carpets. Much of the economy is informal. Underemployment is very high.
China has pledged $60 billion in infrastructure and energy investments in the China Pakistan Economic Corridor (CPEC) but this has been marred by criticism. Gulf states, traditionally Pakistan friendly, have come to the country's help.
But none of this can turn around the economy. With falling imports and remittances from abroad as well as mounting export payments, the economy is getting choked.
Food prices
A huge grain shortage in the wake of the Russia-Ukraine war has sharply pushed up prices of food and essential commodities, leading to widespread discontent.
A cornered government has asked major markets, shopping malls and restaurants across the country to shut early in a desperate bid to save power. Half the street lights in the country have been ordered shut.
But this did not prevent a crippling, all-Pakistan electricity outage from plunging the country into darkness on January 23. It took two days to restore power across the country.
Pakistani politicians and economists accept that agreeing to the stiff conditions the IMF will impose will be painful.
Wooing India
This is one reason Prime Minister Sharif recently advocated talks with his Indian counterpart Narendra Modi, saying the country has learnt the lessons of the three major wars.
Experts have warned that if the economic mess is not sorted out and soon, Pakistan may blow up like Sri Lanka. For now, it still has some breathing space.