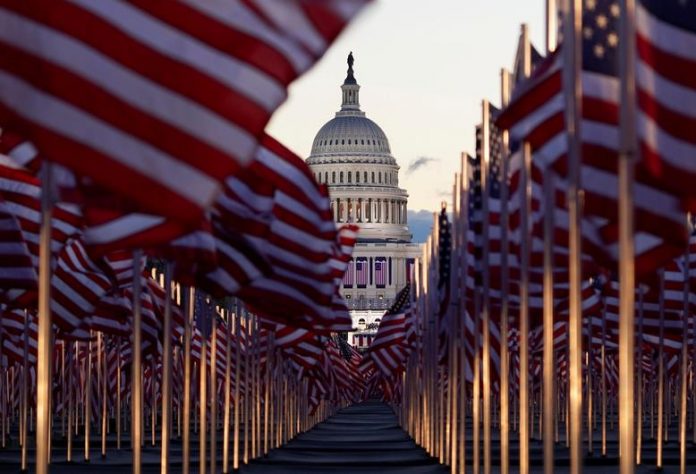 US President-elect Joe Biden and Vice-President-elect Kamala Harris will be sworn into office at midday on Wednesday in Washington, DC, in a ceremony markedly different from previous inaugurations.
The scaled-down event comes two weeks after a deadly siege on Capitol Hill — which left five people dead — and amid a pandemic that has shown no signs of abating. So although in some ways the inauguration will be much the same as previous ones, there will be many differences.
Here is a look at the measures put in place to ensure that the inauguration of the 46th US President goes off smoothly.
Fortress City
Security has been greatly increased in the US capital following the January 6 "insurrection". Thousands of troops and security personnel have arrived in Washington, DC, to secure the event. As is customary, US Secret Service has overall command of the inauguration, but this time they will be supported by the DC Metropolitan Police Department and the National Guard. Around 25,000 National Guardsmen, some of them armed, are expected to be deployed on Wednesday.
Sweeping Travel Restrictions
Road blocks, subway closure, restricted access — the inauguration will be held inside a giant security bubble.
Home rental firm Airbnb as well as local hotel chains have cancelled bookings in DC fearing mass arrival of pro-Trump supporters. Airlines and airports have also stepped up security. Amtrak, the railway company, will limit its services in the region and there will be increased security presence on trains and at stations.
Also read: Boy with stutter to US Prez: How Biden's oratory represents his persona
200,000 Flags to Represent Crowds
More than two million people attended the inauguration of President Barack Obama in 2009. This time there will be no mass of supporters stretching down the National Mall. The entire space will be sealed off due to security concerns and also fears that a large gathering would turn the inauguration into a COVID super-spreader event. Instead, a display of 200,000 flags — a sea of red, white and blue — will represent the crowds.
Donald Trump Will Make an Early Exit
President Donald Trump will not attend the ceremony — by choice. He is the first incumbent since Andrew Johnson — the 17th president who served from 1865 to 1869 — to skip his successor's swearing in.
Abraham Lincoln (1865), James Garfield (1881), William McKinley (1901), and John F Kennedy (1963) were, of course, assassinated.
In 1974, Richard Nixon did not attend the swearing in of Gerald Ford after resigning in disgrace. And in 1921, Woodrow Wilson was taken ill and could not be there when his successor, Warren Harding, was inaugurated.
Also read: What Joe Biden will focus on in first 100 days of his administration
No Parade Along Pennsylvania Avenue
The inaugural parade along Pennsylvania Avenue will not take place this year. Instead there will be a virtual "Parade Across America".  The "parade", which will follow Biden's swearing-in ceremony and a visit to Arlington National Cemetery, will include performers and representatives from all states and US territories. Comedian Jon Stewart, filmmaker Kenny Ortega and singer and songwriter Andra Day will be among those attending the "parade", which will be live-streamed.