Over 100 dead, thousands injured in massive explosion in Lebanon
Over 100 people have been killed and thousands of people have been injured in a massive explosion in Beirut, the capital city of Lebanon, on Tuesday (August 04), NDTV reported. The explosion shook many buildings and shattered windows in the city due to the blast in the Beirut's port area, according to Agence France-Presse (AFP).
According to local media, many people have been trapped under rubble. The cause of the blast was not immediately known, but initial reports suggested a fire had detonated a warehouse at the port. It also caused power outages in surrounding districts and the explosion was in was felt across large parts of the city.
The blast struck with the force of a 3.5 magnitude earthquake, according to Germany's geosciences center GFZ, and it was heard and felt as far away as Cyprus more than 200 kilometres across the Mediterranean.
This is massive, massive ! #Beirut #Lebanon pic.twitter.com/BNGUURXm9M

— Satyajeet Tambe (@satyajeettambe) August 4, 2020
Abbas Ibrahim, chief of Lebanese General Security, said it might have been caused by highly explosive material that was confiscated from a ship some time ago and stored at the port. A civil defense official said there were still bodies inside the port, many under debris
The explosion came amid ongoing tensions between Israel and the Hezbollah military group on Lebanon's southern border. Many residents reported hearing planes overhead just before the blast, fueling rumors of an attack.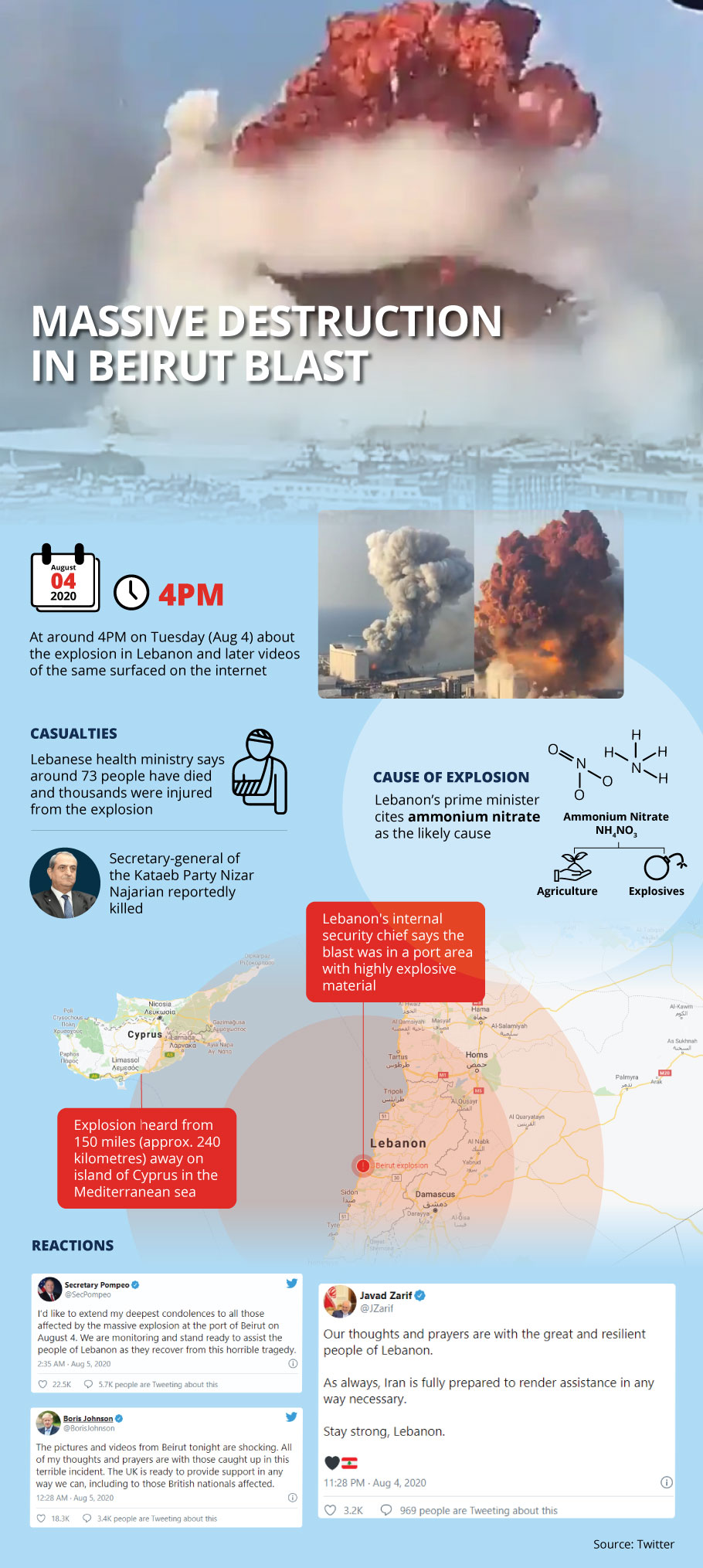 Reacting to the incident US President Donald Trump said U.S. military generals have told him that they think the massive explosion was likely a bomb. "I've met with some of our great generals and they just seem to feel that this was not some kind of manufacturing explosion type of an event. They seem to think it was an attack. It was a bomb of some kind," he said.
The sudden devastation overwhelmed a country already struggling with both the coronavirus pandemic and an economic crisis.
Meanwhile, Lebanon's Prime Minister Hassan Diab said around 2,750 tonnes of ammonium nitrate were stored for six years in the warehouse of the port in Beirut where the explotion happened, NDTV reported. He said it was unacceptable.