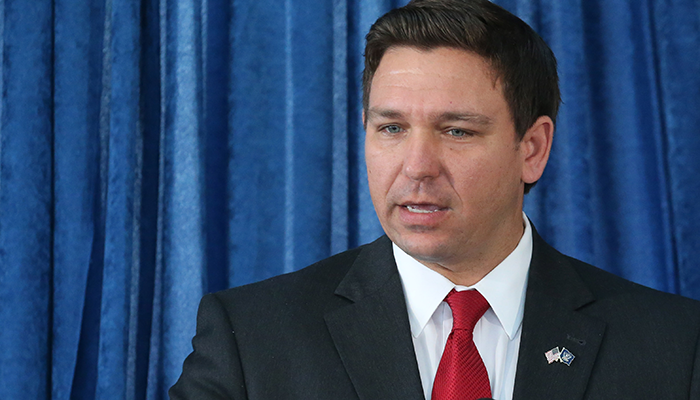 Florida's far-right Governor Ron DeSantis launched his 2024 presidential campaign on Wednesday (May 25) with a disastrous Twitter announcement that did little to counter criticism that the 44-year-old Republican may not be ready to take on former President Donald Trump.
While he tried to project confidence, DeSantis' unusual decision to announce his campaign in an online conversation with Twitter CEO Elon Musk ultimately backfired. The audio stream crashed repeatedly, making it virtually impossible for most users to hear the new presidential candidate in real time.
"American decline is not inevitable, it is a choice. And we should choose a new direction a path that will lead to American revitalization," DeSantis said on the glitchy stream. "I am running for president of the United States to lead our great American comeback."
While his critics in both parties delighted in the rocky start, DeSantis' announcement marks a new chapter in his extraordinary rise from little-known congressman to two-term governor to a leading figure in the nation's bitter fights over race, gender, abortion and other divisive issues.
DeSantis' path to the Republican presidential nomination will not be easy although the Trump camp believes that he is their only real opponent.
DeSantis' opponents
He enters the race looking up at Trump in early polls while facing serious questions about his far-right policies, his campaign-trail personality and his lack of relationships across the Republican ecosystem. He has generated significant interest among GOP primary voters by casting himself as a younger and more electable version of the 76-year-old former president.
He did not mention Trump even once in his discussion with Musk that ultimately spanned more than an hour. But he said he was ready to fight.
"Buckle up when I get in there, because the status quo is not acceptable," DeSantis said.
The ultimate Republican nominee is expected to face Democratic President Joe Biden on the election ballot in November 2024.
DeSantis joins a field that also includes former UN Ambassador Nikki Haley, Senator Tim Scott of South Carolina, former Arkansas Governor Asa Hutchinson and biotech entrepreneur Vivek Ramaswamy.
Former Vice President Mike Pence is also considered a likely presidential candidate but has not yet announced a bid.
Technical glitches
In choosing Twitter on Wednesday evening, DeSantis tried to take a page out of the playbook that helped turn businessman-TV celebrity Trump into a political star. It did not go as planned.
The online event started off with technical glitches that Musk said were due to straining servers because so many people were trying to listen to the audio-only event. More than 20 minutes passed beyond the scheduled start time with users getting kicked off, hearing microphone feedback, hold music and other technical problems.
DeSantis Republican opponents piled on.
The lead strategist for Haley's super PAC, Mark Harris, was merciless: "Failed soft launch? Check. Failed announcement? Double check. We look forward to Ron DeSantis' failed campaign."
Trump went further: "Wow! The DeSanctus TWITTER launch is a DISASTER! His whole campaign will be a disaster. WATCH! he wrote on his social media site. Is the DeSantis launch FATAL? Yes!"
Still, DeSantis campaign said it raised USD 1 million online in the first hour after the announcement.
DeSantis vs Trump
DeSantis, who likely would not have become the Florida governor without Trump's endorsement, has adopted the former president's fiery personality, his populist policies and even some of his rhetoric and mannerisms.
Yet DeSantis has one thing his rival does not: a credible claim that he may be more electable than Trump, who faces multiple legal threats, including criminal charges in New York, and who presided over Republican losses in three consecutive national elections.
DeSantis, just six months ago, won his re-election in Florida by a stunning 19 percentage points even as Republicans in many other states struggled. He also scored several major policy victories during the Republican-controlled Legislatures spring session.
"We need to win again," DeSantis said on Fox. "As Republicans, we have got to dispense with this culture of losing."
Trump and his team believe that DeSantis may be Trumps only legitimate threat for the nomination.
(With inputs from agencies)