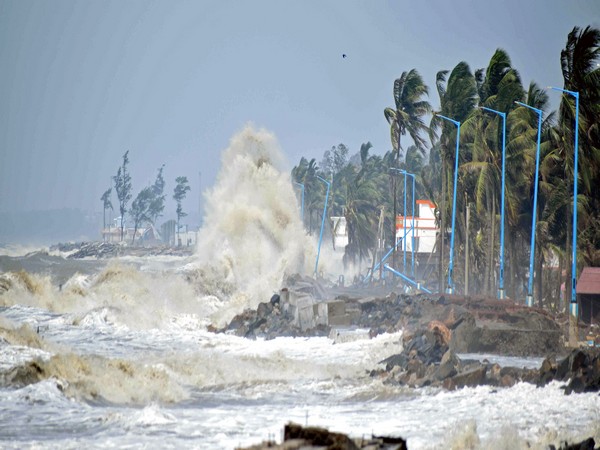 Bangladesh and Myanmar on Sunday (May 14), were preparing for the impact of a highly intense cyclone that was expected to strike their coastal regions. Authorities in both countries issued advisories, urging thousands of individuals to find refuge and take necessary precautions.
UN agencies and aid workers prepositioned tons of dry food and dozens of ambulances with mobile medical teams in sprawling refugee camps in Bangladesh with more than 1 million Rohingya who fled persecution in Myanmar.
Also Read: Why not jump into politics, save country?: Imran Khan's angry swipe at Pak Army
The camps at Coxs Bazar are in the path of Cyclone Mocha, which was closing in on the coast of southeastern Bangladesh and Myanmar with wind speeds of up to 220 kilometers (135 miles) per hour and gusts of up to 240 kph (150 mph), the Indian Meteorological Department said late on Saturday.
It's projected to make landfall between Coxs Bazar in Bangladesh and Kyaukpyu in Myanmar.
Bangladesh, with more than 160 million people, has prepared more than 1,500 cyclone shelters. The navy said it keeping ready 21 ships, maritime patrol aircraft and helicopters for rescue and relief operations.
#WATCH | West Bengal | Civil defence officials urge people to vacate the Bakkhali Sea beach, in the wake of #CycloneMocha pic.twitter.com/lCGopamVFk

— ANI (@ANI) May 14, 2023
Bangladeshi authorities have set up 55 shelters at Bhasan Char offshore island, where nearly 30,000 of the Rohingya refugees have been relocated from the mainland. Bangladesh exclusively dedicated the Bhasan Char to the Rohingyas though most of them live in the mainland of Coxs Bazar adjacent to Myanmar borders.
Most of them fled to neighbouring Bangladesh after a military-led crackdown in Myanmar in 2017.
Also Read: Imran Khan returns home, blames Pakistan army chief for his 'abduction'
The district administration has turned social, educational, and religious institutions as makeshift shelters alongside 576 designated cyclone shelters in Coxs Bazar to accommodate over half a million people, deputy commissioner or administrative chief of the coastal district Muhammad Shahin Imran told reporters.
Imran said around 8,600 Red Crescent volunteers have joined a campaign asking people to relocate even as the district administration has mobilised transports to carry them to shelters.
In Myanmar, rains and winds were picking up since Friday and prompted more than 10,000 people in villages around Sittwe in Rakhine state to seek shelter in sturdy buildings including monasteries, temples and schools, said Lin Lin, the chairman of the Myittar Yaung Chi charity foundation.
Currently, about 20 places have been arranged for people to stay in Sittwe. But because there were more people than we expected, there was not enough food for the next day. We are still trying to get it, he said.
Also Read: Islamabad high court grants two-week bail to Imran Khan in corruption case
Speaking from Coxs Bazar across the border in Bangladesh, the International Organisation of Migrations deputy chief of mission, Nihan Erdogan, said Bangladesh put in place a massive preparedness plan.
He said his agency had trained 100 volunteers in each of the 17 refugee camps on how to alert rescuers using flag warning signals when heavy rains, floods and strong winds lash the region.
Emergency shelter materials and hygiene kits are readily available, and personal protective gear has been provided to all volunteers."
The World Health Organisation put 40 ambulances and 33 mobile medical teams on standby at Coxs Bazar, the agency's spokesperson Margaret Harris said.
Authorities in Bangladesh said heavy rains from the cyclone could trigger landslides in Chattogram and Coxs Bazar and three other hilly districts Rangamati, Bandarban and Khagrachhari.
Bangladesh, which is prone to natural disasters such as floods and cyclones, issued the highest danger signal for Coxs Bazar. The Bangladesh Meteorological Department warned the cyclone could cause severe damage to the lives and properties in eight coastal districts.
Also Read: Pakistan SC declares Imran Khan's arrest 'illegal', orders his release
Mizanur Rahman, director general of the Department of the Disaster Management, said they asked the local authorities in 20 districts and sub-districts to make swift preparations.
He said they were particularly concerned about a small coral island called Saint Martins in the Bay of Bengal, where efforts were underway to protect thousands of inhabitants.
Myanmar said in its weather bulletin that the cyclone was moving toward the coast of Rakhine state near Sittwe, which was put under the highest weather alert.
The World Food Programme said it prepositioned enough food to cover the needs of more than 400,000 people in Rakhine and neighbouring areas for one month.
We are preparing for the worst, while hoping for the best. Cyclone Mocha is heading to areas burdened by conflict, poverty, and weak community resilience, said WFPs Myanmar deputy director, Sheela Matthew.
Many of the people most likely to be affected are already reliant on regular humanitarian assistance from WFP. They simply cannot afford another disaster.
In May 2008, Cyclone Nargis hit Myanmar with a storm surge that devastated populated areas around the Irrawaddy River Delta. At least 138,000 people died and tens of thousands of homes and other buildings were washed away.
Also Read: Pakistan: Former foreign minister Qureshi arrested; political turmoil worsens
Roxy Mathew Koll, a climate scientist at the Indian Institute of Tropical Meteorology in Pune city, said cyclones in the Bay of Bengal are becoming more intense more quickly, in part because of climate change.
The state-run Global New Light of Myanmar newspaper reported on Friday that thousands of people living along the western coast of Rakhine state were evacuated.
Both Indian and Bangladesh authorities said they were expecting heavy to very heavy rainfall in Andaman and Nicobar Islands in the Andaman Sea, parts of India's remote northeast, and across Bangladesh from Saturday night.
Climate scientists say cyclones can now retain their energy for many days, such as Cyclone Amphan in eastern India in 2020, which continued to travel over land as a strong cyclone and caused extensive devastation.
As long as oceans are warm and winds are favourable, cyclones will retain their intensity for a longer period, Koll said.
Cyclones are among the most devastating natural disasters in the world, especially if they affect densely populated coastal regions in South Asia.
(With agency inputs)