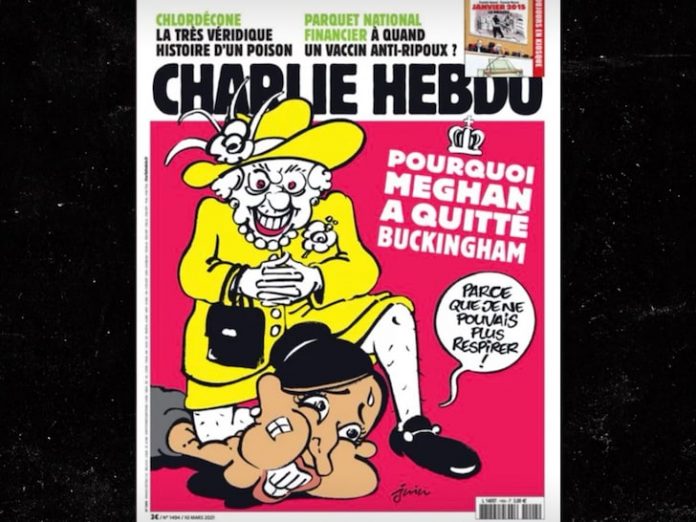 French satirical magazine Charlie Hebdo has come under criticism for publishing a cartoon depicting the UK's Queen Elizabeth kneeling on the neck of Meghan, the Duchess of Sussex, echoing the death of a black man in America named George Floyd.
The cover image came days after Meghan and her husband, Prince Harry, gave an interview to US talk show host Oprah Winfrey, in which they levelled damning accusations against the British royal family.
In the interview Meghan, who is biracial, revealed that, when she was pregnant, an unnamed member of the family raised the issue of how dark their baby's skin would be. She also confessed that she considered ending her life due to the abuse from the British tabloid media.
Also read: Meghan's explosive interview with Oprah Winfrey: 5 key points
The cartoon, published on Saturday, is titled 'WHY MEGHAN QUIT BUCKINGHAM', with a speech bubble above Meghan that says: 'Because I couldn't breathe anymore!'
George Floyd died after a white police officer named Derek Chauvin pressed his knee into his neck for several minutes. Floyd told officers "I can't breathe" more than 20 times, only to have his plea dismissed. Floyd's death led to widespread anti-racism protests in America and around the world.
On Sunday Halima Begum, CEO of race equality think tank the Runnymede Trust, called the cartoon "wrong on every level".
"The Queen as GeorgeFloyd's murderer crushing Meghan's neck? Meghan saying she's unable to breathe? This doesn't push boundaries, make anyone laugh or challenge racism. It demeans the issues & causes offence, across the board," she said on Twitter.
Also read: Meghan Markle wins privacy claim against UK newspaper
Paris-based Charlie Hebdo is famous for its strident, provocative cartoons. In 2015, brothers Said and Cherif Kouachi burst into the magazine's newsroom and gunned down staffers, killing 12, including its top editor and some of its leading cartoonists, after it published cartoons of the Prophet Mohammed.
Two days later, a friend of the brothers, Amédy Coulibaly, killed four people at a supermarket in Paris.
The magazine republished the cartoons last year.