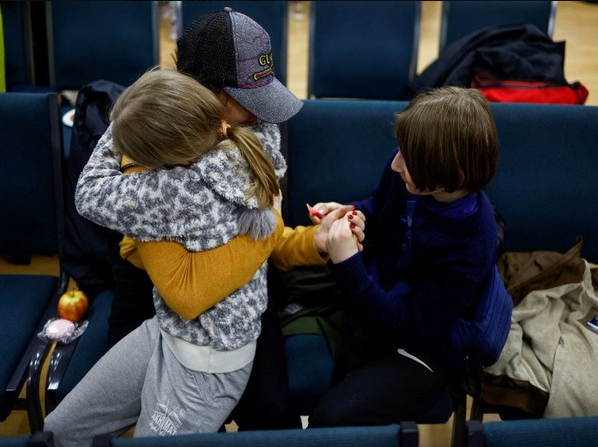 Around 31 Ukrainian children, who were allegedly deported to Russia during the war, were on Saturday brought back home and reunited with their families.
The children were rescued as part of a mission headed by Save Ukraine charity.
"Children kidnapped by Russians from the Kherson and Kharkiv regions have finally crossed the border with their relatives and now are safe. After a long separation of several months, they will meet their families," the organisation said.
Also read: One year of Russia-Ukraine war: Top 10 moments you need to know
Mykola Kuleba, head of the Ukrainian rescue organization had made the announcement earlier on Saturday.
Kuleba is also the presidential commissioner for children's rights.
"There were kids who changed their locations five times in five months, some children say that they were living with rats and cockroaches," Kuleba said at a media briefing.
'Thousands of children still missing'
Deportations of Ukrainian children have been a concern since Russia's February 24, 2022, invasion of Ukraine.
According to reports that quote a Ukrainian national database, at least 19,000 children were kidnapped to Russia during the war and thousands still remain unaccounted for.
Confirming the same, a statement posted Wednesday on Twitter by Ukraine's UN ambassador, Sergiy Kyslytsya, said more than 19,500 children had been seized from their families or orphanages and forcibly deported.
The International Criminal Court increased pressure on Russia when it issued arrest warrants on March 17 for President Vladimir Putin and Russian children's rights commissioner Maria Lvova-Belova, accusing them of abducting children from Ukraine.
Also read: One year of Russia-Ukraine war: Top 10 moments you need to know
The International Committee of the Red Cross said this week it had been in contact with Lvova-Belova, the first confirmation of high-level international intervention to reunite families with children who were forcibly deported.
ICRC spokesman Jason Straziuso said the organization was in contact with Lvova-Belova "in line with its mandate to restore contact between separated families and facilitate reunification where feasible."
An Associated Press investigation revealed Lvova-Belova's involvement in the abductions and found an open effort to put Ukrainian children up for adoption in Russia.
Lvova-Belova told an informal UN Security Council meeting on Wednesday that the children were taken for their safety, not abducted a claim widely rejected by the international community.
Also read: It's clear now: Russia-Ukraine conflict heralds dawn of Cold War 2.0
(With inputs from agencies)