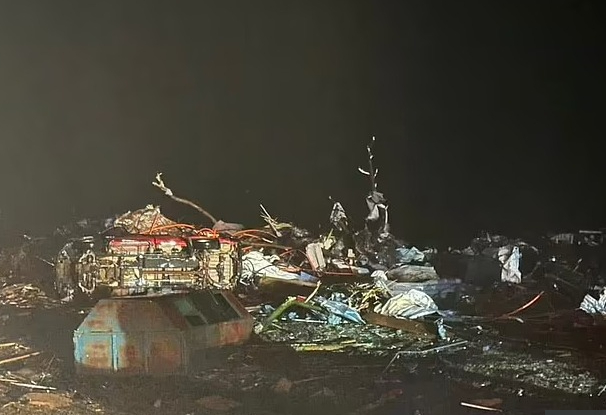 A devastating tornado barrelled through the US state of Mississippi, killing over 25 people, injuring dozens and levelling entire blocks as it carved a path of destruction for more than an hour.
Rescuers raced on Saturday (March 25) to search for survivors and help hundreds of people left homeless in the calamity.
President Joe Biden expressed his condolences and said affected families will be provided full federal support.
"Those impacted by these devastating storms, and to the first responders and emergency personnel working to help their fellow Americans: we will do everything we can to help. We will be there as long as it takes. We will work together to deliver the support you need to recover," Biden said.
"While we are still assessing the full extent of the damage, we know that many of our fellow Americans are not only grieving for family and friends, they've lost their homes and businesses," he said.
Tornado levelled houses
The tornado devastated a swath of the Mississippi Delta town of Rolling Fork, reducing homes to piles of rubble, flipping cars on their sides and toppling the town's water tower.
Residents hunkered down in bath tubs and hallways during Friday night's storm and later broke into a John Deere store that they converted into a triage center for the wounded.
"There's nothing left," said Wonder Bolden, holding her granddaughter, Journey, while standing outside the remnants of her mother's now-levelled mobile home in Rolling Fork.
The Mississippi Emergency Management Agency announced late Saturday afternoon in a tweet that the death toll had risen to 25 and that dozens of people were injured. Four people previously reported missing had been found. Other parts of the Deep South were digging out from damage caused by other suspected twisters.
One man died in Morgan County, Alabama, the sheriff's department there said in a tweet.
Throughout Saturday, survivors walked around dazed and in shock as they broke through debris and fallen trees with chain saws, searching for other survivors. Power lines were pinned under decades-old oaks, their roots torn from the ground.
State of Emergency declared
Mississippi Gov. Tate Reeves issued a State of Emergency and vowed to help rebuild as he headed to view the damage in an area speckled with wide expanses of cotton, corn and soybean fields and catfish farming ponds.
The damage in Rolling Fork was so widespread that several storm chasers who follow severe weather and often put up livestreams showing dramatic funnel clouds pleaded for search and rescue help.
Others abandoned the chase to drive injured people to the hospital. It didn't help that the community hospital on the west side of town was damaged, forcing patients to be transferred.
The tornado also mangled a cotton warehouse and ripped the steeple off a Baptist church. Sheddrick Bell, his partner and two daughters crouched in a closet of their Rolling Fork home for 15 minutes as the tornado barreled through.
Windows broke as his daughters cried and his partner prayed.
I was just thinking, if I can still open my eyes and move around, I'm good," he said.
Rodney Porter, who lives about 20 miles (32 km) south of Rolling Fork and belongs to a local fire department, said he didn't know how anyone survived as he delivered water and fuel to families there. "It's like a bomb went off," he said, describing houses stacked on top of houses.
Crews even cut gas lines to the town to keep residents and first responders safe. The warning the National Weather Service issued as the storm hit didn't mince words: "To protect your life, TAKE COVER NOW! Preliminary information based on estimates from storm reports and radar data indicate that the tornado was on the ground for more than an hour and traversed at least 170 miles (274 km)," said Lance Perrilloux, a meteorologist with the weather services Jackson, Mississippi, office. "That's rare very, very rare," he said, attributing the long path to widespread atmospheric instability.
"All the ingredients were there." Perrilloux said preliminary findings are that the tornado began its path of destruction just southwest of Rolling Fork before continuing northeast toward the rural communities of Midnight and Silver City, then moving toward Tchula, Black Hawk and Winona. The supercell that produced the deadly twister also appeared to produce tornadoes that caused damage in northwest and north-central Alabama, said Brian Squitieri, a severe storms forecaster with the weather services Storm Prediction Center in Norman, Oklahoma.
(With inputs from agencies)