India's counterstrike on China
India has decided to take Chinese expansionism head-on, both diplomatically and on the trade front. On Monday (June 29), India fired the first salvo in the trade war by banning 59 apps and Chinese search engines, including the hugely popular Tik Tok. This is a clear message to China that its companies can no longer benefit from India's demographic dividend and target the country's youth for profits in the digital space.
India's opening gambit would, obviously, elicit a Chinese response. There would be a guaranteed blowback from Beijing in the form of delays in clearing Indian imports and reciprocatory bans on exports from New Delhi. Early estimates suggest at least 30 per cent of the current trade between India and China would be the collateral victim of the territorial fight on the LAC.
As part of our ongoing series on India's options in its efforts to tame China, today we discuss if China can hit back by unilaterally regulating the flow of rivers that flow into the Northeast.
Uploaded 02 July, 2020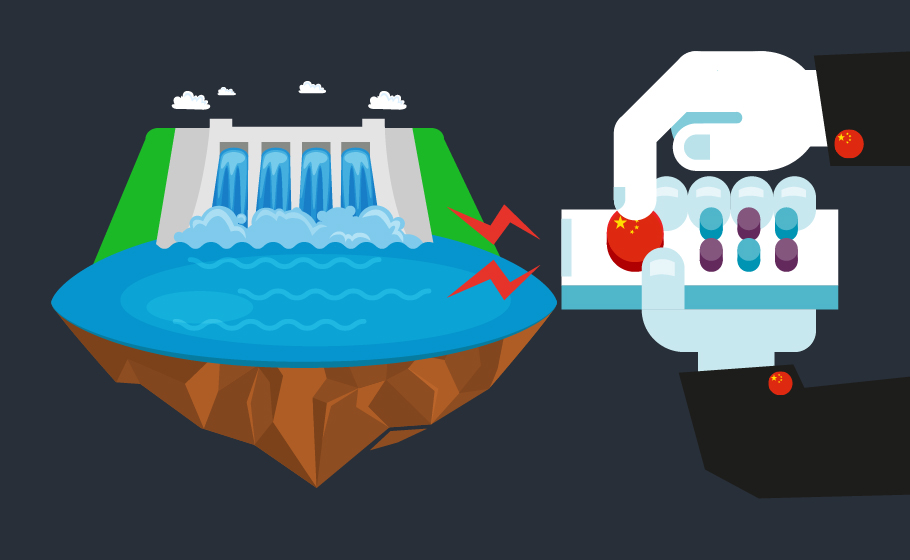 Dam it! How China controls flow of rivers into India
The Siang river in Arunachal Pradesh has been behaving quirkily since June 9, 2000 — the day it suddenly rose by 30 metres, inundating almost the entire Pasighat town through which it flows south-west to meet Dibang and Lohit to form the Brahmaputra.
From that day, local people had been observing something amiss in the flowing pattern of the river. But even they were not prepared for what they saw on the morning of March 1, 2012. The river had dried out, as if by magic.
The unusual phenomenon expectedly made global news and the fingers were immediately raised at China, which was constructing a massive dam on the upper reaches of the river in Tibet where the Brahmaputra is called Yarlung Tsangpo.
Arunachal Pradesh government too suspected Chinese role in the mysterious drying up of the Siang.
What was more amazing was that by afternoon the flow of the river apparently resumed as magically as it had disappeared.
Surprisingly, the Arunachal government's concerns did not find resonance with the Centre, which downplayed the occurrence. The then External Affairs Minister S.M. Krishna on March 12 reiterated that there was no evidence of China constructing any dam on the river.
A year later India did wake up to the danger and raised its concerns about the dam construction at the India-China strategic dialogue held in August 2013.
The Zangmu Dam built on the Yarlung Zangbo/Brahmaputra River at the Tibet Autonomous Region's Gyaca, near a tri-junction of China-Bhutan-India border is however just the tip of the iceberg. China, the source of 10 major rivers flowing to 11 countries, is now in a hydropower dam-building spree.
According to a report of the International Rivers, a US-base international network of dam-affected people, today there are more than 87,000 dams in China, including the world's largest Three Gorges Dam.
Apart from the Brahmaputra, another major Indian river Sutlej, known as Langqen Zangbod in China, also originates in Tibet. So, India being a riparian country has a genuine concern over the Chinese move to restrict the flow of these rivers.
Triggering further concern for New Delhi, Beijing signed a memorandum of understanding (MoU) with Pakistan in 2017 to build Bhasha and Bunji Dams on the River Indus in Gilgit-Baltistan, the area India accuses Pakistan of illegally occupying.
Beijing, however, denies any allegation of it leveraging this water-advantage to pressurise India or other neighbours by trying to divert water. But lack of transparency about the projects keeps the fear alive.
Related News: Prime Minister Modi reaches Leh in surprise visit
China has its own compulsion to exploit the world's water tap Tibet to provide water to its fast-drying northern region, observes Dr. Binoda Kumar Mishra, director Centre for Studies in International Relations and Development.
He says the South-to-North water diversion project undertaken by China will have a long-term impact on India's water security. The ambitious project to be completed by 2050 plans to divert 44.8 billion cubic metres of water annually from its southern region through three waterways called — Eastern, Middle and Western routes.
Incidentally, with a projected population of 1.4 billion by 2050, India is forecast to become "water-scarce" by then.
Barring an understanding to share hydrological data of the Brahmaputra and Sutlej, India does not have any water-sharing treaty with Beijing to protect its rights as a lower riparian state.
Not that any such treaty would help much with the country that was belligerent to an international convention, points out Mishra who had worked closely with several Chinese think-tanks and policy organisations as part of Kolkata to Kunming (K2K) Forum, that sought to strengthen sub-regional economic cooperation between India and China.