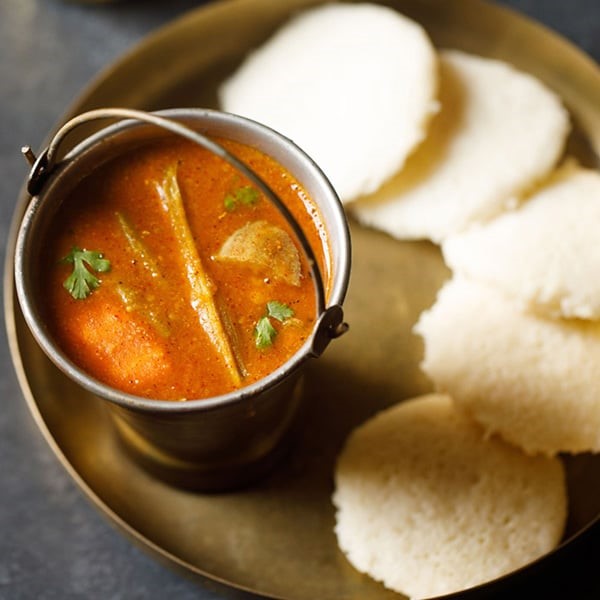 The study highlighted that Indian diets maintain high iron and zinc concentration in blood.
It may take time to digest this: but South Indian's staple diet — the idli-sambar — besides rajma rice, tea and turmeric, probably played a significant role in saving people from dying during the COVID-19 pandemic.
This startling finding related to Indian culinary habits was recently made in a new scientific study, conducted by a team of scientists from Brazil, Jordan, Switzerland, Saudi Arabia, and India. The study was published in the April edition of the Indian Council of Medical Research (ICMR)'s journal, the Indian Journal of Medical Research.
Till today, official statistics claim that a total of 531,152 people have died of the coronavirus infection in India. The worst nightmarish period for India during the entire pandemic unfolded at a rapid pace during the months of April and May of 2021, when the highest average cases and deaths was reported. Particularly, it was complete mayhem in May when the country reported 1,19,000 deaths, accounting for 33 per cent of total deaths since the beginning of the pandemic.
People also died due to lack of oxygen, medicines, emergency care and other healthcare facilities, which totally exposed the woeful condition of the country's medical care infrastructure.
What baffled scientists was the fact that India's death rate was lower than in lesser populated western countries. The authors of the study published in the Indian Journal of Medical Research, pointed out that the death rate in India with 428 people per square lakh kilometre was five-eight times lower than that in less-populated western countries, which had a density of 36-92 people for every square lakh kilometre.
Also read: Omicron and Delta symptoms are different, study confirms
As the death rate was "5-8 fold lower in India", which is densely populated as compared to less populated western countries, the scientists behind the study decided to investigate whether dietary habits were linked to the variations in COVID-19 severity and deaths between Western and Indian population at the nutrigenomics level.
That led to the study titled "Indian food habit & food ingredients may have a role in lowering the severity & high death rate from COVID-19 in Indians".
Using the nutrigenomics approach
So, what is nutrigenomics? Nutrigenomics is an emerging scientific discipline that studies changes induced by diet on the genome. In other words, it studies the effects of dietary nutrients on cellular gene expression. This was used for Covid-19 for the first time to find an answer to the questions posed in the study.
In the end, the scientists found in their study that food habits and food ingredients, including vaccination and other measures, probably played a significant role in reducing the severity and high death rate in Indians.
Two groups were made and countries with low death rate (39 deaths/1,00,000) like India and high death rate (225-300/1,00,000) countries like the US, Greece and Spain were selected. Further, data on the daily consumption of twelve key food components across these four countries were collected and a correlation between nutrigenomics analyses and per capita daily dietary intake were investigated.
Also read: Long COVID has diverse symptoms, affects multiple organs: Study
Distinct dietary habits
Vegetables, whole grains, legumes, red meat, dairy products, fish, alcohol, coffee, fruit, nuts, tea, and turmeric were discovered to be the key variables between these two groups.
The study said that distinct dietary habits of Indians were observed, which may be associated with low death rate from COVID-19. The researchers found Western populations consume more red meat, dairy products and processed foods –actually 10-20 times more red meat, eight-12 times more processed foods, five-seven times more dairy products, three-eight times more fish, 10-12 times more coffee, and two times more alcohol than Indians.
Indians, meanwhile, partake more legumes and vegetables, and four times more whole grains than Western populations.
The fact that the western population drank more coffee and alcohol, it may have increased the severity and death rates from COVID-19 by deregulating blood iron, zinc and triglyceride levels, said the study. Tea and turmeric too saved the day for Indians, it seems.
Nirmal Kumar Ganguly, a former ICMR director general and another researcher in the study, pointed out that while the Western populations take no or negligible amount of tea and turmeric, Indians take an average 1.2 gm and 2.5 gm tea and turmeric per person per day, respectively.
Also read: Most hospitalised COVID-19 patients have at least one symptom 6 months after falling ill: Study
The zinc-rich idli, tea and turmeric   
But, it seems, according to this study, it is the ubiquitous south Indian meal – the idli-sambar and the north Indian rajma-rice that helped Indians win the battle against the dreaded pandemic that wreaked havoc around the world. The study highlighted that Indian diets such as idli-sambar, rajma rice, legumes, and whole grain-based vegetarian foods maintain high iron and zinc concentration in blood in Indians.
One idli may contain twice the zinc than most commonly used zinc-supplemented vitamin tablets. The components of Indian diets maintaining high iron and zinc concentrations in blood and rich fibre in their foods may prevent CO2 and LPS-mediated COVID-19 severity. Regular consumption of tea by Indians maintains high HDL and low triglyceride in blood which may have lowered the risk of Covid-19 severity.
The catechins available in tea act as the natural cholesterol-lowering drug atorvastatin.
Moreover, the pinch of the essential turmeric in the daily food by Indians, nearly 2.5 gms of turmeric per person per day through their various foods, provides strong immunity to them. Curcumin in turmeric is an immune booster, anti-inflammatory and antioxidant compound that may prevent pathways and mechanisms linked to SARS-CoV-2 infection and COVID-19 severity and lowered the death rate.
Red meats activate cytokine storm
Their nutrigenomics analyses showed Western diets like the increased consumption of red meat, processed foods, and dairy products by Western populations activates cytokine storm and several COVID-19 severity-related pathways.
However, the researchers concluded the study stating that large multi-centered case−control studies are required to support their current findings to identify more factors that helped Indians fight the pandemic.