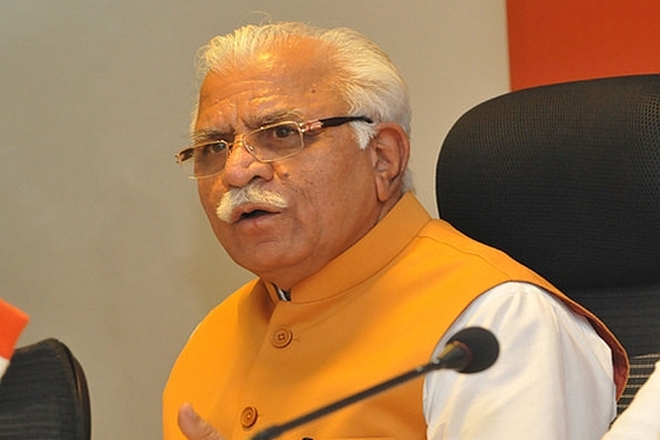 Some farmer unions play politics for vested interests, says Haryana CM Khattar
Haryana Chief Minister Manohar Lal Khattar on Saturday hit out at some farmer unions that allegedly "play politics" and urged the farming community not to fall prey to those who try to mislead them.
Khattars remarks come days after the Bharatiya Kisan Union (Charuni) blocked the national highway in Kurukshetra to demand that the government procure sunflower seeds at the minimum support price (MSP).
The police resorted to lathi charge and used water cannons to disperse the protesters. Later, nine leaders of the Bharatiya Kisan Union (Charuni), including its chief Gurnam Singh Charuni, were arrested on various charges.
Khattar also took a dig at Jannayak Janata Party (JJP) MLA Ram Karan Kala and said he is yet to receive his resignation.
The Shahabad Kala MLA had said that he would quit his role as chairman of Haryana Sugarfed over the lathi charge.
The JJP is in an alliance with the BJP in the state.
On signs of differences in the alliance, Khattar said the coalition is continuing and will continue, adding that there is no problem.
Addressing reporters here, Khattar said, in an apparent reference to the Bharatiya Kisan Union (Charuni) protest, "There are some unions that play politics in the name of farmers for their vested interests. If they (unions) want to do politics, they should do it in the open (instead of) provoking any section. It has been happening for the last several years. There are some groups, not many." He further said, "Blocking highways is not the solution to everything. In a democracy, we cannot hinder anyone's freedom. We have done a lot for the farmers. We held positive talks with the farmers I urge the farmers that this type of agitation is not going to help them." Khattar added that his government will take a positive decision for sunflower growers. A detailed study about the market rate is underway and an announcement will be made once the process is completed.
On the procurement of sunflower at the minimum support price, Khattar said, "When we procured millet at MSP, it was found later that farmers from other states were also selling their crops in state mandis. "Now a similar possibility is arising in sunflower procurement. So, as a precaution, we have announced the interim bharpai (Bhavantar Bharpai Yojana) as the market rate keeps fluctuating." Khattar on Saturday digitally released Rs 29.13 crore as interim bharpai to 8,528 farmers for sunflower grown on 36,414 acres.
The farmers are demanding that the state government procure sunflower at an MSP of Rs 6,400 per quintal.
Under Bhavantar Bharpai Yojana — price difference payment scheme — the state government is giving Rs 1,000 per quintal as interim support for the sunflower crop sold below the MSP. Taking a swipe at Kala, Khattar said one person announced his resignation over the issue. "I will call it politics. He announced his resignation. The resignation should have come to me or it should have been received by someone in the government. We have not received it," he said.
Sometimes, such statements are made because of some pressure, he added.
Replying to a question on a meeting between the BJP's Haryana in-charge Biplab Kumar Deb and some Independent MLAs, Khattar said there is no problem as he meets everyone.
Four Independent MLAs met Deb in Delhi on Thursday. On Friday, Haryana Lokhit Party leader and MLA Gopal Kanda also met Deb in the national capital.
The Opposition has stepped up its attack on the BJP-JJP government over statements made by the leaders of two parties directed at each other.
---
(Except for the headline, this story has not been edited by The Federal staff and is auto-published from a syndicated feed.)