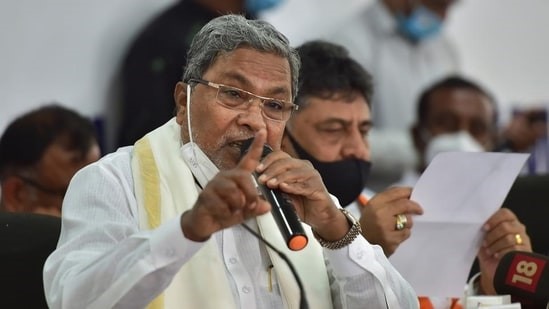 Senior Congress leader Siddaramaiah on Monday opposed the alleged decision of the Central Reserve Police Force (CRPF) to conduct its recruitment examination only in Hindi and English and not in Kannada.
Terming it an injustice to candidates from the non-Hindi speaking states like Karnataka, the former chief minister said the "double engine" government of the BJP has "failed" the states aspirants.
"I urge Prime Minister Narendra Modi to immediately allow the candidates to write the CRPF recruitment exam in Kannada too. It is important to relax the rule of writing the exam only in English and Hindi to help candidates from non-Hindi states," Siddaramaiah said in a series of tweets.
Stating that language does not reflect knowledge, and it is just a medium of communication, he said, though candidates who have studied in Kannada medium are smart, they are unable to clear the exams because of language barrier. "This is injustice towards our youth." "Our youth are being deprived of jobs due to 40 per cent corruption of the state BJP government and language policy of the Union BJP government. This has increased the unemployment rate and destroyed the future of our youth. Double engine government has failed our candidates," he further said on his Twitter handle.
Tamil Nadu Chief Minister M K Stalin too has written to Union Home Minister Amit Shah, opposing the non-inclusion of Tamil in the computer test for recruitment to CRPF, saying the notification mandating only the use of English and Hindi was discriminatory and unilateral.
---
(Except for the headline, this story has not been edited by The Federal staff and is auto-published from a syndicated feed.)