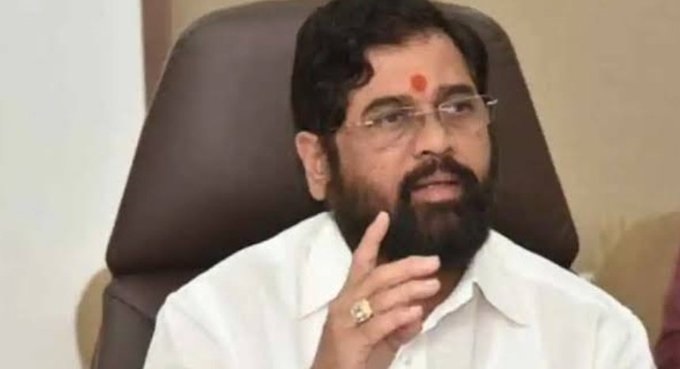 Eknath Shinde. File photo.
A day after the Supreme Court verdict on the 2022 political crisis in Maharashtra, Shiv Sena (UBT) Rajya Sabha MP Sanjay Raut on Friday termed the 11-month-old Eknath Shinde-led government in the state as "unconstitutional" and claimed it will collapse in the next three months.
He said the Supreme Court, in its verdict on Thursday, made crucial observations and found fault with the conduct of then-Governor B S Koshyari and the Assembly Speaker during the political crisis.
This government is completely illegal and unconstitutional. There are three observations of the Supreme Court. The whip Bharat Gogawale (appointed by the Shinde faction and recognised by Speaker) is illegal. Orders given by the illegal whip are illegal. The court has clarified that our whip Sunil Prabhu was the legal whip.
"Every decision taken by then-Governor, including direction for a floor test, has been considered wrong by the Supreme Court. The election of Eknath Shinde as the group leader (after the rebellion in Shiv Sena) has also been called illegal by the court. The court has also said no (Sena) group can claim its the original political party, Raut said. The Rajya Sabha member, a close aide of Shiv Sena (UBT) president Uddhav Thackeray, was addressing a press conference in Nashik in north Maharashtra.
Not only the 16 rebel Sena MLAs, including Chief Minister Eknath Shinde, but the remaining 24 MLAs will also be disqualified and the Shinde-Fadnavis government in the state will collapse in the next three months. The end of this government is near. The Speaker will have to take a decision in 90 days (on disqualification of rebel MLAs)," he said.
Raut said officials and police personnel should not follow "illegal orders of this illegal government".
He claimed the Shinde-BJP government is doing a wrong analysis of the Supreme Court verdict and insulting the apex court.
In its eagerly awaited verdict on the Sena vs Sena political battle, the Supreme Court on Thursday held that it cannot restore the MVA government led by Thackeray as he resigned as CM without facing a floor test in June last year though it passed critical remarks against then-Governor Koshyari.
The SC has asked the Speaker to decide on the disqualification of 16 MLAs within a "reasonable period".
---
(Except for the headline, this story has not been edited by The Federal staff and is auto-published from a syndicated feed.)