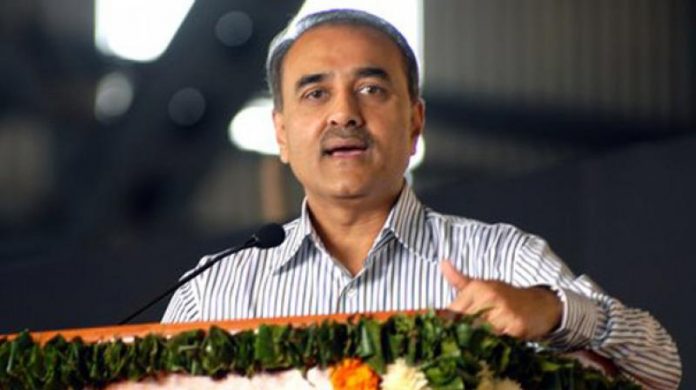 There is no question of picking Sharad Pawars successor as NCP chief until there is a final decision on his announcement to quit the post, senior party leader Praful Patel said on Wednesday. Pawar has not relented despite repeated appeals from NCP leaders and supporters that he withdraw his decision to step down, Patel said.
"None of us knew about this (resignation announcement) beforehand," he told reporters. "Pawar yesterday said there should be a generational change. May be he wanted a new generation to step forward. None of us knew about it beforehand. He has asked for some time and we should grant him that," Patel said. Patel, who is the NCPs national vice president, also said he himself was not in the running for the top post. "I am not a contender," he said. The party committee, which Pawar himself set up on Tuesday to decide on his successor, did not meet on Wednesday, he said.
"If the situation arises, the committee will decide on Pawars successor and the decision will be unanimous. He sought time to think over his decision after the party asked him to reconsider it, and till the final decision is arrived at, there is no question of deliberating on his successor," Patel said. "There is no vacancy," he said, adding, "whether Pawar remains president or not, he is the partys identity and soul." The NCP leader was reacting to speculation about Supriya Sule emerging as the choice for national president and Ajit Pawar as the Maharashtra unit chief. Some reports also suggested that Patel could succeed Pawar. The party was trying to persuade Pawar to reconsider his decision, Patel said. "Party workers should have patience and stop resigning from their posts en masse (in protest against Pawars decision)," he said. As he was the convenor of the committee, he would inform when its meeting is scheduled, Patel told the reporters. He also denied that state NCP chief Jayant Patil was upset with the party. Patil was in Pune to attend a meeting of his sugar cooperative factory, Patel said. The `Vajramooth rallies of the Maha Vikas Aghadi — the alliance of the NCP, Congress and Shiv Sena (UBT) — were postponed due to the hot summer conditions and it was decided on Sunday when a rally was held in Mumbai, Patel said. "It has nothing to do with Pawar stepping down as NCP chief," he said. NCP MLA Jitendra Awhad said he has resigned from the post of partys National General Secretary and sent his resignation to Sharad Pawar. All office bearers of Thane NCP have also resigned after Pawar Sahebs announcement to resign from the post of party chief, he said. Jayant Patil said he was among several people who had joined the Nationalist Congress Party after being inspired by Pawar sahebs leadership. Asked if he would work under Pawars daughter Supriya Sule as the national president as her name is doing the rounds for the top post, Patil said whatever decision the party takes, everyone has to accept it. Asked if he had prior knowledge of Pawars decision, Patil said he did not have any idea. To a query on if he felt sidelined in the party, he said, This is a big question. I dont think there is any need to answer it today. There were reports that Patil was not invited to a meeting of top NCP leaders in Mumbai. Patil said he had a word with NCP MP Supriya Sule, who said there was no such meeting. Pawar (82) on Tuesday dropped a bombshell by saying he is stepping down as chief of the NCP which he founded and helmed since 1999, but not retiring from public life. The announcement, made at an event, stumped leaders and workers of the 24-year-old party, and many were seen crying and pleading with the Maratha strongman to reconsider his decision. Ajit Pawar on Tuesday announced his uncle will need two to three days to "think over" his decision. A day after he announced his decision to step down as NCP chief, Sharad Pawar stuck to his daily routine of meeting people including party functionaries. Meanwhile, Maharashtra Congress chief Nana Patole hit out at ally Shiv Sena (UBT) leader Sanjay Raut, saying that he should stop "interfering in other parties affairs", a statement that drew a sharp reaction from the latter. The Congress, Shiv Sena (Uddhav Balasaheb Thackeray) and Nationalist Congress Party (NCP) are partners in the opposition alliance Maha Vikas Aghadi (MVA). The government headed by this alliance ruled Maharashtra from November 2019 to June 2022.
On Tuesday, Raut said that decisions in the Congress are ultimately taken by Rahul Gandhi although Mallikarjun Kharge currently occupies the post of the grand old partys president. When asked about Rauts remark, Patole told reporters at his residence in Nagpur that Raut should stop interfering in the affairs of other parties. "Sanjay Raut is not a spokesperson of Congress. How can he raise question marks over the capability of Congress chief Mallikarjun Kharge? It is wrong to level false allegations against the Gandhi family," he said. "I would suggest that he (Raut) should not interfere in our partys affairs," Patole added.
---
(Except for the headline, this story has not been edited by The Federal staff and is auto-published from a syndicated feed.)