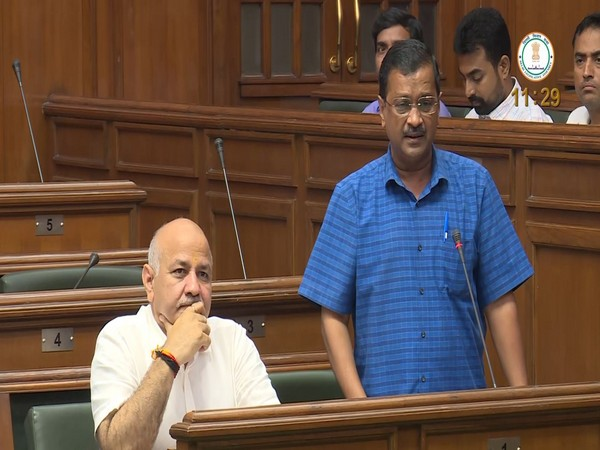 Assam Chief Minister Himanta Biswa Sarma on Sunday slammed his Delhi counterpart Arvind Kejriwal over his comments during a rally in Guwahati, calling the AAP chief a coward whose heroism is confined within the assembly.
Sarma criticised Kejriwal for not making any reference to allegations of corruption against the BJP leader, which he had reportedly made in the Delhi Assembly. He had made charges of corruption against me in the Delhi Assembly, but I cannot act on it as he is protected by regulations. I had challenged him to repeat the same allegations outside the House and then I will see him in court.
But, he didn't have the courage to say anything here. He spoke a lot of anab-shanab (rubbish), but nothing on charges against me, Sarma said at a presser.
The Assam CM had on Friday threatened to file a defamation case against Kejriwal if the Aam Aadmi Party leader alleged corruption cases against him outside the assembly.
The heroism of Kejriwal is confined within the assembly as he is protected by privilege there, Sarma said.
On Kejriwals claims at the Guwahati rally, where Punjab Chief Minister Bhagwant Singh Mann was also present, on jobs provided by the Delhi government, Sarma said the figures were wrong and 60 per cent of citizens in the national capital were living in hell. I spoke to officials in Delhi. They told me that there are 1.50 lakh government-sanctioned posts under Delhi government. I will write to Kejriwal tomorrow to provide the break-up of the jobs, and I will also share the details of employment provided by our government, he said.
Sarma also downplayed Kejriwals promise of free electricity if AAP came to power in Assam, asserting that the northeastern state has the Orunudoi scheme under which the state government credits Rs 1,400 per month in the bank accounts of economically backward families.
Waiving only the electricity bill would have been cheaper for us, he said.
Reacting to Kejriwals critical comments on the recent question paper leak in Assam, Sarma claimed that the Class 12 English paper in Punjab, which also has an AAP government, had leaked and the examination was cancelled.
On his Delhi counterparts invitation to visit his house in the national capital, Sarma said, I will send 50 people from Assam, mostly journalists, and Kejriwal has to take them around Delhi. The only condition is that they have to be taken to the places we want to visit, not what he wants us to show.
60 per cent of people of Delhi live in hell. In contrast, 95 per cent of Assam live in heaven, he claimed.
Sarma also said the AAP leaders stature has diminished after Sunday's rally.
If he wanted to say so many lies, he should have at least ensured a bigger crowd of 20,000-30,000, the BJP leader added. Earlier in the day, Kejriwal promised free electricity and jobs if AAP came to power in Assam, while he accused the ruling of BJP of doing nothing but play dirty politics in the state.
"AAP came to power in Delhi in 2015 and the BJP here in 2016. Today, we have changed the face of Delhi. What has Himanta babu (Assam CM Himanta Biswa Sarma) done for the state in seven years? Nothing, only dirty politics," he alleged.
---
(Except for the headline, this story has not been edited by The Federal staff and is auto-published from a syndicated feed.)