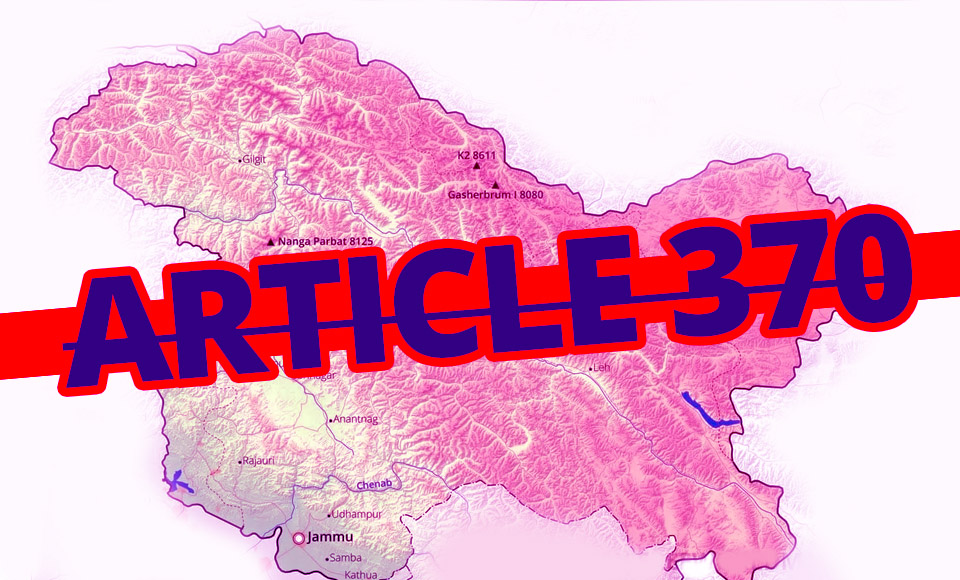 Article 370 not repository of untrammelled power but medium through which Constitution applied to JK: SC told
Article 370, which bestowed special status on the erstwhile state of Jammu and Kashmir, was not a repository of untrammelled power but a medium through which the Constitution would apply to the state, the Supreme Court was told on Wednesday.
A five-judge constitution bench headed by Chief Justice DY Chandrachud was told by senior advocate Gopal Subramanium, appearing for petitioner Muzaffar Iqbal Khan, that the Jammu and Kashmir constituent assembly did not want to abrogate Article 370 and instead permitted its continuance.
Khan has challenged the two constitutional orders of the Centre issued on August 5, 2019 and August 6, 2019, by which Article 370 was abrogated.
"Even though the word temporary appears in the marginal notes of Article 370 of the Constitution, the resolution passed by the Jammu and Kashmir constituent assembly said that the Constitution of India must apply with these modifications. The constitution of Jammu and Kashmir and Indian Constitution were speaking to each other through Article 370," Subramanium said.
He told the bench also comprising justices Sanjay Kishan Kaul, Sanjiv Khanna, BR Gavai and Surya Kant that Article 370 was not a repository of untrammelled power but a medium through which the Constitution would apply to the erstwhile state of Jammu and Kashmir.
Subramanium, who commenced his arguments on the fourth day of hearing on a batch of petitions challenging abrogation of Article 370, said, "It is respectfully submitted that Article 370 ought not to be read or interpreted as an expression of power politics or a bargaining chip. Rather, it should be interpreted as a principled compact between the people of India (acting in their constituent capacity through the Indian Constituent Assembly) and the people of the State of Jammu and Kashmir".
He added that in constitutional arguments, there can be multiple approaches One is a historical argument, second is a textual argument, third is a doctrinal argument, and the last is structural argument – these are all methods of constitutional interpretation and whichever way the court look at it, the end result will be the same.
"The impugned orders – Constitution Orders- 272 (issued on August 5, 2019) and Constitution Order- 273 (issued on August 6, 2019)- in sum and substance do away with the Constitution of Jammu and Kashmir. That is impermissible, not authorised under the law", Subramanium said.
The senior counsel referred to Tuesdays observation of the CJI that in any representative democracy, the will of the people is expressed through established institutions under the constitution.
"I am going to urge that the expression Constituent Assembly and the legislative assembly of a state are both institutions recognised under our Constitution", he said, adding the constituent assembly of Jammu and Kashmir have expressly affirmed by a resolution that they dont want Article 370 of the Indian Constitution to be abrogated as they wanted the provision to be a language of communication between the two constitutions of India and Jammu and Kashmir.
"If the Constituent Assembly of J&K, which is the body of people, has taken these proactive steps and we have accepted those proactive steps, can we unilaterally abrogate this arrangement?" he questioned, while saying that this arrangement between J&K and India was a compact of federalism and Article 370 establishes the contours of this relationship in the federal sense.
Justice Khanna told Subramanium by the Constitution order of 1954, the Indian constitution was adopted with certain omissions and modifications.
He said one may call it a Jammu and Kashmir Constitution but in essence what was adopted was an Indian constitution with certain exceptions and modifications.
"By its very nature, Article 370 is very flexible. Normally constitutions are flexible with time and space because theyre made once but they last for a longer period, Justice Khanna told Subramanium. The senior counsel said J&K constitution can be repealed only by state legislature and it cannot be abrogated like this.
Subramanium concluded his argument after which senior advocate Zafar Shah representing Jammu and Kashmir Bar Association commenced his submission and will continue on Thursday.
On Tuesday, the top court had said there is no question of a Brexit-like referendum on abrogation of Article 370.
India, it said, is a constitutional democracy where the will of its people can be ascertained only through established institutions.
Brexit was the name given to the UKs departure from the European Union. Britains exit from the EU was actuated by a rise in nationalistic fervour, daunting immigration issues, and a distressed economy. Several petitions challenging abrogation of the provisions of Article 370 and the Jammu and Kashmir Reorganisation Act, 2019, which split the erstwhile state into two union territories – Jammu and Kashmir, and Ladakh – were referred to a Constitution bench in 2019.
---
(Except for the headline, this story has not been edited by The Federal staff and is auto-published from a syndicated feed.)