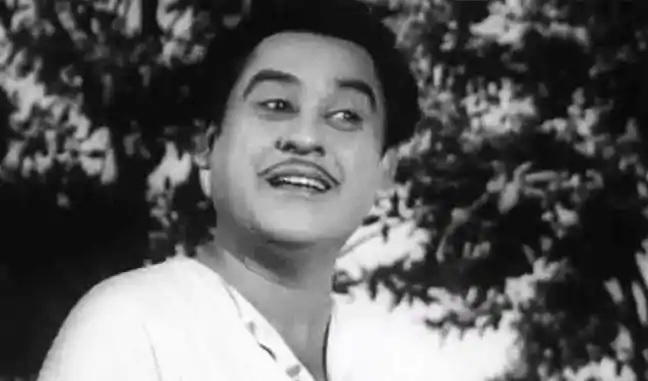 On October 13, 1987, at the age of 58, Kishore Kumar left at a time when he was still savouring the dozen roles he effortlessly slipped into. In a four-decade-long career, the genius singer, actor and composer, who dabbled in production, direction and screenwriting apart from penning lyrics, seemed like he could never have had enough of anything.
The mere mention of Kishore Kumar can conjure up a number of images — the curly-haired agile actor who makes you groove to Eena meena deeka, or try to yodel (a switch between normal voice and falsettos) with Arey o leiyo leiyo, oleiyo leiyo in Zindagi ek safar hai suhana as Rajesh Khanna's voice.
Or, the Bengali singer who teaches Sunil Dutt to woo his beautiful neighbour in Padosan with Mere samnewali khidki mein and Ek chatur naar. If his exuberance was infectious, his gloomy and despondent songs — Koi humdum na raha from Jhumroo (1961) and Dukhi mann mere, sun mera kehna from Funtoosh (1956) — were heart breaking.
Advertisement
Slow and steady
Active in the transient phases of music in Hindi cinema, first as a chorus singer in the shadow of his illustrious brother actor Ashok Kumar, Kishore da's career graph was a steady ascent.
From the late 40s till the mid-60s, Kishore Kumar was alternating between acting, singing and composing. As an actor, he was often cast in comedy roles. Filmmaker Bimal Roy gave him a chance to explore another facet with a serious role in Naukari (1954), as a struggling youth grappling with unemployment soon after independence.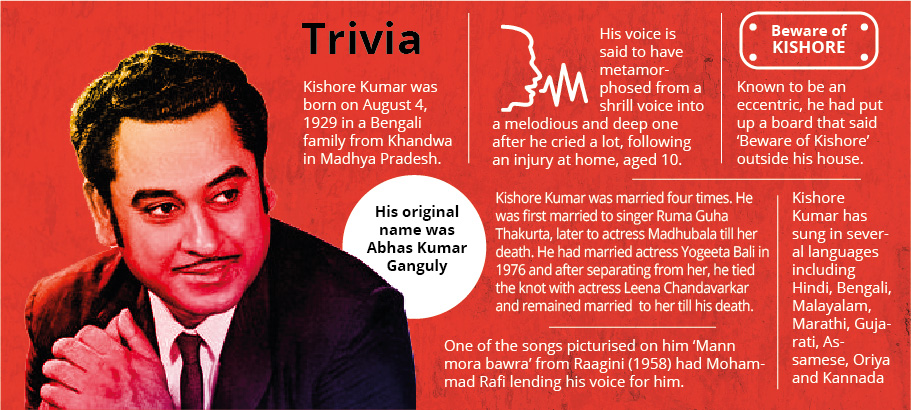 Also read | In life and death, Guru Dutt remains an enigma
As a singer, he had his patches of glory with songs like Jeevan ke safar mein rahi (Munimji, 1955) composed by SD Burman. Picturised on Dev Anand, it was at a time when the debonair actor's voice was either Mohammad Rafi or on rare occasions, Hemant Kumar. Burman sought the masculine and crystal clear voice of Kishore, amid more trained and established singers like Rafi, Manna Dey and Talat Mahmood who had their niche.
Yet, Kishore couldn't have an actor-singer collaboration like a Raj Kapoor-Mukesh or Dilip Kumar-Rafi or Talat, and some of his best numbers were picturised on himself. One such number was Meri neendon mein tum composed by OP Nayyar, which he rendered with the veteran Shamshad Begum for the film Naya Andaz (1956), opposite Meena Kumari. It was Begum who prophesied that one day he will have an image and popularity of his own.
The highlight of the 50s for him was Chalti ka naam gaadi (1958) alongside his brothers Ashok and Anoop Kumar that gave the romantic and mischievous Ek ladki bheegi bhaagi si, wooing the ethereal Madhubala.
60s brought out his best
In the early 60s, Kishore turned composer with the movie Jhumroo (1961), starring opposite to Madhubala, whom he had married just a year ago. Jhumroo's music remains one of his best works — with Main hoon jhum-jhum-jhum Jhumro and Thandi hawa yeh chandni — in an album of 11 songs.
In the next few years, Kishore had become a regular choice for Burman, who made him the voice of Dev Anand in Teen Deviyaan for the flirtatious numbers Khwaab ho tum ya and Arre yaar mere tum bhi, while he reserved Rafi for softer melodies. Burman followed up the Kishore-Dev combo with Guide (1965, Gaata rahe mera dil) and Jewel Thief (1967, Yeh dil na hota bechara and Aasman ke neeche).
The period saw some of the finest songs by Kishore, be it the Hemant Kumar composition Woh sham kuchh ajeeb thi (Khamoshi, 1969) or his own Aa chalke tujhe mein leke chaloon (Door gagan ki chaaon mein, 1964).
The dizzying heights
The perfect end for the decade came with Aradhana in the music of the senior Burman while his son Rahul Dev Burman had a huge influence in its making. Roop tera mastana and Mere sapnon ki rani put Kishore on the horizon, eventually upstaging Mohammad Rafi.
The collaboration with RDB marked a significant shift in the paradigm of music, augmented by the entry of Rajesh Khanna. Kati Patang, Amar Prem, Ajnabee, Aap ki Kasam and Mere Jeevan Sathi were all part of the shift.
He could be the voice of any actor, be it the angry young man Amitabh Bachchan, or a soft spoken Amol Palekar. From soothing melodies to romantic numbers with a steady western music influence, the transformation on the music front was evident, outlined with the flamboyance of Kishore.
Also read | Madhumati's enduring legacy of reincarnation turns 61
In fact, it was with RDB and the composer duo of Kalyanji Anandji that he got to sing emotionally wrought songs. Jaane kya sochkar nahi guzra (Kinaara), Zindagi ka safar (Safar) and Yeh kya hua (Amar Prem) were testimonials to these quests in  patches of melody and melancholy, displaying his versatility.
RD Burman's musical partnership with Kishore was an enduring one, which was eventually overshadowed by Bappi Lahiri in another tectonic shift towards disco numbers. However, his association with RDB was the most enduring one spanning almost two decades.
Kishore succumbed to a massive heart attack on the 76th birthday of his eldest brother Ashok Kumar, ending the long innings of a singer who had been the voice of actors from Dev Anand to Anil Kapoor.
Now, a good three decades after his death, there have been several clones like Kumar Sanu, his son Amit Kumar and many more. Yet, the unfathomable depth and immeasurable passion in his voice remain unmatched.