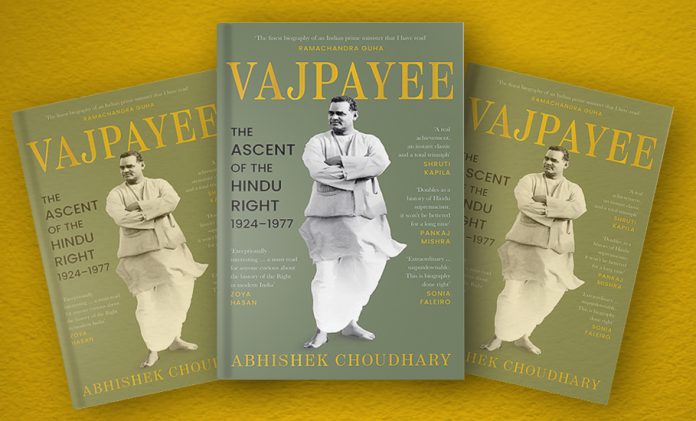 So, who was the real Atal Bihari Vajpayee? A right man in the wrong party or a hardcore Hindu nationalist right from the start? Did he really admire Jawaharlal Nehru? Did he actually call Indira Gandhi a 'Durga' after the 1971 war?
In what is clearly an exhaustive biography of one of India's most popular politicians, journalist-author Abhishek Choudhary does an extraordinary job of eight years of digging out primary sources unseen by others and talking to dozens who knew Vajpayee intimately to weave a political classic.
The many shades of Vajpayee
This is no hagiography. In as much as Choudhary is sympathetic to a man who came up the hard way from a small town on the Yamuna's banks to become India's prime minister, he bares open many shades of Vajpayee, including his carefully concealed love life. And the picture that emerges is a leader who was always a Hindu radical at heart, but whose cultivated image of a moderate, necessitated by political circumstances, played a major role in advancing the RSS cause. This book, then, is also a part of the Hindu Right or the Rashtriya Swayamsevak Sangh (RSS), with which Vajpayee enjoyed a love-hate relationship.
Born on Christmas day in 1924 in Bateshwar town in Uttar Pradesh, Vajpayee's initiation into politics came through RSS and not the Bharatiya Jana Sangh which he later headed. He was attracted to an RSS shakha at an early age; at 17, he was named a "bauddhik karyawaah" for Gwalior, which was shown as his birthplace in his school records. In 1946, Vajpayee wanted to be an RSS pracharak, but realized he was not suited for it. By July 1947, Vajpayee, now a post-graduate but not academically bright, guarded Hindu localities with lathis in Kanpur from possible attacks by Muslims.
Also read: 'Caste Pride' review: Manoj Mitta illuminates caste's legal odyssey in post-Independent India
RSS doublespeak became a part of Vajpayee's DNA. A casual participation in an incident led to his and his brother's arrest during the 1942 Quit India movement, from which the RSS and Hindu Mahasabha kept away. The brothers named a Liladhar Vajpayee in their confessional statement, leading to his arrest. But the new found popularity helped Vajpayee to get elected as the general secretary of the students' union in Victoria College. Once he became a journalist to serve the RSS cause, Vajpayee declared the Quit India movement a waste of time and resources. Like RSS, he argued that Muslims who stayed on in India after independence were traitors.
Went into hiding after Mahatma Gandhi's assassination
When Nathuram Godse assassinated Mahatma Gandhi on January 30, 1948, the mass anger unnerved the RSS. Although it was outlawed, the crackdown was not very effective because Sardar Vallabhbhai Patel was not convinced it was involved in the killing. But the RSS contributed majorly to a climate of hatred that facilitated the murder.
RSS chief MS Golwalkar had even bragged at a secret meeting in Delhi that Gandhi could be killed. "We have the means whereby such men can be immediately silenced… If we are compelled, we will have to resort to that course." Just before his assassination, as Gandhi lay in pain in Birla House after a hunger strike, RSS activists marched through central Delhi, shouting slogans that the old man should die. "Boodhe ko marne do!"
As a journalist, Vajpayee never condemned any of this but found plenty of faults with Mahatma Gandhi, a thorn for Hindu fundamentalists. He was dubbed an egoist: "In his victory, Hindus have only lost." He was hated for juxtaposing verses from the Quran and the Gita. Vajpayee would, however, decades later declare "Gandhian socialism" as the BJP's ideological calling.
Vajpayee was one of the few popular Sangh leaders who escaped the police dragnet after Gandhi's murder — partly due to luck. He hid himself across Uttar Pradesh. He came out in the open after the ban on RSS was lifted in July 1949.
The political journey: RSS, Jana Sangh, and Nehru
Vajpayee's devotion to RSS when its stock was really low earned its respect. He spoke more frequently on Hindu Code Bill, language debate and cow protection: issues on which RSS and Congress conservatives were on the same page. India's new Constitution was dubbed a Western import. RSS, and later Jana Sangh, championed Hindi and opposed linguistic states. But despite what Vajpayee's resume would later claim, he had no direct role in the formation of the Jana Sangh in 1951. He was at its launch but only as a journalist.
After the party won just three seats in the first Lok Sabha, RSS' enthusiasm for Jana Sangh waned. Vajpayee, meanwhile, relocated to Delhi and in early 1953 was named Syama Prasad Mookerjee's private secretary, ending his tryst with journalism. It was only late in 1954 that he was declared a member of the party's central working committee. Vajpayee was 29 when he became a full-time politician. He was already considered a master public speaker.
Promotion soon followed. He was tasked to assist the new party boss, Deendayal Upadhyaya, in northern India. When he was fielded in Lucknow for the Lok Sabha election, he was described as "M.A. and L.L.B" — a falsehood as he never finished his law studies. His participation in the Quit India Movement was exaggerated. In the second Lok Sabha election, when Vajpayee contested from three seats, winning from the one, the Panchjanya invented another lie: that he never stood second as a student.
Vajpayee's political stature grew during the border clashes with China. He also, at times, took a stand seemingly independent of RSS although the latter controlled the Jana Sangh. Vajpayee felt that Jawaharlal Nehru was amazingly tolerant towards opposition members; Nehru, too, saw Vajpayee as a likeable, bright young man in an otherwise regressive party. That said, the author asserts that contrary to popular belief, Nehru never prophesied the prime minister's post for Vajpayee.
Vajpayee was at his aggressive best vis-à-vis Nehru over China. In another change of heart, he now argued for the inclusion of freedom fighters and historical personalities from all religions, provinces and ideologies. Referring to Mahmud of Ghazni, Muhammad Ghori and Aurangzeb, he said: "No doubt the vandals were Muslims, but they should not be considered representatives of Islam." He told Hindus "not to hold the entire Muslim community as answerable for the sins of these marauders".
Also read: 'First Flood': Nandini Krishnan on translating Kalki's Tamil magnum opus Ponniyin Selvan
Once China attacked India, Vajpayee expressed full support to Nehru, a stand not appreciated by most RSS-Jana Sangh leaders. An irked Acharya Kripalani dubbed Vajpayee a Nehruvian in Sangh garb. In reality, Vajpayee's differences with others over Nehru were more semantic. The Jana Sangh told party workers to spread the rumour that Nehru ate the calf's tongue for breakfast. It is impossible Vajpayee didn't know this was happening. This did not prevent Vajpayee from paying a heartfelt tribute to Nehru when he died in May 1964.
The Sixties: Rise of the RSS
The 1962 war brought one windfall for RSS: at the next January 26 parade, the marchers included 2,000 of its volunteers in uniform. Nehru was so weakened by the war that he could not prevent the RSS, which he otherwise loathed, from earning a certain modicum of respectability. New Prime Minister Lal Bahadur Shastri was more deferential to Golwalkar. RSS mouthpieces got better access to newsprint and state advertising. The 1965 war with Pakistan saw the RSS chief attend an all-party meeting convened by Shastri — unthinkable in Nehru's time. RSS men regulated traffic in parts of Delhi, further boosting its credentials.
The 1967 elections badly weakened the Congress. The Jana Sangh won 35 seats in the Lok Sabha and 268 in state assemblies. As non-Congress parties formed governments in several states, Vajpayee, despite attacks from hardcore colleagues, pressed for joining the coalitions. The Sangh Parivar, he underlined, was in politics to capture power and so it should not practise untouchability: In Uttar Pradesh, the Jana Sangh used its education portfolio to promote the RSS Saraswati Shishu Mandir schools and to pack the managing boards of schools and colleges with its nominees — something it would do more brazenly later. Jana Sangh also infiltrated government departments. The Sangh Parivar bought real estate everywhere. Top industrial houses generously contributed to the Jans Sangh.
At one point, Vajpayee let the RSS know frankly that an ideological party would never capture power although it could exist as a powerful pressure group. "The Jana Sangh's only real option was to compromise ideology for power. Once they had attained power, they could mould the body politic as per their desire." It was a template Narendra Modi would follow to the dot in 2014. Indira Gandhi, the new prime minister, saw through Vajpayee. She accused him of hiding "dangerous thoughts behind his smiling face and mellifluous Hindi".
Also read: Subhashish Bhadra interview: How India can transform itself from an elephant to a tiger
A real spat that followed between Indira Gandhi and Vajpayee triggered for the first time a debate on the latter's moral and political character. When the attacks on RSS became too strident, Vajpayee would resort to obfuscation or downright lies. The Jana Sangh, he said, was not even born when the Mahatma was assassinated — which was beside the point. He insisted there was "no relationship" between the Jana Sangh and the RSS! Vajpayee praised Indira Gandhi for calmly overseeing a military victory against Pakistan in 1971, but the author asserts it was fiction to say he dubbed her a 'Durga'.
The RSS resurgence
Indira Gandhi, whose 1972 election win weakened the Jana Sangh, didn't care for the RSS. She banned it with other groups when she imposed Emergency in June 1975, sending Vajpayee and scores of opposition leaders to prison. The underground thrived in the early days because the RSS full-timers were trained for such an event. Most remained at large, partly due to help given by sympathetic police and intelligence officers. But once behind the bars, socialist leaders complained that RSS-Jana Sangh detenus were desperate to be freed.
Eventually, Indira Gandhi and the Congress were routed in the 1977 elections, catapulting to power the newly formed Janata Party, one of whose key constituents was the RSS-controlled Jana Sangh. Vajpayee became the foreign minister. Almost 75 years after the RSS launched its political wing, it had grabbed power in the world's largest democracy. "The long route had involved hard work and perseverance, a strategic use of secrecy and misinformation, and a bullish, almost sinister, attitude to infiltrate Hindu society with its multiple affiliates. Where would the Sangh Parivar go from there?"
We know what happened post 1977, the year when this story ends. The second part on Vajpayee, expected in December this year, will cover his life till his death. It will involve the period when Vajpayee's charms as a moderate propelled the Sangh Parivar to helm the Indian government with allies until a time when it needed no crutches of any kind — as Vajpayee had predicted to Golwalkar.