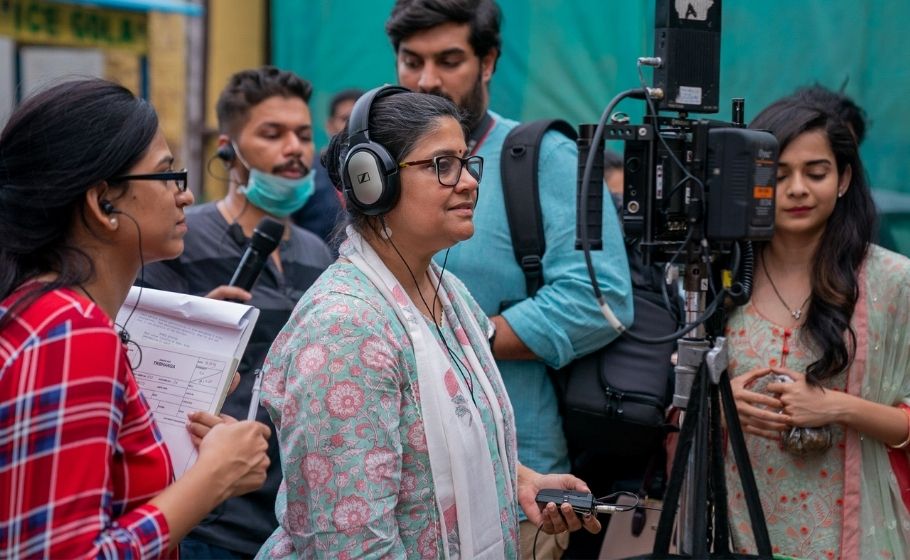 Tribhanga, mom-daughter ties and more: A chat with Renuka Sahane
No one is perfect, least of all your parents! This is broadly the theme of filmmaker Renuka Shahane's directorial venture, Tribhanga, a Netflix original, where she explores the harmful consequences of parental choices on children by chronicling the lives of three women.
The choices parents make can mess up the lives of their children. There is nothing much they can do to turn back the clock and set things right. And, sometimes they may never be able to articulate an apology, or tidy up the mess they had unleashed. And, as one gathers up the pieces as an adult and swears never to be that kind of mother, you probably end up making the same mistakes.
No one is perfect, least of all your parents.
This is broadly the theme of filmmaker Renuka Shahane's directorial venture, Tribhanga, a Netflix original. She explores the harmful consequences of parental choices on children by chronicling the lives of three women — an acclaimed writer, Nayantara (played by veteran actor Tanvi Azmi), her resentful, fiery daughter and actor-dancer, Anuradha (Kajol), and a docile Masha (Mithila Palkar), who has her own crosses to bear. Nayantara has a brain stroke and goes into a coma, which brings the family together at the hospital having to deal with rankling, bitter memories from the past.
Related | Marikozhundhu: A film that questioned the glamour surrounding fairness
However, Shahane (famous for anchoring India's iconic TV show, Surabhi and for being Salman Khan's gentle bhabhi in Hum Aapke Hain Kaun…!), takes a bold, unapologetic stand about the choices her women characters make in her film.
Nayantara walks out on her marriage with her two kids to be able to pursue her literary career in peace and enters into a reckless relationship with a young man. She allows him into her home and into her vulnerable children's lives, not knowing his true character. Her unconventional lifestyle affects her children on all fronts.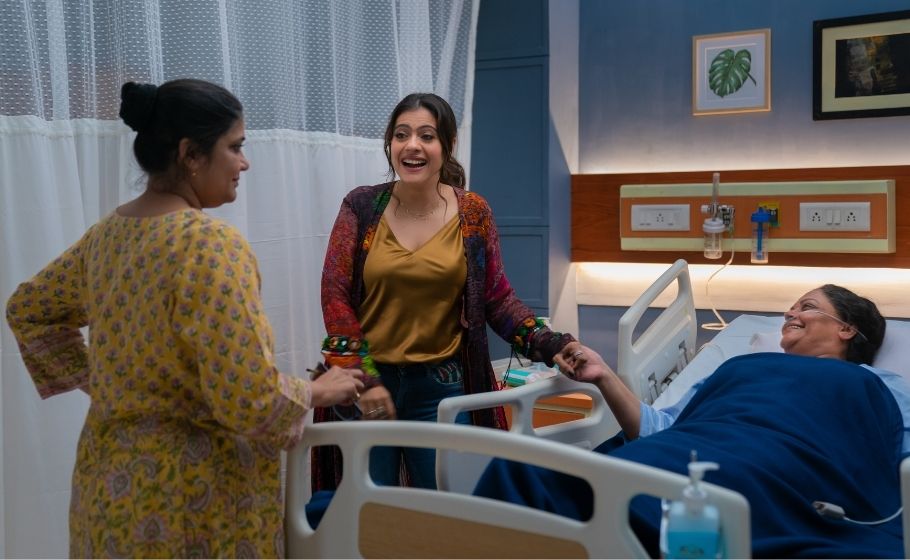 In an interview with The Federal, Shahane explains her approach in the film, "We tend to eulogise our mothers or we take them for granted. But, it is rare to see portrayals of mothers, who want to be treated as an individual. I want people to look at mothers with empathy. They are also human, and can make mistakes by not considering the effect of their actions on their kids."
Often, societal pressures force children too to put their mothers or parents on a pedestal and not question them, she adds.
Shahane, the daughter of famed Marathi writer and art critic, Shanta Gokhale, however, shares a warm relationship with her own mother. For she says about her mom, "My mother has been my major influence all through my life. Whatever I am, my thoughts, my values, the kind of exposure I got as a child, everything is related to my mother. She is the centre for me."
Review | In Shakuntala Devi, Vidya Balan averts a biopic disaster
So, when Shahane once heard a woman publicly voice her hatred and contempt for her mother, she was taken aback and decided to delve into this complex, nuanced mother-daughter relationship. And, in 2018, when Bollywood director-producer Sidharth Malhotra, (who has made We are Family, another Kajol-starrer) read the script, he loved it and took it to actor Kajol.
"Once she came on board, the rest of the cast fell into place. And, Ajay Devgn came in as producer," recalls Shahane happily. While it took her six long years to write the script (as she was busy being a hands-on mom), it took her two years to shoot and complete the film.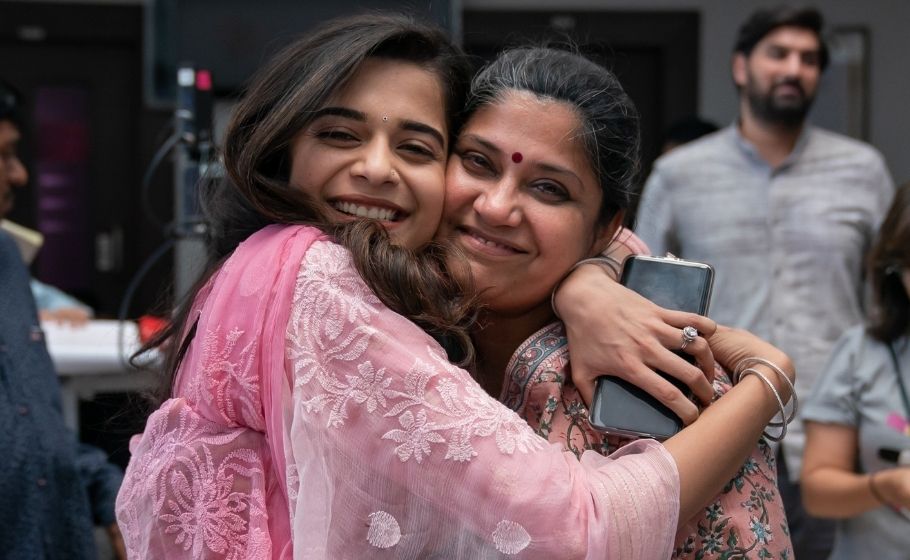 "I had taken a sabbatical from films but it was my husband (Bollywood actor Ashutosh Rana), who reminded me of my dream to direct," reveals Shahane, whose first directorial outing was back in 2009, when she had adapted her mother's award-winning Marathi novel, Rita Welingkar into a film.
"It was a long and tedious journey writing Tribhanga because there were days when I had nothing to write. But tedious journeys always have good endings. I am overwhelmed by the response for my Netflix film. My feet are not on the ground, actually," she says candidly.
A self-taught filmmaker, Shahane had learnt filmmaking from noted Marathi film and theatre director Vijaya Mehta, while assisting her on a medical TV serial, Lifeline. in 1991. "I learnt filmmaking from her, I consider her my guru," admits Shahane, who has worked in theatres for decades as well.
Also, Shahane, who has acted in many Bollywood and Marathi films, used to spend her time on film sets chatting up sound technicians and cinematographers on the craft of cinema.
Review | Strong cinematography but poor script: Penguin leaves viewers cold
Moreover, she also had the chance to imbibe the finer points of filmmaking while working for the legendary Bollywood production house, Rajshri. She reminisces, "I used to go to the sets of Hum Aapke Hain Kaun one and half hours before my make-up call time. Soorajji (director Sooraj Barjatya) would be discussing the scenes of the day to be shot with his assistants and I would be part of it. The film was extremely special for me, the way my character turned out was entirely because of Sooraji. He is a one-of-a-kind person." Shahane plays a pivotal role as Madhuri Dixit's sister in the film.
It was, however, director Aziz Mirza, (Raju Ban Gaya Gentleman, Yes Boss, etc.,) who had convinced her that acting was her true calling. Shahane had acted in Mirza's famous TV serial Circus in 1989, playing the role of a lovelorn girl, who is in love with Shah Rukh Khan). Though she was successful as an actress, direction was always on her mind.
Working with Kajol in Tribhanga was also "absolutely amazing," she says.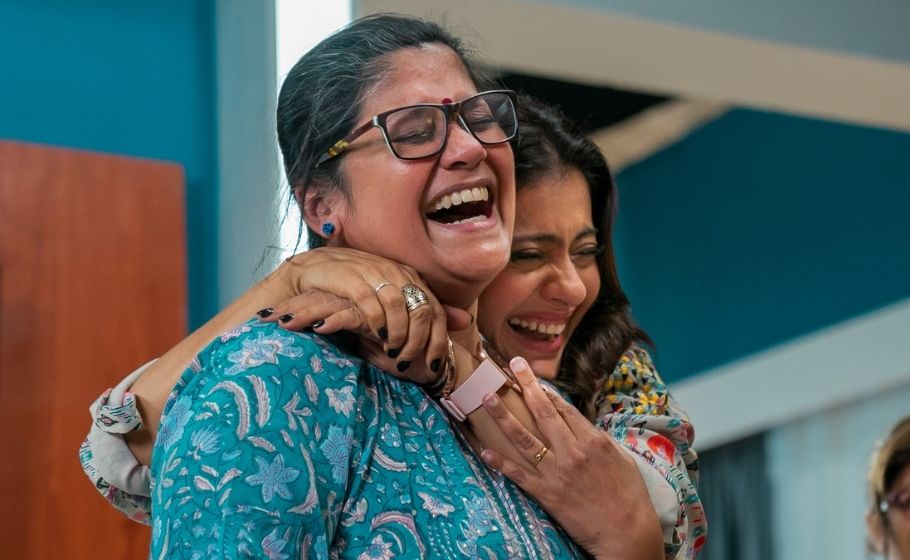 "Kajol is an extremely spontaneous actress, a complete natural. Only, I had to be mindful because her first and second takes are always her best. If you ask her to do a third or fourth, she gets kind of wary. So the other actors too had to step up to give off their best in just two takes," she reveals.
Making a film for OTT also gave her the freedom to make the film without any fear of censorship. There are a lot of cuss words in the film from Kajol's character (who is in top form swearing four letter words at the drop of a hat).
"If I had to make this film for the big screen, I would have to water down a lot in the film. Luckily, Netflix supported me," she admits. OTT platforms like Netflix back "women's voices" and encourage different kinds of stories, making Indian audiences familiar with a wide range of stories and multiple ways of telling a story, she says.
"In turn, this is going to affect what we are going to put out in the commercial space. People watch so much good content today that they expect better content from commercial cinema as well. You cannot dumb down any longer or talk down to the audience. They are up there now, and you better talk up to them. That is an amazing change and it is happening more as we speak," says Shahane.
Review | 'Gulabo Sitabo:' Juhi Chaturvedi, Shoojit Sircar deliver an endearing film
Commenting on the recent controversies over OTT films for offending people's religions and sensibilities, Shahane says, "I feel for the people who are being dragged to court. Look at poor Richa Chadha too (the poster of her latest film, Madam Chief Minister was slammed on social media for representing the Dalit community in a poor light). Someone just gets up and says something and it becomes an issue."
"It is not possible to see only one kind of a story in film. Cinema is a creative art like poetry and art, people have different stories to narrate. The more globalised and more connected we get, the more regressive and parochial we have become. It is so medieval, I don't know where this road is going to end," she says unhappily.
However, in her case, she is happy that Tribhanga is being widely accepted, and not seen through the narrow lens of being a "woman's story." Now, that is the positive side to the changing face of Indian cinema.