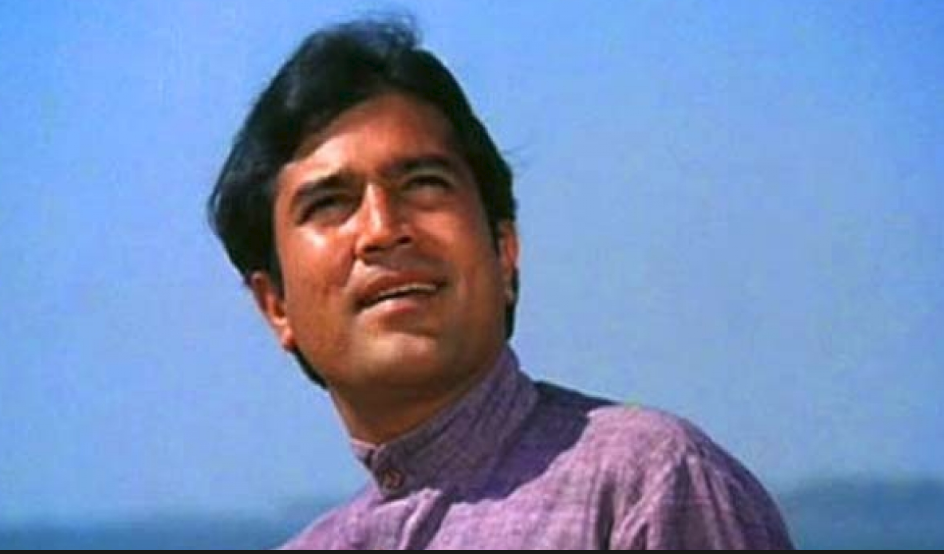 Summer of 69: Fifty years of superstar Rajesh Khanna
Nineteen sixty nine was not an ordinary year for Hindi cinema. By then, films had already transitioned to the colour era, it had been a decade since the K Asif's magnum opus 'Mughal-E-Azam' hit the screen and film lovers had seen the technological advancement in filmmaking with India's first movie in cinemascope 'Kagaz Ke Phool' by Guru Dutt. But Hindi cinema and its fans had to wait till 1969 for a term that was specifically coined for Rajesh Khanna. With the release of 'Aradhana', almost 50 years after the birth of films in India, the country got its first 'superstar'.
It was not like Hindi film actors hadn't seen stardom before Khanna. Film lovers had been treated to the histrionics of Dilip Kumar, the charm of the debonair Dev Anand and the Chaplinesque magic of actor-filmmaker Raj Kapoor, all through the 40s and 50s. In the next decade, the swashbuckling Shammi Kapoor had swept his fans with his own interpretation of Elvis Presley.
But 'Aradhana' helmed by Shakti Samanta was released to set new rules and dictate new terms of stardom. It vaulted Khanna, who was a few films old to dizzying heights and he reigned undisputed for the next two years with 15 back-to-back solo hits—a feat yet to be matched, leave alone surpassed.
The romantic rush
Khanna's salad days in the industry was not a stereotypical tale of struggle or poverty. He hailed from a wealthy family and debuted in Chetan Anand's black and white flick 'Aakhri Khat', after he won a talent contest, three years before 'Aradhana'. He followed it up with Nasir Hussain's 'Bahaaron Ke Sapne' opposite the director's favourite Asha Parekh. However, in 'Aradhana', Samanta successfully plumbed the depths of the romantic rush in his gaze, strategically pairing him opposite the beautiful Sharmila Tagore.
By then, the romantic musical genre from the stables of Hussain and S Mukherjee had become formulaic. And Samanta plotted a celluloid saga that made up for lacunae and amped up the drama.
In a tale of loss and reunion between a son and his mother, who sacrifices a good part of her life in the prison for his well-being, he stood out fresh and youthful in the backdrop of the snow-capped peaks. Talk about the timing— Shammi Kapoor's effect had almost waned and though Dharmendra was still a name to reckon with, he was nowhere close to a chocolate boy nor could he match his next door boy looks. Shashi Kapoor was in competition, but he lacked the typical mannerisms or the body language that Khanna went on to make his own. He mastered the wink and the sideway nod. While the Biswajeets and Joy Mukherjees had pervaded the industry as its romantic heroes, their diction left a lot to be desired. Khanna showed the promise in the language department too.
All the attributes that made him score over his contemporaries stood highlighted in 'Aradhana', when he effortlessly juggled dual roles.  As the handsome Airforce officer Arun, whose untimely death lands the woman he secretly married at a crossroads as she bears his child, and later as the son Suraj, who is in the dark about his real mother, her painful past and her sacrifices, Khanna delivers heady mix of romance and melodrama for the viewers awaiting an on screen magic. The maiden pairing between the actors worked wonders.  Their chemistry was on a par with the legendary Raj Kapoor- Nargis, Dilip Kumar- Madhubala, if not more electric.
Aradhana was made to be a blockbuster and crafted to perfection to give a momentous push to Khanna's career, even as he lost the best actor Filmfare to a much senior Ashok Kumar for his role in 'Ashirwad'.
Set the tune for music-driven films
After all, in an era that had the biggest names belting out melodies like Shankar-Jaikishan, OP Nayyar, Salil Chaudhary, Madan Mohan and the likes, Sachin Dev Burman ushered in a shift in paradigm.  His son and music composer Rahul Dev Burman who was just stepping out of his father's shadows rendered his touch to the compositions. RD Burman is credited as the assistant music director and his influence is quite evident in the numbers.
Samanta broke rules in the picturisation of the songs – be it the train sequence where Khanna croons to 'Mere Sapnon Ki Raani' as he and his friend (Sujeet Kumar) drive their jeep alongside the train carrying an amused Sharmila Tagore peeping out of the window; or Roop Tera Mastana that was shot in a single take.
Aradhana paved the way for the rise of Kishore Kumar, whose career headed for the zenith after the film's release. Kishore upstaged the mighty Mohammad Rafi swiftly and sailed into the Khanna-RDB club when the actor's films became synonymous to great music. The three went on to make memorable films like 'Kati Patang', 'Ajnabee', 'Mere Jeevan Saathi'.
Unmatched popularity
In the turn of the 70s, Khanna had box office successes coming his way- 'Kati Patang', 'Safar', 'Sachcha Jootha', 'The Train' and 'Anand'. 'Anand' still remains one of his best performances as a dying young man who smiles through the onslaught of a painful disease, spreading cheer. In Samanta's 'Amar Prem' that released in 1972 again opposite Tagore, he continued his run with success. A musical that gave fans an oft-repeated dialogue 'Pushpa, I hate tears' in his inimitable style.
A rare documentation of his success can be seen in Hrishikesh Mukherjee's 'Guddi' which released a year after Aradhana. When Utpal Dutt talks about actor Dharmendra's success, the latter nonchalantly retorts, "Main toh aaj kal Rajesh Khanna ka naam sun raha hoon (I am hearing a lot about Rajesh Khanna nowadays)".
Khanna had a huge female following, cutting across regions. A few years ago, I met a woman who introduced herself as legendary lyricist Kannadasan's daughter-in-law. At a Hindi retro night.  Well in her 50s, she was seen jumping in her seat, relishing her favourite actor's numbers. Catching me watch her in amusement, she said smiling coyly, "See, I don't understand Hindi, but I love Rajesh Khanna. He still makes my heart skip a beat." So it couldn't have been a sweeping statement or just an exaggeration when many women were reported to have married his photographs and slashed their wrists for him to write letters in blood.
Like many other success stories, Khanna's too had to end, especially with the formidable rise of 'angry young man' Amitabh Bachchan, with whom he shared memorable screen space in films like 'Anand' and 'Namak Haram'. Hindi films changed from innocent romance in scenic settings, and paved way for an era of experimentations where art films existed alongside action-packed storylines. Khanna made a successful comeback in the poignant 'Avtaar', but it was a flash in the pan.
But in the 50th year of Aradhana, almost seven years after his death, when one retraces Khanna's journey to popularity, it will still be awe-inspiring and a dream sequence for aspirants and today's superstars.