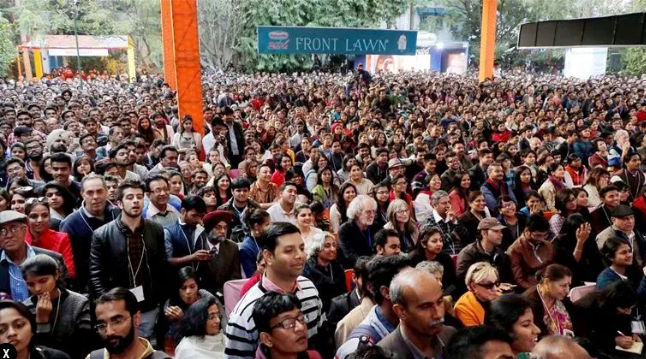 Slumping economy, sponsorship blues haunt prominent lit fests this year
The slowdown of the Indian economy seems to have brought mega literary festivals like the Times Literary Festival and The Hindu Lit Fest, down with it. While the former scheduled in December was recently called off, the latter slated for January 2020 has been indefinitely postponed citing lack of sponsorship, dampening the spirit of litterateurs and book aficionadoes alike.
The Hindu Lit for Life, which would have entered its 10th year in 2020, has been postponed as the organisers await sponsorships to ensure that it is celebrated on a grand scale. Nirmala Lakshman, director, The Hindu Group of Publications, and director of the festival, says, "In the past, we have had sponsors but we were never wholly supported by outside sponsorships. It has been pulled off from the resources in our coffers. Over the years, the festival has become big and in 2019, we had an estimated footfall of 35,000. However, in recent times, our focus has also been on our circulation and the product. Print industry everywhere is facing the heat of competition and the digital medium has not reached a position yet where it can take off in a big way."
She adds that they do not want to compromise on the quality of the festival and are hoping that sponsors come forward after the closure of the financial year in March end.
Writer and columnist Bachi Karkaria, co-director of the Times Literary Festival Mumbai, says the scene is the same with literary festivals across the globe. "This lit fest has been having some of the well-recommended names presiding over. This year has been bad for the festival and we are unable to go ahead with it," she says.
Art, culture first on the firing line
The slump has also had an impact on similar festivals like Celebrate Bandra in Mumbai — a mix of literature, films and food events– which has also been called off due to lack of sponsorship. Writer Piyush Jha, also a co-organiser of the literary section of the festival says, "It is a sign of the times— we are going to be hit like this. It is sad that for businesses sponsoring events like these are at the bottom on their priority list. This festival was the brainchild of renowned journalist Darryl D'Monte, who passed away recently. We have had renowned writers like Ravi Subramanian and Ashwin Sanghi as participants and it has become a festival to reckon with, like the Kala Ghoda Festival. However, this year we have had to cancel it and are hoping that it can be revived next year."
Mita Kapur, founder, Siyahi, a literary consultancy and also organiser of Mountain Echoes Festival in association with India Bhutan Foundation, says the year's edition of the festival had its own difficulties in sponsorship, in August. "It is sad that the first thing that gets affected is arts, culture and literature during a slowdown like this. If it were a marathon or something commercial, people would have been dishing out sponsorships," she says.
Pitch for inclusiveness
Mindful of controversies, Bachi points out that as the big festivals have politicians, historians and economists coming in for sessions, some want to play it safe. "These festivals are an open forum and we are in an atmosphere of surveillance. It is a discouraging factor, as no organiser wants to muzzle their participants," she adds.
In the past, the festivals have stirred several controversies. The famous Jaipur Literature Festival faced flak in 2016, when Rashtirya Swayamsevak Sangh (RSS) leaders were invited in 2016 and in 2012 writer Salman Rushdie stayed away from it as he was threatened by some protesters. Then next year, sociologist Ashis Nandy courted controversy over his comments on corruption and linking it to SC, ST and OBC communities. Pondy Lit Fest in 2018 was targeted for its theme Bharat Shakti, by the Alliance Française Foundation.
Nirmala says that the open platform in the festival has been accommodating all kind of voices. "We have had emerging voices and in specific groups like transgenders. Though some tell us we are promoting just one kind of thought, it is not true. None of this is scripted and we observe that there is just one group that is willing to be vocal about their views."
The importance of lit fests 
Kanishka Gupta, writer and literary agent, observes that smaller and cosier festivals in different parts of the country have been fairly successful. Recently, Khushwant Singh Literary Festival at the Kasauli Club saw a huge turnout.
"The just concluded Imphal Festival was very well organised and was attended by lots of locals who were even prepared to pay to attend all the sessions. Many senior writers and publishers participated in the festival because they also wanted to explore the natural beauty of Imphal,"he says. Gupta observes that while these festivals are a great occasion for listening to one's favourite authors, they don't always result in increased book sales.
"The readers are too interested in famous and well-known international writers, who highlight most of these festivals. But I am not sure if it helps lesser known or debut writers. A debut writer from India or Sri Lanka, for instance, is not going to benefit much from the festivals unless his/her book is carrying a lot of buzz from the overseas markets", he adds.
Mita says that it is healthy for different places to have their own festivals. "Every region having its own festival promoting their own literature is the way to go. Provided that the festivals reflect that kind of content," she says.
Look for alternatives
Organisers say that ticketing the festivals in the past have met with stiff resistance. The floundering economy now has made them rethink strategies to ensure that the literary festivals are not hit. Nirmala says that they have been contemplating getting tour packages like for South India organised with the heads of different corporates, roping in travel sponsors, to ensure their participation in the festival. "It is assumed that arts are a luxury, but they are a necessity. While some brands may not have an interest in the arts and literature, they will definitely be keen on engaging with the market through these festivals," she says.
Mita says that it only shows that it is time to think of other ways to get the shows going. "Somewhere all of us have to be responsible to come together to look for alternatives. We have to find solutions."