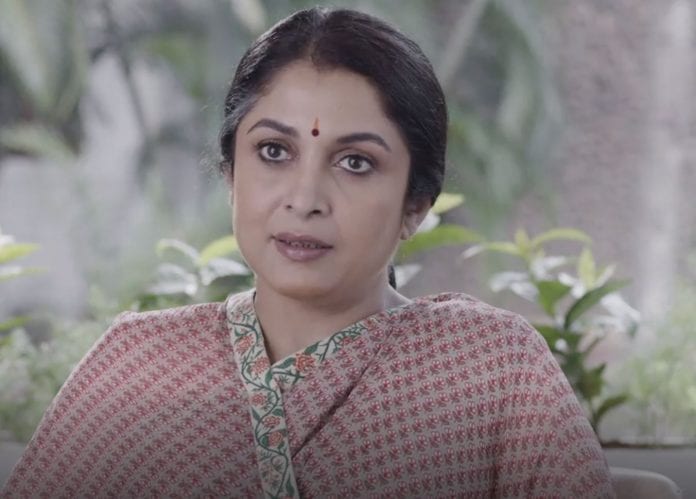 When asked if she was always brave, "Nobody is born courageous", says a mature Shakthi Seshadri, with poise during an interview. Shakthi Seshadri, the protagonist's character in the web series Queen is largely based on the book with the same name by Anita Sivakumaran on former Tamil Nadu Chief Minister Jayalalithaa.
The demeanour of Ramya Krishnan who plays Shakthi, in the opening shot is so much reminiscent of the spirit, enigma and leadership of the former leader Jayalalithaa who ruled the state for more than a decade.
The web series Queen directed by Gautham Menon and produced by Times Studio Originals does not seem like it is a story of 'yet another actor-turned-politician'. It is the story of a woman who wanted to be neither an actor nor a politician and is shown from Shakthi's perspective as told to the interviewer, and comes out largely as a hagiographical account of the leader.
All the 11 episodes of Season 1 made their debut on OTT platform MX player in three languages — Hindi, Tamil and Bengali today.
In Tamil Nadu, actors turning politicians is a constant phenomenon that never loses its sheen. Some of the legendary actor-turned politicians include former Chief Minister MG Ramachandran and recent entries like Rajnikanth and Kamal Haasan.
Also read: Kamal Haasan slams citizenship bill, says it amounts to discrimination
It is ironical that for a state that celebrates actors as demi-gods, Shakthi is denied a seat in a college on the grounds of her profession. It would be interesting to know if any male actor who was as passionate as Shakthi to study would have been denied admission based on his profession.
For a leader who was called 'Amma' by everyone, perhaps her Achilles heel was her own amma (mother). Shakthi's mother, a struggling actress has no time for Shakthi which only pushes Shakthi to crave for her affection even more which she never gets. The head girl, who has leadership and public-speaking skills ingrained even at the age of 15, is dumbfounded when she has to respond to her mother. Anikha Surendran, who plays younger Shakthi convincingly gets across the emotional struggle of the 15-year-old.
Shakthi is faced with almost the same situation later in her life as she never gets what she wants. This pushes her to prove everyone wrong and fight for what she wants.
The series which shows her as the youngest female Chief Minister takes viewers on a ride about what fighting for dreams entails. In Shakthi's case, her fight includes battles within herself, between her desires and her needs. Easily character-shamed because of her gender, she is even willing to give up her political career after the death of her mentor and actor, GMR, with whom she shared the screen space for 28 movies. When GMR's wife accuses Shakthi of usurping power by enticing men like GMR, it is the pinnacle of her battle with herself.
Also read: Kangana Ranaut set to play former TN CM J Jayalalithaa in biopic
Courage is something that anyone learns if pushed into adversity. So is the case with Shakthi, who is a fighter in the real sense. From a girl who was ashamed to even be seen associating with actors to becoming an accomplished actress herself, she turns every struggle as fuel for her opportunity, just to show her ill-wishers that she can win.
The fictional series never refers to Jayalalithaa's name or any other names associated with her life but doesn't miss the veiled point. The series brings out Shakthi's struggle and success, turning it into an inspirational tale.