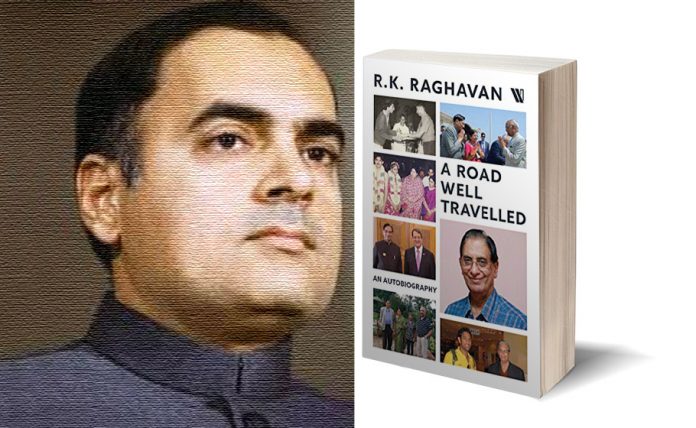 In the first of a three-part series, senior journalist and columnist R. Rangaraj says the 219-page book, 'A Road Well Travelled,' by R.K. Raghavan makes for an interesting read as it covers a gamut of his assignments, some extremely sensitive.
R.K. Raghavan, former Director of the CBI and former IG of Police in charge of arrangements for the Rajiv Gandhi visit to Sriperumbudur, does not mince words when it comes to the LTTE and its role in the assassination of Rajiv Gandhi. In his autobiography, 'A Road Well Travelled,' released on October 26, 2020, Raghavan describes the assassination as a 'senseless deed of an extremist group operating from Sri Lanka.' "I felt cheated by a malicious and rabid band of outlaws.' To this day, I have a sense of guilt about failing to protect so many lives, while destiny decreed that I should live on for more than three decades thereafter."
Also watch: An eyewitness account of Rajiv Gandhi's assassination
Advertisement
Rajiv Gandhi's 'fault' was that, as prime minister of India, he had sent the Indian army into Sri Lanka at the request of President Jayewardene, following the Indo-Sri Lanka accord in 1987, to help end the strife between the LTTE and Sri Lankan armed forces. "Violence had been unleashed by the LTTE in support of their demand for secession from Sri Lanka and the formation of an independent Eelam outside the constitutional framework of that country."
In another place, he refers to Sri Lanka as in acute distress from the 'mindless inhumanity of the LTTE.'
Raghavan writes, "Looking back nearly three decades after the unfortunate event, I am sad we lost an illustrious son of India to the machinations of the LTTE… It was a cruel act for which posterity will not forgive the LTTE or its sympathisers in Tamil Nadu."
The writer partly blames former Prime Minister VP Singh for taking 'the decision to withdraw SPG cover to former Prime Ministers, which turned out to be fatal for Rajiv Gandhi. I am firmly of the view that if SPG officers had been present around Rajiv Gandhi that fateful night, they would have prevented the tragedy."
He does not absolve the police at the spot of its responsibility and added that the local, street-level Congressmen, who had no clue about security, showed negligence. Rajiv Gandhi too invited trouble by ignoring security considerations and moving into the crowd, Raghavan pointed out.
Related news: Seeman stirs up a hornet's nest by glorifying Rajiv Gandhi killers
He squarely blames the Dravidian parties in Tamil Nadu which 'contributed not a little to revving up opinion in the State against the Congress's policies with regard to the Sri Lankan Tamils. I am not suggesting they had a hand in the assassination but they were certainly not unhappy with the turn of events in the State, post the assassination. They were complicit in a situation in which they (LTTE) had a free run in the State.'
The Justice Verma Commission 'did not castigate me but held me constructively responsible' but also paid handsome compliments for having protected the scene of the assassination from being disturbed until the investigation team took over. The Supreme Court had a word of praise for R.K. Raghavan… he stayed on at the scene of the crime, organized relief and ensured that material evidence was not tampered with. It was he who found the camera on the body of Haribabu which provided a breakthrough in the case.
Related news: Congress pays tribute to Rajiv Gandhi; Priyanka tweets last photo with father
Raghavan describes his tenure as head of Intelligence Bureau in Chennai between 1985 and 1987 as 'eventful.' Sri Lankan Tamil militancy was growing, and this required active liaison with the state government and police… Chief Minister MGR's early life was spent in Sri Lanka, and this greatly accounted for his soft corner for many of the Sri Lankan Tamil militant organizations, he says.
Raghavan says he then met many Sri Lankan Tamil leaders who had sought refuge in Tamil Nadu or were visiting Chennai to drum up support  (including A. Amirthalingam, Chandrahasan, Anton Balasingham, and V Prabhakaran of the LTTE).  "Anton Balasingham, the ideologue behind LTTE leader V. Prabhakaran, struck me as sharp, articulate and reasonable, unlike his leader. This brings the memory of my only interaction with Prabhakaran. He arrived from Jaffna by a special aircraft at the Chennai airport where he spent a few hours on his way to Thimpu, Bhutan, to take part in talks convened by the Government of India. The short conservation I had with Prabhakaran was uninspiring. He mumbled something which was barely intelligible. He gave me the impression of being rather unlettered, in sharp contrast to his alter-ego, Balasingham who was suave and articulate," Raghavan says. 
"Events since then have proved that Prabhakaran knew only one language: violence. The number of killings he ordered – including those of Rajiv Gandhi – were unconscionable, to put it very mildly. Whoever challenged his leadership or took the stand of a moderate and was ready for a dialogue with the Sri Lankan Government invited his ire and brutal punishment. This was a tragedy which brought disrepute to the movement that, per se, seemed worthy of consideration," writes Raghavan.
Raghavan describes his next encounter with the LTTE in early 1988 when Tamil Nadu was brought under President's rule and he was IGP Intelligence. A group of LTTE prisoners who were lodged in the Central Prison in Chennai went on a protest against moves to deport them to Sri Lanka, where cases were pending against them. The detenus threatened they would consume the cyanide capsules in their possession and commit suicide rather than go back. After discussions, a decision was taken by the government to 'buy peace' and not carry out the proposed deportation.