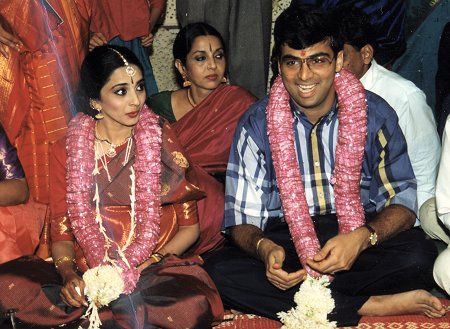 Many Indians have won many world honours in many fields. They will continue to do so, no doubt. But there is one who has a planet of the universe named after him. Quietly, many years ago and without undue fuss. Immortalized as 4538 Vishyanand in our galaxy, the down-to-earth Vishy wears his wry smile and dismisses it with – 'Ah, these things happen.' As he would, each one of his several victories starting at age six and crowding in on him unfailingly as the years went by.
Their beginnings as individuals may not have been dissimilar. Both Aruna and Anand were growing up in Madras, born into families not vastly different from each other. She was being groomed like all good South Indian girls are, with a decent education and training in Bharatanatyam, so as to make a very suitable match. But about chess she had not a clue. The boy would have to be a bright young man brought up to excel hopefully at a hi-tech skill, in order to land a secure, coveted job. He did not have to be rich or famous. Whatever for? Those kinds of spouses entailed all manner of fuss, were often self-centred, even negligent. And, in any event, Aruna was in no hurry. Life was fun, it was busy and there seemed to be a lot to learn. There was a delightfully spirited, carefree side to her growing up.
Also read: 'Beyond Utopia:' A harrowing account of how a 'defector' flees North Korea
'Just how will you explain your shaky handwriting to your teacher,' her mother would chide, horrified to find her finishing her homework in the car going to school! Aruna's blithe reply would be, 'I will say sorry to her, Amma, it will be alright.' She tended to take whatever came in her stride, her eyes twinkling. Her mother was often exasperated but not overly worried.
Bright beginnings
After having graduated, Aruna completed a training stint at an advertising agency and was beginning to enjoy the assignments; they were varied, demanding. Finding her bright, promising and keenly interested in all she did, the agency valued her.
Anand too had excelled at school and in every subject — but with him there was a rub. He was constantly outdoing his mother at her favourite game, chess. To a degree that there was no question of his missing a single chess championship for the young in the state and country. His mother would ensure it. His triumphs would egg her on.
The Don Bosco School in Madras raised no objections, his results in school were outstanding, his reputation as a young chess genius kept them in the news in a way that was flattering and unexpected and frequent. The Lightning Kid was what he was soon called. From age fourteen, Viswanathan Anand would win award after award to also earn the sobriquet: Tiger of Madras. He had now hit the national scene with the international arena to follow anon.
Was the early exposure in and to the Philippines the reason for his calm in taking on the world — or was it just him? It could be the quiet but insistent persistence which made him return from school and participate in the television chess sessions that his mother would copy out for him at home because the TV programmes were at a time during which he was still attending classes. Yes, day after day. Neither person was of a kind that would leave a stone unturned. So, the most was made of the Manila posting and the Philippines government's focus on chess as a national game.
Back in India, he would enter every available championship and he would shine. The tensions of playing and the triumphs of winning, the boy took in his stride. In those early days, the angst of losing hardly ever happened, perhaps. Chess was not India's favoured sport, cricket was. Even football and tennis took precedence.
Soon came Loyola College and international championships for Vishy. This was a different ball game. And soon there were eight of them, these high-level tournaments. They would come in a flurry over the first six months of the year across different countries of Europe. So, it seemed to make eminent sense for young Anand to base himself in Spain rather than scurry back and forth, taking on travel hassles. It meant, quite conveniently, that the second half of the year would remain freer to spend at home, back in Madras, managing all the India engagements and whatever else cropped up elsewhere in the world.
Even as an international champ, Viswanathan Anand had now matured more than considerably, moving up the scale of player after player to take on Russian chess grandmaster Garry Kasparov, no mean opponent. Indeed, Vishy had already shone in two contests with that star, winning in rapid chess as well. He was now in his element.
The matchmaking
Marriage as a prospect was not in discussion at this point, it would be an unnecessary distraction. There were fans and admirers galore, they seemed to multiply. But they barely lingered in his mind beyond the autographed signature or perhaps a cheering, warm message if he was not in a mad rush. The months and years seemed to fly between preparation and travel; tournaments needed him one hundred per cent, the focus had to be single-minded. But now at twenty-five, it seemed essential to his parents. Meeting a 'suitable' girl had to be arranged.
This loomed urgent — they had to facilitate, not force the issue, but they had to do it soon. How could he possibly choose right, zipping back and forth between tournaments, surrounded by fans, photographers, media, and now based in a foreign country? Where did he have the time for any such pursuit?
Also read: Riyas Komu interview: How art can be a site of political discourse, dissent

He needed to come home after a championship to someone he could share with all that was important to him: his unusual life, his ambitions, his pressures, his triumphs. And there was a distinct danger too perhaps, which may have worried the parents more than a little. That left to his ceaseless schedule, he may plump for a gushing fan or an infatuated chess enthusiast, living all by himself in a country far away which was not even an English-speaking one!
Parents in India consider it their duty to choose right for their offspring. And friends and family abound with suggestions, matchmaking with an energy that rivals all the mothers and aunts in Jane Austen's novels. Clearly Anand's parents had honed in on his meeting Aruna after much scouting, checking out, mulling over, perhaps undue diligence! They would not take just any plunge, it would have to be a thoughtful, considered choice. The girl's life would not follow any familiar pattern or be too predictable. She would be taking on some rather unusual pressures; in some way taking on the world too, as it were.
Vishy Anand's parents kept it simple and private. The meeting was arranged at Aruna's home as is the custom. Quiet and not too formal it was meant to be. Well before the evening was done her parents were more than taken. They found the young man's humility so elegant — and so unbelievable!
"My mother sent me to the kitchen saying that I simply had to agree. 'If I had another daughter, I would not insist, so it has to be you, make sure you agree!' she simply did insist."
Anand's parents were clearly as impressed. Aruna seemed bright-eyed, well-spoken, poised. Despite the smiling shyness, there was an openness in her countenance. She was not coy or aggressive, she seemed so right for their son who was already all set to take on the world, wherever it beckoned him. Aruna's parents were reasonably sure that their spirited young daughter would be equal to what she would be taking on, she was always one to brighten at the prospect of something new, even challenging.
Looking back, Vishy and Aruna are now amazed at the readiness with which they both said 'yes' to each other after 'literally five or ten minutes of FaceTime'! After all the scrutinizing accomplished by the parents, the boy and girl just moved, decided. Almost headlong.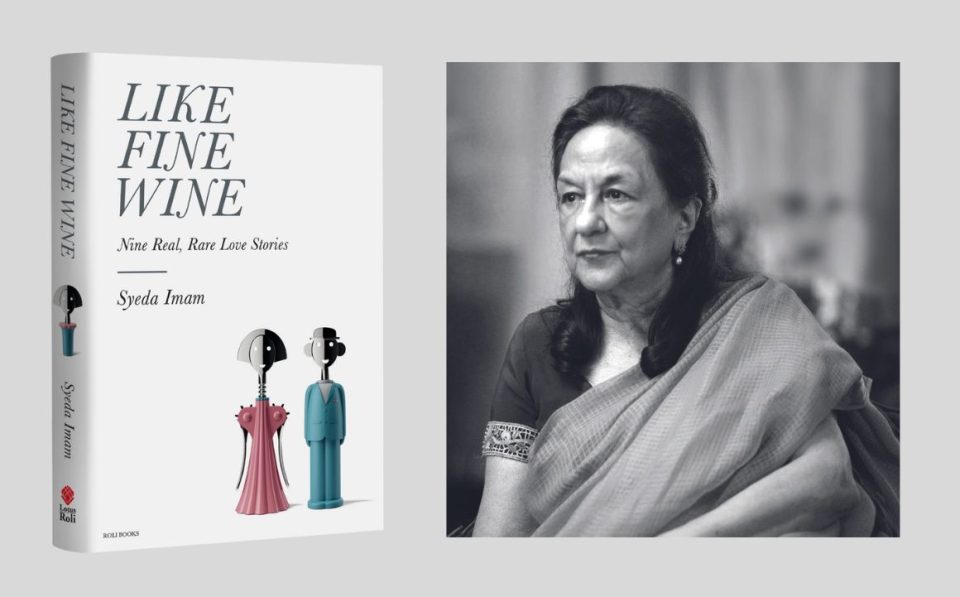 (Courtesy of Roli Books)