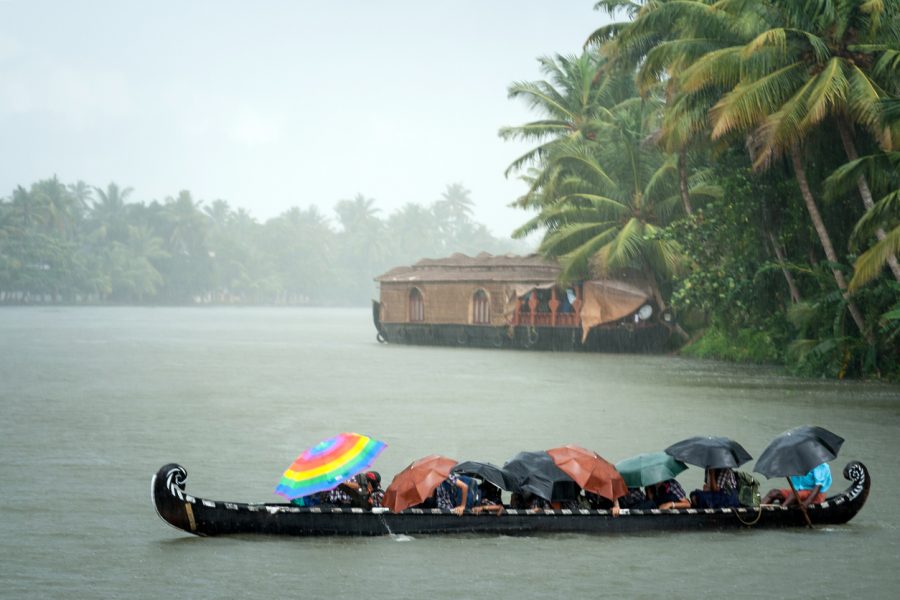 Monsoon trips are fun; follow these 8 tips for safe travel during rains
Monsoons are usually considered the worst of times to travel in India. If you follow the travel advisories for most states, you'll see "monsoon" figuring on the "worst time to travel" list. But then, travelling during the rains can also give you an experience of a lifetime, as Chasing the Monsoon by Alexander Frater shows.
So, if you are up for the challenge, or if you have already planned a monsoon trip and need some guidance, here are eight tips to follow so that you can have a safe and enjoyable trip.
1. Choose your destination wisely
This is the most important part. Some destinations are best avoided during the rains, unless you have a healthy appetite for a gamble. For instance, it's best to avoid the soft mountains in the high Himalayas during the monsoons, as they are prone to landslides. Certain zones in states like Uttarakhand, Himachal Pradesh, or those in the North East are best avoided at this time because you never know when you may get caught in a landslide or mudslide or even a flood thanks to a cloudburst. Several pilgrimages, such as the Char Dham Yatra, go on despite the monsoon, but whether you are up for the risk is up to you.
Similarly, most forests are closed during the monsoon — usually mid-June to mid-September — with only one or two zones being kept open for tourists. So, your chances of wildlife sighting will go down drastically. Hence, it's best to avoid forests during the rains as well — unless, of course, you simply want to enjoy a peaceful holiday in the vicinity of greenery doing nothing but enjoying a spell of showers with a cup of coffee and a plate of fritters to keep you company (well, that's not such a bad idea after all).
But then, there are plenty of places in India that are best visited during the monsoon. Why not pick one of them to make some monsoon melodies of your own? For instance, why not be in Kerala at the beginning of June next year to welcome the monsoon as it hits the southern coast? Even now, you can explore the state that is promoting monsoon travel like never before, with hill stations like Wayanad and Munnar at their lushest during the rains.
You can also opt for similar hill stations in the Western Ghats, such as Lonavala in Maharashtra, Ooty or Kodaikanal in Tamil Nadu, Coorg or Chikmagalur in Karnataka, among others. Some trips, by their nature, can be done only in the monsoon. Two of them are the Valley of Flowers trek in Uttarakhand and the Dzukou Valley trek in Nagaland-Manipur; the flowers bloom only during the rains.
If you want a rain-free trip, go for the desert zones of Rajasthan or Ladakh or Spiti Valley in Himachal Pradesh. However, a word of caution: parts of Rajasthan or Ladakh can also get also flooded if there is too much rain and you may find yourself trapped in your hotel if the roads get closed. So, do your research well in advance and choose your destination wisely.
Also read: Train travel with pets? Here's how you can book tickets via IRCTC portal
2. Check the weather forecast
The Internet has brought nearly everything to our fingertips today. Forecasts for most destinations — or at least the nearest big town or village — is available on many weather sites. Some of them offer forecasts several weeks in advance, but then, weather keeps changing and so do forecasts. So, start keeping a record of the predictions for your destination at least a week in advance from a reliable site like AccuWeather. That way, you will know what to expect and tweak your schedule if necessary.
3. Invest in waterproof bags
It would be wise to buy waterproof travel bags if you plan to travel during the monsoon. If you are carrying a rucksack, never forget to get a cover. Despite that, it would be wise to buy small plastic covers for your clothes, medicines, mobile, camera(s), and other valuable items and essentials so that even if the travel bag betrays you, the plastic covers still have your back!
4. Pack smart
Once you know the weather forecast for your destination, you can pack accordingly. Even if the forecast shows dry weather, never leave on a monsoon trip without packing an umbrella and, if possible, a good raincoat or rain poncho. Umbrellas are okay for light showers and a casual stroll, but if you get caught in some heavy-duty showers, a good raincoat can turn out to be your best friend.
Invest in some good shoes with a firm grip, especially if you choose to travel to the hills. Rains can make even regular paths and staircases slippery, and the last thing you would want is to take a tumble. So, keep your heels at home and pack good sports shoes or sandals with firm grips. It's best to go for quick-dry shoes or water-resistant or waterproof ones and rainboots.
If you are a regular traveller, it would also be wise to invest in some quick-dry clothes. Carry extras as well so that you do not run out of clothes to wear in case you cannot dry them fast enough! Your towel should also be made of material that dries quickly. Carry a string and some clothespins so that you can make a temporary clothesline even in your hotel room to dry out your wet clothes.
Also remember that many places in the hills become quite cold during the rains. So, depending on the weather forecast and the destination, pack some waterproof warm wear like a windcheater or waterproof jacket as well.
Also read: Now book a helicopter with IRCTC to visit Kedarnath Temple
5. Be careful about what you eat and drink
Monsoon is notorious for waterborne diseases. So, it's best to be cautious about your what you eat and drink. It's best to avoid street food; no matter how much those delicious panipuris call out to you from the roadside, it would be wise to turn a blind eye and walk past!
The same goes for the water you drink. It's best to carry chlorine drops or tablets, if available in your city, to add to your drinking water. This goes for general travel, too, but particularly for monsoon travel. Carry your own water bottle so that you don't have to buy dubious water from local stores (that way, you also reduce your plastic footprint).
It's best to carry dry food and eat light food at clean restaurants. Sometimes, seafood can cause food poisoning, especially during the rainy season. So, be careful about what you stuff yourself with, no matter how tempting it looks on the plate!
6. Do not forget these
Monsoon can also mean malaria, especially in certain parts of India and forested zones. Besides mosquito-repellent machines, carry mosquito-repellent creams, too. These can be lifesavers in mosquito-infested zones. Ask your doctor about malaria-prevention medicines and take those as directed.
Apart from these, consult your doctor and carry medicines for cold, fever, stomach bug infections, allergies, and insect bites. Remember to pack a good hand sanitiser and plenty of tissues. Also pack in some spare plastic bags and old newspapers for wet clothes and shoes.
7. Stay safe
It's best to avoid going swimming in the rough seas if you are on a beach holiday. Even before you know it, the waves may carry you way too far. Learn about the tide timings before you venture out into the sea. Do not ignore locals' advice.
Similarly, if you are in the mountains, do not go for risky activities without local supervision or advice. Do not climb rocks or go into caves, especially without proper footwear. Rains make everything slippery and an accident may be just waiting to happen.
If you cannot avoid dirty water in submerged areas, do remember to wash yourself properly with soap to avoid any allergies or infections.
Also read: Looking for offbeat hill stations? Here are 6 of the best in Andhra
8. Keep a spare day or two on your schedule
Finally, spare a day or two on your travel schedule for those rainy days. If you keep a jam-packed schedule for sight-seeing and destination-hopping on a monsoon trip, rain may throw it haywire at the drop of a hat. So, schedule time on your itinerary so that even if it rains hard for a few hours, you can still go ahead with your plans with a little bit of tweaking. That way, rain cannot dampen your mood. Instead, you can make the most of those idle hours munching on some local delicacies or sipping a local drink and chatting with some friendly local people and knowing more about the place.
So, pack your bags and get ready to make some monsoon memories!