On a chilly afternoon in November 2019, the whole hamlet of Turtuk in Ladakh was covered with golden leaves of apricot and willows; magnificent mountains were shining under the sun and the sky was crystal clear and blue. After lunch at my friend Sulaiman Maha's home, we proceeded to meet an elderly man. This meeting was promised by Maha to me during our lunch.
The octogenarian, Haji Mohamed Ibrahim, was sitting in his fields. My first sight of him impressed me; his white-bearded sober face was that of the grand old man of Turtuk. While approaching him, Sulaiman said Haji sahib was the eldest person in the village.
Maha further added that his life in itself is a fairy tale as Haji sahib has seen times before partition, separation of Turtuk from Baltistan during the 1971 Indo-Pak war and recently the re-organisation of Jammu and Kashmir and Ladakh as Union Territories.
The locals addressed him as Bawa Ibrahim as a mark of respect. I also addressed him that way and sought to know of his life.
Pre-partition times
Our conversation started with the pre-partition times. He said before 1947, they were free to roam anywhere in the subcontinent be it Lahore, Kashmir, or Delhi. From Turtuk, people used to go to Punjab for labour and things were peaceful and prosperous.
As per the anecdotal notes of Bawa Haji Ibrahim, the whole belt from Pamir to Yarkand including Baltistan and Ladakh, only two places – Yarkand and Gilgit, were economically well of and prosperous.
"We used to hear that in Yarkand, a beggar would have two horses — one to ride on and the other to take his alms and goods," Bawa said.
He added, "In Yarkand, the donkeys were so much fed that the mouth turned red." Salt and apricot used to be traded. According to Bawa, Turtuk never saw bad times in terms of oppression pre-partition or later under Indian control. As per Bawa, after separation from Pakistan, salt became a precious commodity.
While recounting the incidents of partition, Bawa easily the tall leaders of the time like Khan Abdul Gaffar Khan, Mahatma Gandhi, Mohammad Ali Jinnah, and Jawarharlal Nehru.
Bawa is very well acquainted with the complexities of partition and has his version of it. "The British government gave the two-nation theory; a separate country was formed for Muslims and Lahore was the 'last' city in there and Delhi was the capital of India with a Hindu Majority," he said.
According to Bawa, organising countries on the basis of religion was the reason Bangladesh was associated with Pakistan after partition. His belief, apart from the historical facts, reflected a bit of sweet ignorance as he said, "Jinnah was made the first Prime Minister after the creation of Pakistan and later Liaqat Ali Khan became his successor."
Gilgit Scouts' revolt
Bawa also talked about a conspiracy theory: the murder of Jinnah through poisoning. "We used to hear such political stories from our elders who used to travel for work out of the village. It was the only source of news and communication for us," he said.
As we enjoyed the sunshine and Bawa's talk, I interrupted and asked what he knew of India's independence and the social situation then.
Bawa said many elders of the village like Haji Rahim used to go to Punjab and Shimla for work. "They used to tell us about the events and the political situation. We as kids used to hear them with interest and dedication," he said.
The conversation now shifted to the Gilgit scouts' revolt and the accession of Baltistan to Pakistan.
According to Bawa, a room full of eggs was served to the army of Gilgit scouts when they reached Turtuk and Chorbat. "I remember the name of a few armed people like Lazzi and Mohamed Ali. Gilgit scouts went till the border of Chalunkha village, and the war broke out. Haji Hayat, the commander of Gilgit Scouts, was from Gilgit, and left for Skardu for rationing the Army and later when he came back to Chulanka post, the Indian Army had reached Bogdang village and soon the ceasefire of 1947 happened between India and Pakistan," he said.
Bawa said he also heard that Gilgit Scouts had to flee from Kargil and Drass and it had separated from Baltistan and was under Indian Army's control.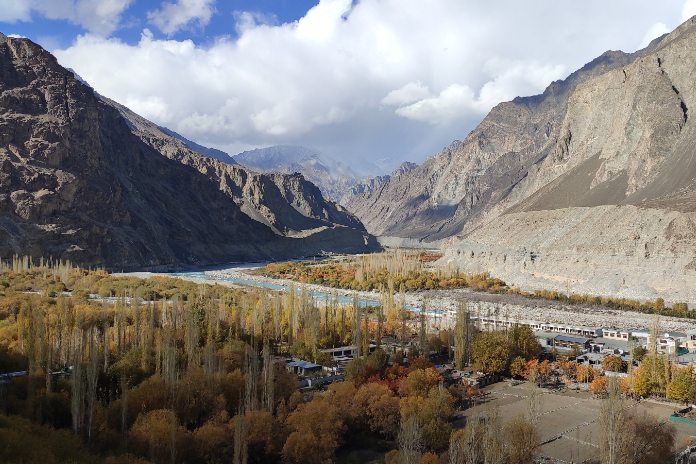 I got immersed in his tales as Bawa was vividly narrating the tales of partition. For him, as a first-person witness of the event, it was easy to recount. Also, it was quite convincing to me as a listener. I requested Bawa to shed light on the social history of Turtuk after partition and the condition of the people.
The conversation with Bawa went a step further as he talked about the social system of Turtuk after Independence.
Borders between Turtuk and Baltistan
According to Bawa, in Turtuk, the officials of the revenue department like Patwari, Qanungo, Naib Tehsildar did the administration and officials from the health department were also stationed there. Every village was governed by a chairman, who reported to the government of Pakistan. "I remember martial law had been imposed in Pakistan under General Ayyub Khan and during the time the army had a major influence in civilian affairs. Revenue officials were cruel on the innocent people."
In those times, the major source of living in Turtuk was from agriculture, including in Khaplu, and both places had a surplus of food. Villagers also used to sell wood to the army and forest contractors. By 1970, things were going fine, life was good, Bawa said. But the war of 1971 further disturbed the socio-economic growth of Turtuk and later many families and lives got separated across the borders. The Pakistani army fled to Franu village. The Indian army, under colonel Rinchen, reached Turtuk and it came under India.
"The Bangladeshi regiment posted in Turtuk Khaplu cheated Pakistan for they were inclined to the movement of Independence of Bangladesh during the 1971 war. Pakistan lost its control and after ceasefire Turtuk was a part of India," he said.
One of the things that Bawa told me was that after the 1970s, the living standards and economic condition of the dwellers of Turtuk improved due to the collaboration with the Indian army, as people used to work as porters. Agriculture also improved. In Balti, he said, 'Rizq Khulla Rig Sung,' meaning, food became abundant after that.
'Our hopes are on God'
I asked if he had any idea that Ladakh is a Union Territory now. he said, "I have no idea what is happening or what they have done but getting separated from Kashmir is not a good thing for us as Kashmir and Kargil were a moral support for us and we have an emotional attachment with this place after separating from Pakistan as these are Muslim majority places."
"Our hopes are on God alone, what future has to give us we don't know, development-wise, we were heading slowly, but this sudden change is difficult to understand. Some youths tell me that outsiders will now buy lands in our place and the elders are also not so happy about the decision," he added.
At last, when our conversation was coming to end, I asked him, "Haji sahib, how do you look back at your life?"
"It went well but I cried for years after the separation of 1971. My relatives were in Baltistan. I forgot them after some time and made new relatives here. I have only learnt this lesson that time heals every pain, I have moved on with my life and I am enjoying this phase of life," he said.
I thanked this man, from whom I learnt so much. which I never felt or experienced ever. It was a phenomenal experience, which cannot be expressed in words. But looking back, I never imagined that it will be the first and last interaction with him. In the first week of December this year, Bawa Haji Ibrahim passed away at the age of 89.