A poetry-based performance titled "Don't Believe Me If I Talk to You of War" by Palestinian poet Asmaa Azaizeh, featuring audio-visual accompaniment, was the major highlight of the 13th edition of International Theatre Festival of Kerala (ITFoK), held in Thrissur from February 5-14.
It was a 'three-way poetry performance between words, vocals and image,' which showcased her talents as a poet, performer, and storyteller speaking candidly about the devastating war, as well as hope and resilience in the face of adversity. With a poignant and evocative use of language, Asmaa conveyed a deep sense of emotion through her elegant delivery, accompanied by local talents, Amata Bob on vocals and Domnica Liyan Johnson on the keyboard. The show served as a potent reminder of the suffering caused by conflict and the value of understanding and peace.
Azaizeh, who is also a journalist, is known for her subtle yet powerful and thought-provoking performances. Born in Daburieh, Galilee, Palestine, she has inhabited the world of poetry since her childhood. Her poems are raw and emotional, offering a unique perspective on the Palestinian experience. She weaves together personal stories, historical events, and cultural traditions to create a moving tapestry of the Palestinian people's struggles and triumphs. Her powerful and evocative voice has been praised by audiences around the world, and she has become a sought-after performer at international poetry festivals and events.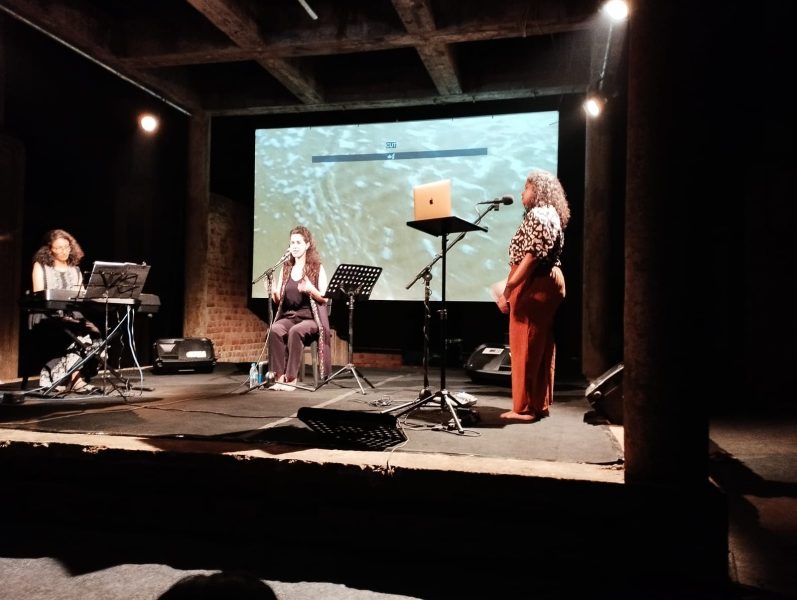 On the sidelines of the ITFoK, Azaizeh spoke to The Federal about her performance, Palestine, the Conflict, why the obliteration of her hometown Haifa was "a cut in time and geography" and the "multiple circles of oppression" she has to endure as a Palestinian woman living in Israel. Excerpts from the interview:
What is your performance, 'Don't Believe Me If I Talk to You of War,' about?
Actually, my performance is not one coherent play, or even theatre per say. It's a show making use of multiple media at the same time. The performance consists of multiple poems, written by me in different periods, but having some similarities in language and approach, but I would say that these poems are also very different in themes and images. There is no one message I want to convey or deliver. There are many layers in these poems that are personal, political, that have to do with loss, death, memories, history, politics, geography and, of course, war.
Also read: Of veins, ink and fire: Kochi-Muziris Biennale's fifth edition curates resistance
What spurred you on to this performance?
When a journalist asked me to write about my life as a woman under war, I thought that was something taken for granted: since I am a Palestinian, I should have lived under war, but I have not. I come from a minority; I am a Palestinian who has an Israeli passport. That was my trigger.
Your poetry carries an undercurrent of guilt. What makes you feel that way?
Yes, I felt a little shy to write about war. Do I have the legitimacy to write about war if I did not live it? I frequently ask myself this, but every time I slept, I had nightmares about the war. I can't go to places like Damascus as I have Israeli papers, but I have dreamt of going there. My connection with that geography and the people is somewhat spiritual. This may be a desire, a multiple vision or might even be the permission or the confirmation for me to write about a war that I did not live, but the war that surrounds me. A war that may be my ancestors or even my friends had lived. In that sense, it's my war, too.
Does this specific situation you're describing have a gender perspective too?
Nothing in particular, except the fact that these poems are written by me; I carry all the baggage that has everything to do with my experience as a woman. I have not written anything specifically to emphasise my gender.
You must be facing the gender issues there, living in a war-torn country. How do you translate those into your poetry?
This is like multiple circles of oppression. In fact, I am treated as a second or even fifth or sixth class citizen in the state of Israel because I am not Jewish. So, in a Jewish state, we are discriminated against in many ways, and very directly — culturally, politically, economically. You are facing more than one battle. But I don't think poetry is a solution or a plan, it's an image of your own life. The way you live. I don't write about the solutions to my complex problems; I just mirror my life by writing about it. I can't tell with certainty that because I lived this life I write poems. In fact, poetry is embedded in me; it's an integral part of my life, my practice or my daily chores.
Why did you choose to perform your poetry rather than leaving it for people to read?
In the Arabic heritage of poetry, classical poetry had an oral tradition. It was not written anywhere. The pre-Islamic poetry that blossomed in the Arabian desert was recited in streets and markets. When I was a child, I used to hear poetry recited by my father. I had learnt them by heart even before I started learning to read or write. It was the oral heritage that made me. By reciting poetry, you can perform even while you are sitting with your family during lunch or dinner. I always loved drama and theatre. I loved to experience my body mingling with my voice on the stage. Because I write in Arabic, I think people receive or perceive poetry differently when it is recited by the poet her/himself. I believe that it can be gathered with different mediums like music or video.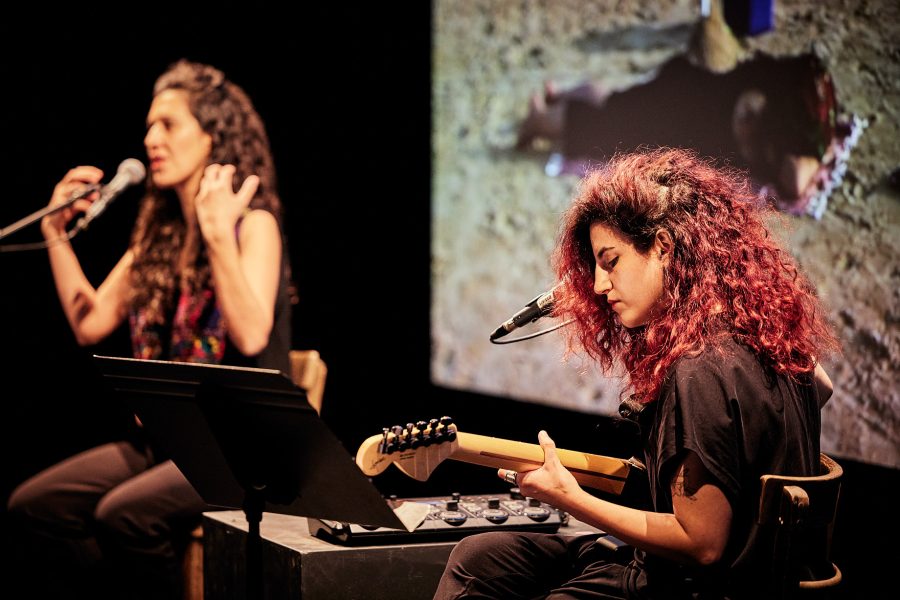 Poetry helps me understand my life. It makes me cast a macro gaze at the world. Every day, I make continuous effort to make my life more liveable, and poetry is the major force for me that makes my life liveable. So, in that sense, I am trying to digest the present and past and that itself is an achievement for me. I am not in a rush to see my future.
Also read: Mathrubhumi lit fest: In Kerala, a literature event seeks light of ideas for future

As human beings, we all share many difficult and joyful experiences. When I speak of war, when I speak of any big human experience, I am sure that we share many things in common. These shared experiences and emotions are the big returns I get for my poetry.
Yet you say not to believe your words. Your poem reads: "Do not believe me when I talk to you of war/Because I've never heard a bullet shot/besides the one my father threw/from his double-barrelled gun into Marj Ibn Amer's doves./And I've never scented blood from a wound/except for that which I smelled with my mother/the first time I menstruated."
 Yes, don't believe me because I have not experienced them first hand nor have I lived a harsh life. But there's more to it. Even though you may not have personally experienced the war, something inside of you makes it impossible for you to ignore what is happening in Syria or Kashmir. If you are able to do so, you are not a true human. Even if I turn away from the news I could still feel other people's suffering.
 Tell us about Haifa and its cultural environment.
Haifa was one of the big cities before 1948. It had a very rich cultural, social, theatre and political scene. In 1948, the Zionist project literally murdered the city. They did not only displace the cultural elites or destroy institutions, they also killed the cultural city in its entirety, massacred the civil life of the city. The cinemas, theatres, everything was burned. The old city of Haifa near the port was totally destroyed by the first Mayor of the city. Not a single wall was spared, except one which was the western wall of one of the Mosques. It was a cut in time and geography as well, as if the city did not exist before. The Palestinians had to start all over from scratch, from the infrastructure to culture. Now, even if I don't tell you anything about the cultural life of Haifa, you can imagine it. If I have to see it now, I would say Haifa is an orphan who has no father or mother, with a murdered background.