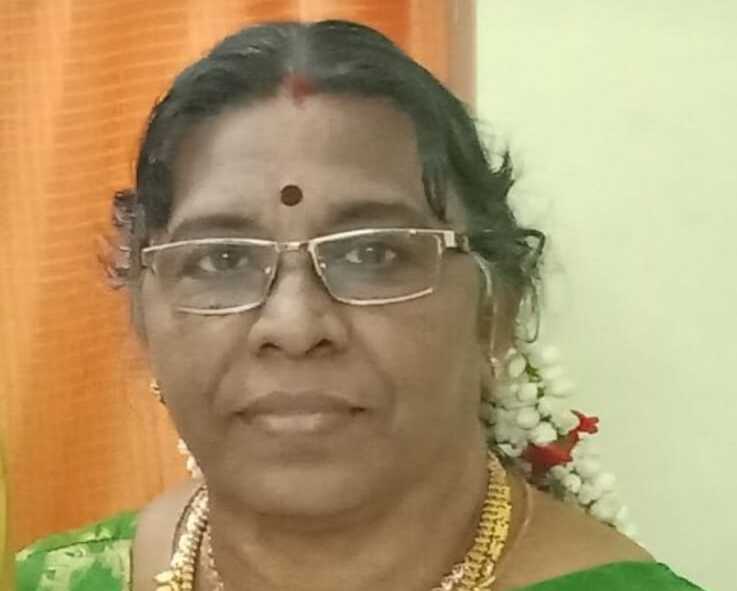 How Madurai writer-translator C Rajeswari became a master chronicler of MGR
The first thing that strikes you about C Rajeswari is the tattoo on her right hand. The vertical image of the word 'Thamizh', you realise after an hour-long conversation with her, pretty much sums up the meaning of her life. "It was my grandson's suggestion," says the Madurai-based writer, linguist and translator. "There couldn't be a better one when I wanted to try a tattoo on myself," she adds.
Since her childhood, Rajeswari has embarked on a relentless pursuit of various passions. These include her deep admiration for the iconic M G Ramachandran (MGR), her profound interest in spiritualism, her dedication to translations, and her passion for studying foreign languages.  "My family wanted me to take up science when I went to college, but I opted for Tamil literature. Since then, I haven't stopped learning."
Rajeswari continued her studies after her marriage — doing her M.Phil in Tamil grammar and PhD in translation. "My father was an astrologer in the Siddha tradition. I grew up reading Siddha literature and books on rationalism. I think it was only natural that Tamil became more than a career choice in my life."
Also read: A book sought to prove MGR was a Gounder from Kongu land; what was the aim?
Soon after her education, she got a job at the Institute of Asian Studies, where she had to read books and paraphrase them. "It was the best job I could ask for. But there was more." She also learnt Japanese and researched on the connection between Tamil and Japanese languages. Later, she learned Biblical Hebrew and Biblical Greek at People's Educational Trust. Subsequently, she started teaching Tamil to foreign students. "I joined Aravind Eye Hospital as copy editor and translator, teaching Tamil not just to foreigners but also to Indians from other states."
An MGR historian
Her tryst with MGR began during one such teaching expedition in 2015. "Some students of mine from the United States were curious about MGR and his continuing influence on Tamil Nadu long after his death. I had taken them to watch an MGR movie in a theatre in Madurai so they could watch it live." Then, she helped some students research MGR and Tamil Nadu politics and gathered enough material, but a book was still a far-fetched thought.
In 2017, during MGR's birth centenary, Rajeswari was approached to write columns in Tamil on MGR from different perspectives. "I realised I had material to write a hundred books on MGR, on various aspects of his life." She has finished 21 so far. "It is not like I have to write a hundred books, but there are more than a hundred books to be written about MGR, as a person, actor and politician. His life is intertwined with Tamil soil, its politics and culture. I think it is important to examine every aspect of MGR in the context of the larger political history of Tamil Nadu. For example, I have a book on film technology and MGR."
Rajeswari has written a book each about three important films of MGR: Enga Veetu Pillai (1965), Nadodi Mannan (1958) and Madurai Veeran (1956). "The three films were significant in their ways. I thought it was important to examine them in detail."
The title of another book, MGR padangalil Ariviyal Punaivu (Science Fiction in MGR Films), is self-explanatory. "Neerum Neruppum, for example, was about Siamese twins. Ulagam Sutrum Vaaliban speaks about energy from lightning, and Kalaiyarasi deals with aliens." Another book, MGR padangalil Thozhil Dharmam (Professional Ethics in MGR's Films) speaks about the efforts MGR took to accurately portray the professions of his characters. "It is also interesting to note that he loved playing well-educated characters such as doctors, engineers, police officers etc."
Also read: Tamil writer Imayam on female desire and why writing is a political activity
Of course, songs are something inescapable in any discussion around MGR. And Rajeswari has a book dedicated to his songs. "A song in Oli Vilakku (1968) speaks about the government welfare schemes. In that sense, he put his films and every aspect of filmmaking to effectively convey political messages."
From MGR's relatives to his colleagues, assistants and tailors, Rajeswari has spoken to many people for her work. "It is an ongoing project. In 2018 and 2019, I spent almost every day doing these interviews, meeting people, and discussing MGR. It is not on that scale now, but I can't stop working on this."
While being an MGR historian remains her main identity, Rajeswari is much more than that. She has an impressive body of work with 80 books to her credit, with approximately 40 of them being translations. "I have written 21 books (in two years) dedicated to MGR and around 10 books explore the realm of spiritualism," says the author.
'Writing, a work-in-progress'
Rajeswari's another book Marutha Nila Pen Deivam (The Goddess of Marutha Nilam, 2020) is about Varahi, who carries a plough, hence known as the deity of the farmlands. Rajeswari has also written a research book on the worship of Valli (the consort of Murugan), tracing its origins back to ancient Tamil land. She has also delved into the Ajivika School of Philosophy, which was once popular in Tamil Nadu. "Ajivika was progressive in its own way, and I believe it continues to influence Tamil identities and politics."
Also read: The arid, defiant world of International Booker-longlisted Tamil writer Perumal Murugan
Last year, she launched the magazine Thamizhanangu with the aim of uniting Tamils from around the world and preserving their Tamil identity, keeping it intact and rooted.  "There have been attempts by some forces in countries like Mauritius and Malaysia to reinforce the Hindu identity and reject the Tamil identity. Thamizhanangu, a non-fiction magazine, has been launched to counter it. We must keep our Tamil identity intact and foil any attempt to thrust Hindu identity on us."
Besides, she has plans to translate some parts of Sangam literature and the songs of Avvaiyar. "Most of the translations are already completed and will be published soon. I also want to bring out abridged versions of Sangam literature in easy Tamil so that younger generations could engage with them more easily." For Rajeswari, learning and writing are a work-in-progress even at the age of 63.