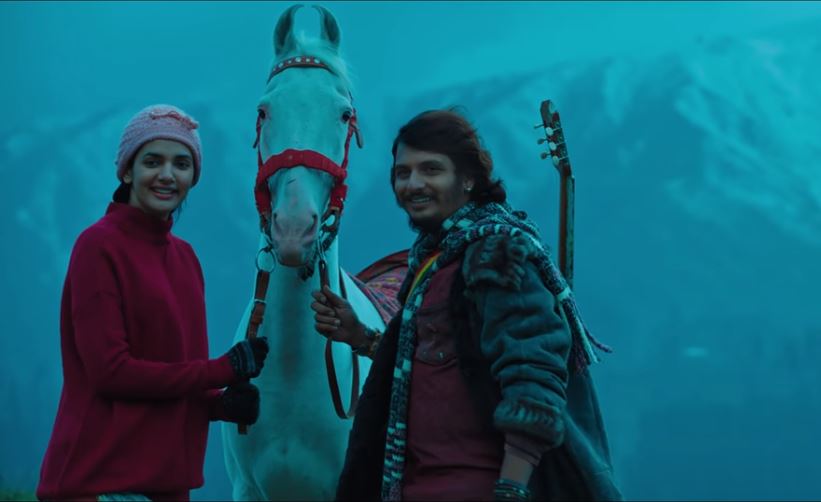 'Gypsy' and GN Devy: Of nomadic tribes and their untold stories
After nearly a year, Jiiva-starrer Gypsy by National Award-winning filmmaker Raju Murugan hit the screens in Tamil Nadu on March 6. The delay was blamed on the Censor Board which demanded several cuts in the film.
After nearly a year, Jiiva-starrer Gypsy by National Award-winning filmmaker Raju Murugan hit the screens in Tamil Nadu on March 6. The delay was blamed on the Censor Board which demanded several cuts in the film.
While the film talked about a nomadic youth whose life was torn apart by communal clashes, there were several scenes that irked the censor guards — scenes that strongly referred to the government's anti-people actions such as "cleaning up of streets" where gypsy people lived and shooting of Sterlite protesters, and another scene which had a politician in Uttar Pradesh looking like Yogi Adityanath behind communal clashes.
When the film finally came out, it lacked consistency and flow, much of which can be attributed to the censor cuts.
This cuts reflected the suppressed mindset of not only stories that go against the government, but also of socially neglected gypsy communities, who have for long suffered isolation on account of the British-era Criminal Tribes Act 1871.
But here is where noted linguist and ethnographic expert Ganesh N Devy emerged as a hero, a real-life one at that, by bringing out stories of 30 such communities.
"We travelled across 11 states and met 30 different communities and asked them to write about their own ethnographies. We wanted to understand and document their ideas of enmity, heritage, justice, etc. The result was 30 little books, each having 80–100 pages, which were released recently," Devy said at a function at the Madras Institute of Development Studies, Chennai.
Though the tribes were denotified in 1952, this happened three years after the Constitution was drafted in 1949 and accepted in 1950, and they missed out on being classified as Scheduled Castes (SC) or Scheduled Tribes (ST), pointed out Devy.
Although the government had initiated reservation and scholarships for them, due to lack of education and community certificates, most of these people lose out on the benefits.
Tracing the history of their isolation, Devy said it all began in the 1830s when the British, who were gaining control over territories in the subcontinent, appointed William Henry Sleeman to prepare a list of communities possessing arms.
This list comprising 200 communities, which included soldiers of former princely states which lost to the British, became the basis for the Criminal Tribes Act, 1871.
Related news: The divine truth behind 'Hinduisation' of tribes in Arunachal
Most of the communities were brought under the Act due to the nature of their profession. For instance, the Meena community was termed as Criminal Tribe because they were in coin-minting profession. The Odde community in Karnataka was classified as Criminal Tribes because they were involved in stone-cutting and their tools looked like a weapon for crime.
"They were segregated from the society and put in about 52 settlements, with 14-metre tall walls, so nobody could escape. They were not allowed to follow their profession and pushed into forced labour. They were asked to report to the police station in their settlements four times a day. They were deprived of sleep, education and the right to possess," Devy said.
He noted that not being able to possess land affected their citizenship, as back then, those who owned land were considered citizens whereas those leading a nomadic lifestyle were secondary citizens.
And today, he feels that these communities would suffer under CAA, NPR and NRC.
Devy came to know about the plight of such communities when he met prolific writer Mahasweta Devi at Baroda in 1998. She worked for the development of such communities till her death. In that year, Devy along with Mahasweta Devi founded Budhan Theatre, after the custodial death of Budhan Sabar, a young man of Chhara community, which was once categorised as a Criminal Tribe.
Related news: Tea tribes: How Assam's chaiwalas may spoil Modi's cuppa
Initiated by Indian National Trust for Art and Cultural Heritage (INTACH), the project called "Intangible Cultural Heritage" was completed at a cost of ₹30 lakh in three years between 2016 and 2019.
Till 1954, there were 61 communities under this list. These were mostly from Punjab, Central India, Madras and Bombay Presidencies.
Devy called for a separate tribal policy for these communities.
Only then can they lead a normal life. During Vajpayee's tenure, the government created a policy which said "Please, don't touch them. Leave them as they are." After the regime change, the policy also changed, which said "Please make them like us." Both these policies are wrong because they did not consult with the communities about their needs and expectations," said Devy.
He stressed that policies should be created only after consulting them as that would help them better.
Interestingly, the Gypsy film crew has been making available deleted scenes on YouTube, making sure the suppressed stories and voices are heard.